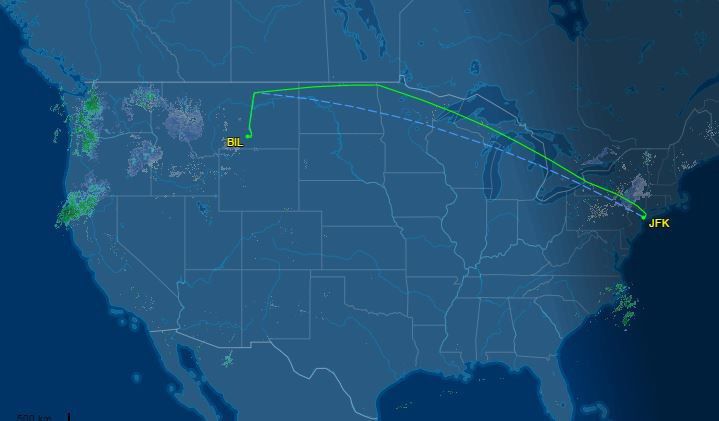 A direct Delta flight from New York City to Seattle on Saturday night made an unplanned stop in Billings for what several passengers considered an emergency — a potty break.
While enroute, the Boeing 757's toilets "ceased functioning, with passengers queuing up and indicating they needed to visit the toilet," according to a Delta incident report.
On a good day, the coast-to-coast flight can take about six hours.
"All toilets were full and passengers needed to 'go really bad,' " the report states.
So the flight, traveling near the Canadian border, diverted hundreds of miles south to Billings where it landed about 6 p.m.
But, because a gate was not available, the airplane had to taxi to a cargo area where pilots were again told there were several "passengers that needed to find a lavatory very urgently."
Ground crews rolled a stairway to the airplane so passengers could "disembark to find relief of built-up pressures," the Delta report said.
Kevin Ploehn, the Billings director of aviation and transit, said ground crews escorted the passengers safely into the terminal where they could do their business and wait while the plane's toilets were serviced. The plane was also refueled so it could take off again, he said.
Flights do get diverted to Billings Logan International Airport occasionally, but not normally to answer the call of nature.
"I've heard of flights getting diverted, not here, because toilets overflowed and that blue water was rolling down the aisle," Ploehn said. "That can't be very pleasant."
Get local news delivered to your inbox!
Subscribe to our Daily Headlines newsletter.