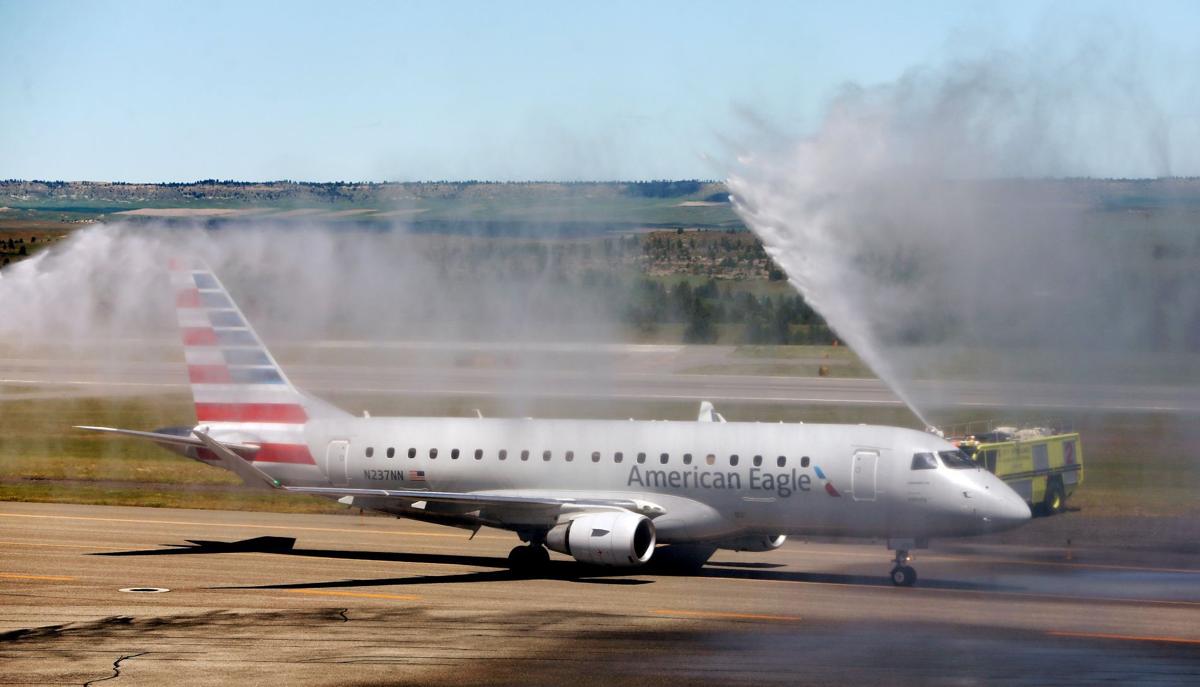 Amid plenty of smiles and a flurry of activity — including appearances by Yellowstone Kelly and Gabel, ZooMontana's great horned owl — American Airlines' daily service between Billings and Dallas took flight Friday at Billings Logan International Airport.
Passengers aboard the inaugural flight from Dallas to Billings filled the 76-seat Embraer E175. The return flight, delayed about an hour by bad weather in the Dallas area, carried 55 passengers.
The first passenger off Flight 3615 was Darrick Caraway, general manager of Whittaker's Guns in Owensboro, Kentucky. He pronounced the maiden voyage both pleasant and convenient.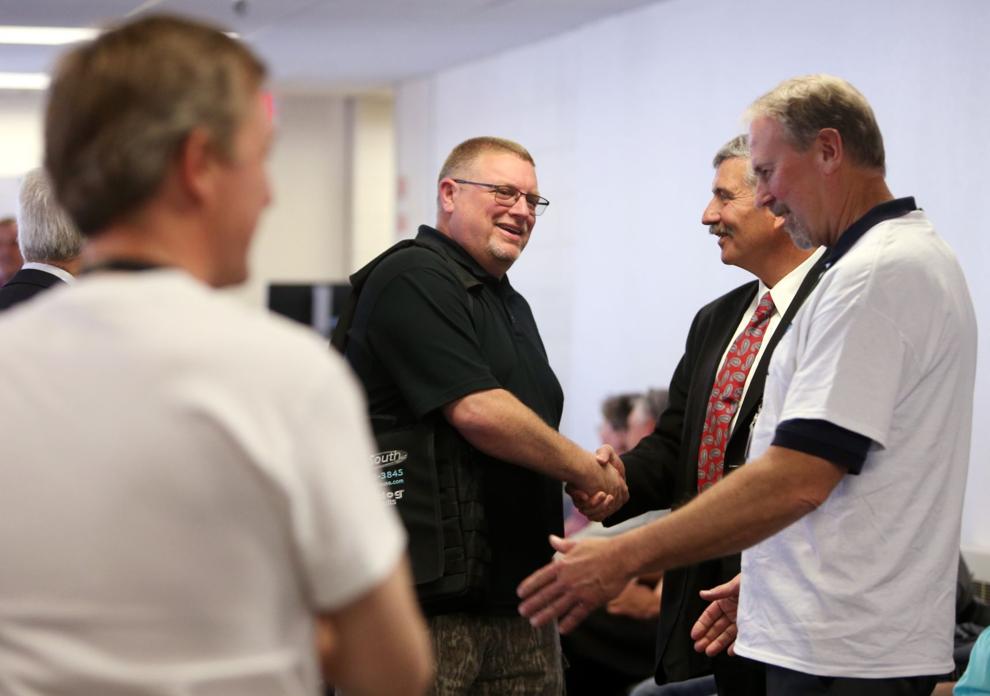 Caraway said he was in town in part to meet some friends in Sheridan, Wyoming, where they planned to "shoot some prairie dogs."
As passengers deplaned, they were handed a Billings Chamber of Commerce swag bag and were greeted by a phalanx of public officials, including Montana Lt. Gov. Mike Cooney and Billings Mayor Tom Hanel.
When they descended to claim their luggage, they were handed off to the likes of Chas Llewellyn, dressed as Yellowstone Kelly and distributing a commemorative Kelly coin, and Jeff Ewelt, executive director of ZooMontana, present not only for his enthusiasm but his ability to show off Gabel.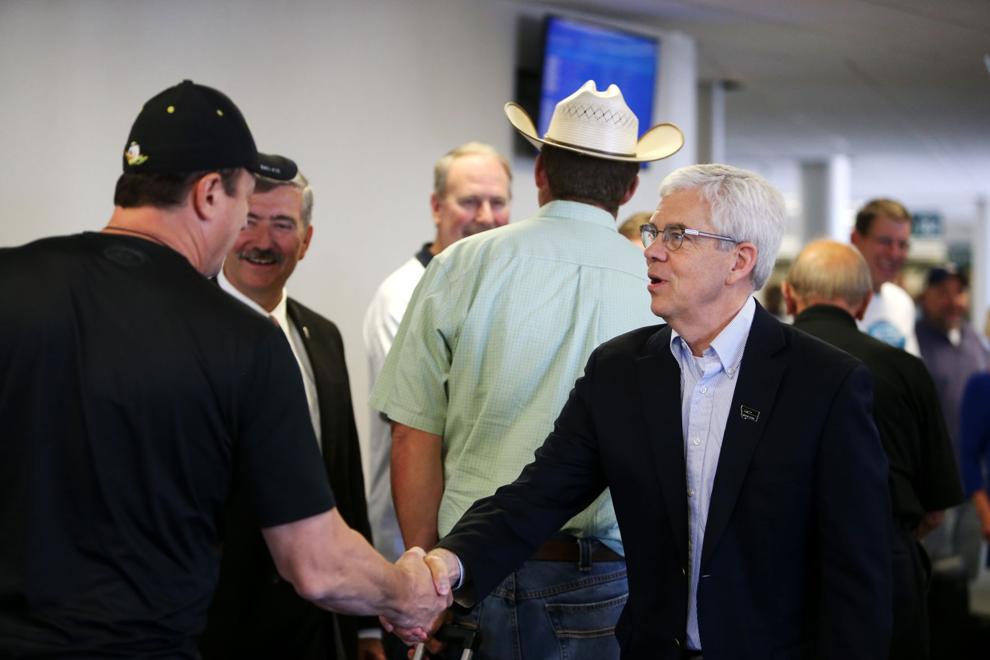 "I'm the random bearded guy with an owl," he said of his Friday job description. "Let's make Montana awesome."
Awesome was the word that occurred to a lot of those gathered at the airport to celebrate the advent of daily nonstop flights to the nation's fourth-busiest airport. Adding Dallas will reduce flight times to such destinations as South America, the Caribbean and cities throughout America's southeast. 
"It's a big day for us," said Billings Chamber of Commerce president and CEO John Brewer. "We're hoping we will see some strong ridership."
Kevin Ploehn, the city's director of aviation and transit, said the current trend bears out that hope. Conversations with American Airlines officials indicate strong ticket sales between Billings and Dallas through the summer, he said.
Between a federal grant and revenue guarantees from more than 20 Billings-area businesses and organizations — including $20,000 from Gazette Communications — the airline will receive up to $1.45 million during the coming year, guaranteed, to offer daily nonstop flights.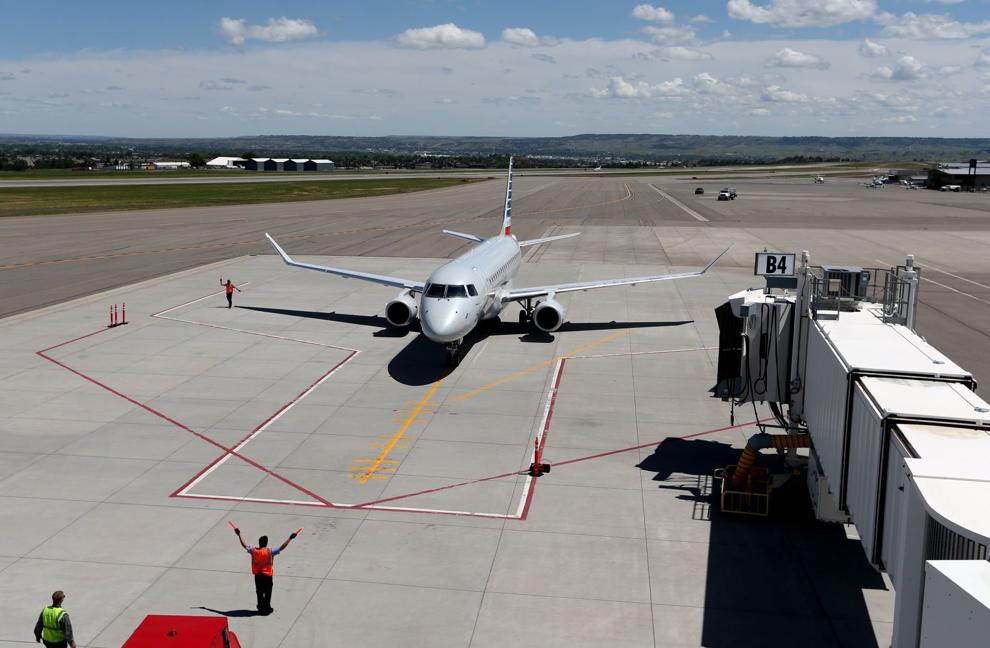 But the nation's largest airline won't receive a payment, Ploehn said, during three-month periods when enough tickets are sold to make the route profitable — a determination that's made by the airline.
In addition, the city will be obliged to return the $750,000 federal grant it received in order to help entice American to offer the service, again provided that the route proves profitable. That money would then be awarded to another community seeking to expand its own connection to a new destination.
"We're pretty sure we'll be off the hook for the summer months, and September and October are looking pretty busy," Ploehn said.
Ploehn said that potential new destinations for direct flights from Billings include San Francisco — which he said United Airlines "is pushing pretty hard" — and communities served by low-cost carriers such as Frontier Airlines, including Las Vegas. If those destinations come to fruition, the service would probably be seasonal, he said — unlike the new American Airlines service to Dallas, scheduled for inbound and outbound flights every day during the coming year.
Cooney, appearing on behalf of Gov. Steve Bullock, said the new service will allow travelers and especially visitors "in and out of Billings with as little muss and fuss as possible."
Transportation, he said, "is such a key in Montana — in places like Billings and a lot of surrounding communities."
Friday's celebration is just the start of what will be a multifaceted "guerrilla" marketing effort, said the chamber's Kelly McCandless. Big Sky Economic Development, Visit Southeast Montana and the Montana Department of Commerce are also part of the ongoing marketing effort.
Low-cost and innovative ideas include doing what McCandless described as a recurring "coffee shop takeover" in Dallas to let travelers know about Billings-area attractions. "We hope to get them to serve huckleberry latte," she said with a smile.
Recent marketing efforts include a full-page ad in the Dallas Mavericks' game program. Upcoming advertising will target travelers who can use either the Billings or Bozeman airport, such as Columbus or Big Timber residents.
"We're out to change the mindset that says, 'I can get a cheaper ticket out of Bozeman,'" McCandless said.