It's a tough moment for Echo, a yellow lab, who lies on the multi-colored mat, tail enthusiastically banging against the floor while trainer Bonnie Lusby bounces a bright-orange ball.
"That's her favorite toy," Tony Nickisch, Echo's owner, standing next to her, tells Lusby, inside Lusby's Dragorra Dog Training Center in West Billings.
The other dogs in the circle, all on leashes next to their owners, calmly stay down. But Echo, who just turned 1, can barely contain her enthusiasm, ears alert, whining, ready to pounce.
Still, she waits. And when the exercise is over, Lusby tosses the ball to the lab who catches it in her mouth, a reward for her patience.
At another point in the hour-long training session, Lusby instructs the owners to leave their dogs and walk around them.
"No fair, my dog takes up more real estate," Nick Robinson jokes, as he uses a cane to slowly make his way around Gator, his 7-month-old black giant schnauzer-standard poodle mix. "It's like orbiting Jupiter."
There's laughter, camaraderie and good-natured teasing among these military vets as they train their rescue dogs through a nonprofit program called Dog Tag Buddies. The idea is to match vets with PTSD, traumatic brain injury or military sexual trauma with dogs they'll train to be their own service dogs.
"They've signed on the dotted line to give everything, including their lives," said DeeDe Baker, founder and executive director of the nonprofit organization. "I want to do everything I can to make this rewarding for them as well."
With Montana's high rate of suicides among military vets, Baker said, "If I can make a difference and save one vet by matching them with a dog, then we've succeeded."
And now, with a grant from the U.S. Department of Defense, Dog Tag Buddies will expand its work in Yellowstone County to include Bozeman, Helena and Great Falls.
The idea for Dog Tag Buddies goes back to 2005, when Baker's husband, a military vet injured by an improvised explosive device, suffered from PTSD and a TBI. Back home, he battled both anxiety and anger.
"I started watching how he interacted with our dogs," she said. "I had an 'aha' moment, seeing there was a big difference between he was stressed out and when he'd sit down with a dog and it all went away."
Baker wondered whether that idea could be developed into a program to help other vets, and to save rescue dogs at the same time. She decided to pursue the concept, and Dog Tag Buddies was born.
That was in 2016, when the organization worked with one vet at a time. At first, the goal was to provide the vet with a well-behaved canine buddy, and that first year Dog Tag Buddies matched a dozen vets and dogs.
"It evolved from there to realizing that some vets' struggles are so much deeper than just needing a buddy," Baker said. "Some are so riddled with anxiety, they don't go out in public or interact with their families or go to their kids' events."
So the idea of providing vets with emotional-support dogs or service dogs came about. The dogs and vets could give each other a better quality of life.
Once vets sign up for the program, Baker meets with them face to face. She talks with them about their needs, past experiences, family structures. Some vets request a particular breed or tell her they don't want a certain type of dog.
Baker will make sure their expectation matches the reality of what the dog is bred to do, and that it will match the applicant's personality and needs.
"There are a lot of things that go into that decision, but making sure the vet is part of that is really important," she said.
Baker will start looking locally for a rescue dog that will mesh with that veteran, and if necessary, expand her search in Montana and even farther to rescue groups. If she thinks the dog is a good candidate, she'll introduce it to the vet to see if there's chemistry between the two.
Only a couple of times it hasn't worked out. Echo was initially paired with a vet who realized after six weeks that the lab was too much dog for her.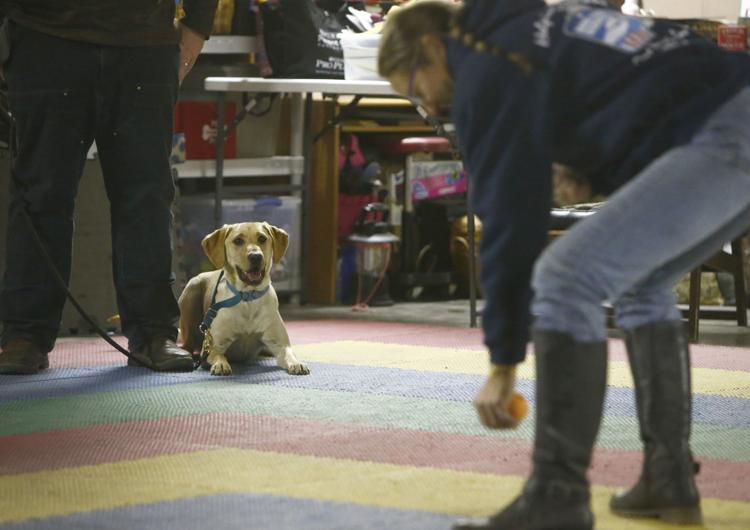 Soon after, in September, Echo was introduced to Nickisch and the two immediately hit it off.
You have free articles remaining.
"Tony was waiting in the wings and I told him, 'I got this dog, I think you might like her,'" Baker said. "It was love at first sight."
Occasionally, the vet will bring a dog he or she already owns into the training program. More often, the match is made by Baker.
The new dog owners train with their canine companions for eight to 10 weeks, for the dogs to learn basic obedience training. In some cases it can take longer, but there's no set deadline.
Then begins the next phase of training, which can take as long as two years, to turn the dog to be a service animal. Lusby, who began working with Baker about four months ago, plans to lead classes for the owners and dogs from beginning to end.
"A service dog is there to be working for you," she said. "It's not getting affection from other people. It's meeting your needs."
If the dog senses his owner's anxiety, he'll go and lay his head on his human's lap. The dog will give his owner the security needed to step out the door of his home.
To do that, the dog will be exposed to many different situations.
"They've got to go downtown and be around fire engines, they've got to go across water, they've got to be in large crowds," Lusby said. "They've got to do elevators and stairs," anywhere their owner wants to go.
Lusby said she has enjoyed working with the veterans and their dogs.
"These guys are more dedicated because their end result is a service dog," she said. "So they actually put a lot into their homework."
At a recent session, Nickisch, of Lockwood, said a counselor suggested a service dog could help him with his PTSD. An Army veteran who spent three years in Iraq, bonding with the lab has been a balm to his soul.
"I told DeeDe Echo's kind of my saving grace," he said. "It was tough until I got her."
He also enjoys the time he spends with other vets in similar circumstances.
"It's just knowing some of them have gone through the same things, that you're not the oddball," Nickisch said.
Robinson, who brought Gator into the program, was deployed all over the world while in the Air Force. He struggles with mobility issues and relies on a cane.
He's hoping Gator will help him be better able to get around. And he's grateful to Baker for the opportunity.
"Honestly, if it wasn't for this program, I wouldn't be able to afford it," Robinson said. 
To date, Dog Tag Buddies has worked with 50 vets and rescued 35 dogs. Baker is looking forward to expanding the opportunities to veterans in other communities.
The aim of the DOD grant is to reach out to rural areas, to help vets who sometimes find it more difficult to get services. Baker has already located a trainer in Helena, and she'll be looking to contract with trainers in Bozeman and Great Falls.
For the first time since she started the nonprofit, Baker will be paid full-time through the grant for her work. She will travel to the other areas regularly to help manage the program.
Her daughter, Kati, who's been involved all along, is working one-third time as operations director. 
Baker is looking forward to helping more vets find the friend and helper they've been hoping for.
"Pairing a vet with a dog is not a cure, but it certainly can help," she said.