During the summer, Dustin Ogdin and his young dog Otis often walk along the dirt paths at Zimmerman Park and Phipps Park, scenic routes around Billings that carry reputations for the occasional rattlesnake sighting.
Monday night they switched things up, taking a path around Norm Schoenthal Island, a city park along the Yellowstone River. They didn't find any rattlesnakes along the river.
But there was a black bear.
Ogdin captured his encounter on a cellphone video, a 20-second chronicle complete with heavy breaths, unsteady hands and an abbreviated warning.
"Guys there's a black b—" Ogdin says in the video before the camera switches from a view of the bear to a view of the ground. After a few quick footsteps in the opposite direction, the video ends.
"The whole thing still feels slightly surreal, just bizarre," Ogdin said, speaking a day later.
Thick swarms of mosquitoes almost ended Otis' walk before Ogdin encountered the bear. About a minute after thinking about letting the mosquitoes win, Ogdin said he came around a bend in the trail and something to his right caught his eye.
"I look up and there's a black bear climbing a tree within 10 feet of me, the tree that's almost hanging over the edge of the trail. So I was shocked," Ogdin said. "I couldn't believe my eyes, literally. I was questioning my faculties."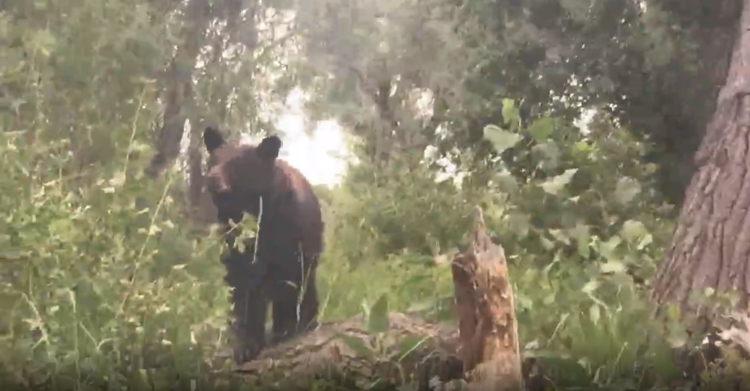 Ogdin said he began backing up, trying to put distance between himself and the bear without making eye contact. When he gathered himself, he saw that Otis wasn't quite so concerned — the dog stayed under the tree, seemingly curious about the large animal above.
Eventually Ogdin said he was able to get his dog to join him at what he felt was a safe distance away. He pulled out his phone and zoomed in as far as it could go and took the video of the bear. Part of it was because he wasn't sure anyone would believe him. He said he also wanted to be able to show the video to authorities if they needed more information.
When the bear looked like it was staring to come down from the tree is when Ogdin said, "I decided to move along quickly."
He said he took some glances back to make sure the bear wasn't following.
Later on the trail he encountered a woman looking for a lost dog. "She seemed a little less surprised, actually," he said.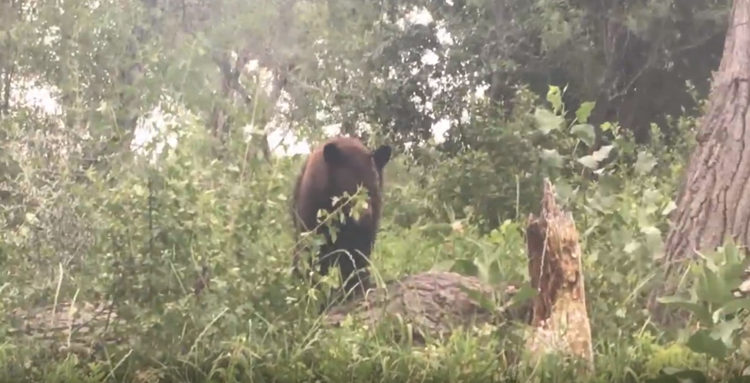 Afterwards he said he called the police department because Montana Fish, Wildlife and Parks offices were closed. Ogdin said he also called the Montana Audubon Center on Tuesday to let them know, since their offices border Norm's Island.
Ogdin said he's glad the encounter ended with neither him nor the bear being harmed and that he won't let the incident deter him from continuing to walk around Norm's Island.
"I think the more time that one spends outside in the outdoors, the more likely you are to see amazing things," Ogdin said. "And that is something that I'm constantly reminded of, even in the middle of a city park."
Recommendations from Montana FWP to "minimize the likelihood of attack or chances of human injury include": 
Make certain you have bear pepper spray at the ready and know how to use it.
Always maintain a safe distance from bears.
Stay calm.
Immediately pick up small children and stay in a group.
Behave in a non-threatening manner.
Speak softly.
Do NOT make eye contact.
Throw a backpack or other object (like a hat or gloves) on the ground as you move away to distract the animal's attention.
Slowly back away, if possible. Keep a distance of at least 100 yards.
Do not run from a bear. Running may trigger a natural predator-prey attack response and a grizzly can easily outrun the world's fastest human.
Don't climb a tree unless you are sure you can get at least 10' from the ground before the bear reaches you. Many experts recommend against climbing trees in most situations.
Do not attempt to frighten away or haze a grizzly bear that is near or feeding on a carcass.
Get local news delivered to your inbox!
Subscribe to our Daily Headlines newsletter.