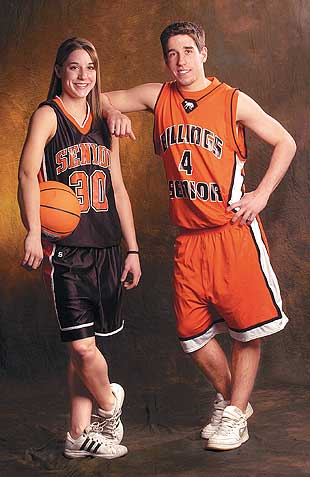 Billings twins Mara and Justin Hoskins will be spending a lot of time at Metra this weekend. The sister and brother are both guards for their Senior High teams - and both teams tip off tonight during the state AA basketball tournament at Metra.
The twins, whose parents are Lance and Christine Hoskins, are alike in another way: Both were named royalty at Senior's TWIRP dance last weekend.
"It was kind of cool we could both do it at the same time," said Justin, named Mr. Preferred by his peers.
"It was cool," said Mara, named Miss Broncette. "It was cool to be nominated together."
It wasn't all fun, however, Mara said.
"It was kind of embarrassing when me and Justin won. They all circled around us and said, 'Dance, dance.' It was kind of awkward, but we did it."
The state AA basketball tournament - bringing together eight boys and eight girls teams - begins today at 9 a.m. with a match between Butte and Bozeman. This is the first year the state has tried running the boys and girls tournaments simultaneously, alternating boys games with girls games. There will be eight games today and eight on Friday. Championship games will be played Saturday.
Justin, a 5-11 guard, will join the other Broncs when they play Missoula Hellgate at 7 p.m.
"We have a chance to win," Justin said. "I think we'll do fine if we play our game. … We've done pretty well in conference play and we're kind of on the up right now."
Mara, a 5-7 guard, and the rest of the Senior team play Missoula Sentinel at 8:30 p.m.
"I think we have a pretty good chance," she said. "People are looking at us as underdogs, but I think we'll come out and do well."
She said the season is ending well for the Broncs.
"We started off well. The middle of the season was rough, but we finished it off with a win against Great Falls, so that was good."
Both Mara and Justin credit their coaches with guiding them to the state playoffs.
"We had a lot of support from our coaches who made us work hard throughout the season," Justin said. "They really have us ready for this state tournament."
Both also plan to go to college next year, but neither have chosen where they will go.
"I've narrowed it down to five schools," Justin said. "I'll make a decision in the next couple of weeks after I've gotten a chance to visit them." Justin said his grade-point average is 3.975. Mara's GPA stands at 3.72 and she is also looking at several different schools.
The twins didn't go to TWIRP together - Mara attended with a group of friends while Justin attended with his girlfriend, Christine Gill.
Do they do much together?
"Not really," Mara said. "We're pretty close now, but we have different sets of friends and play different sports."
Mara plays softball and runs cross country while Justin's game is soccer.
So who wins when they play in the driveway?
"Oh, he does," Mara said. "He's a big hacker."
"We usually have to stop because she gets mad," Justin said.