It could take years and and it might cost millions of dollars to deal with the drinking water problems primarily affecting Worden and Ballantine. 
Residents have been on alert for months about nitrate levels in the drinking water making it unsafe for infants. Testing at times has shown that one of two drinking water sources in the community has high nitrate levels. More recent testing shows the same water source with nitrate level issues contains surface water, making the water susceptible to dangerous microscopic contaminants it currently isn't being treated for. 
The more recent test for nitrate levels came in below the unsafe threshold, but the water still is not safe to drink, according to Gary Fredicks, a spokesperson and board member for the Worden Ballantine Yellowstone County Water and Sewer District.
"For over a month now our testing has been well below the limit of 10 (milligrams per liter)," Fredricks said. "I think our last test was 6.34 (m/l) but, and this is the big but, that is because we have a surface water intrusion we do not know when or if it will spike again and it could happen overnight."
That situation has left the community's water under a nitrate warning indefinitely. There are about 400 different connections to the water source, including Huntley Project High School. More than 1,000 people are likely affected, Fredricks said.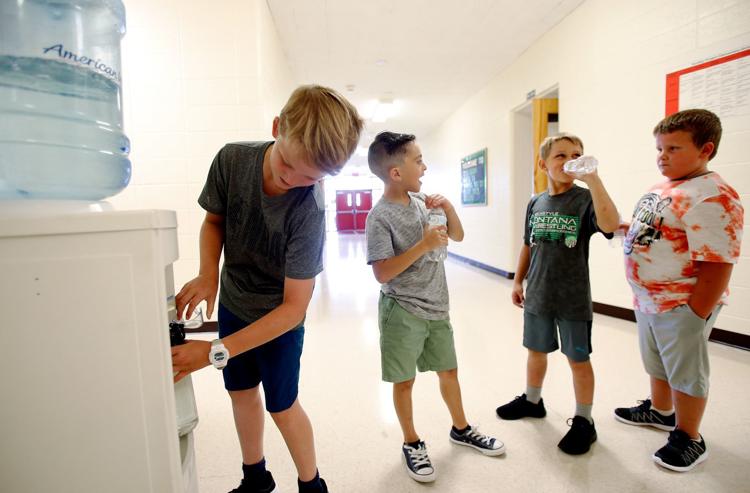 There is a "possibility but not a probability," that continued low nitrate levels might give the Montana Department of Environmental Quality an opening to put the affected water source under a boil alert, according to Fredricks. Boiling water would help pathogens in the water, but would actually increase the concentration of nitrates in water.
Time, testing, money
There are multiple options to deal with the water problem, but more information is needed to help guide a decision, according to Great West Engineering, the engineering firm working with the WBYC water and sewer district on the issue.
"There's a lot of variables we don't have right now," said Chad Hanson, the manager for Great West in Billings. "There's no quick and easy solution. It's going to take time and quite a bit of money."
Hanson, along with officials from the Montana DEQ and the WBYC water and sewer district spoke at a public meeting Monday night at Huntley Project High School. 
Constructing a new water treatment facility is one potential solution. That could cost between $4 and $5 million, but those numbers are only an estimate, Hanson said. He pointed to the example of a recently built water treatment facility in Big Timber that cost about $6 million, but also serves a larger demand. Getting a new treatment plant would involve a planning, funding and construction process that could take between four and five years, Hanson said. Another potential solution is finding a new drinking water source.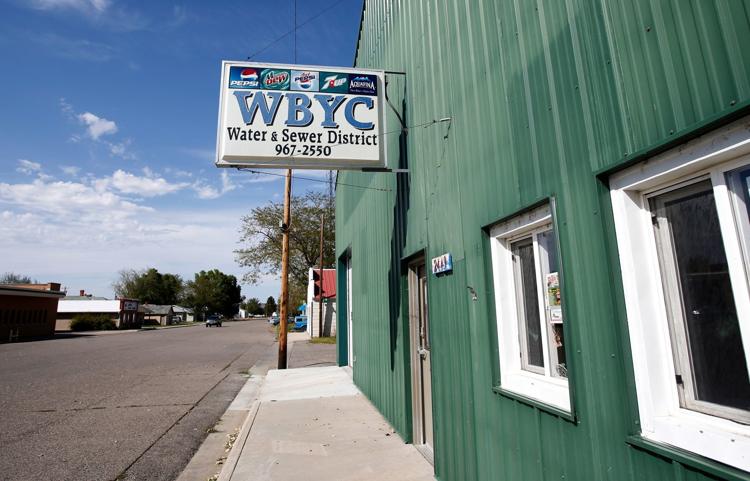 There's also still more testing to be done to understand the problems at hand, and more work to be done in determining whether the existing issue of surface water infiltration can be resolved, Hanson said. Potentially a fix to that problem could bring the troubled water source back into compliance with Montana DEQ regulations. 
Fredricks said they're running about 500 water tests a month, which he said is well above normal. In addition to the safety concerns, he said the tests are also designed to see whether any potential source for the surface water can be identified through a pattern or other indicators.
Fredricks said the water source is part of an infiltration gallery system. It involves a drain pipe that is about a century old and has been used for drinking water since at least the 1970s, according to the Montana DEQ.
Water from the drain is treated with chlorine. The water district is required to submit testing results to Montana DEQ. After DEQ noticed high nitrate test levels in June, the government agency prioritized the Worden and Ballantine water source on its list of thousands of public water sources in the state it periodically subjects to more extensive testing.
You have free articles remaining.
That testing has revealed that enough surface water is present in the pipe that it now needs to undergo surface water treatment procedures before it can be consumed safely. Chlorine is incapable of treating some surface water contaminants like cryptosporidium, a parasite with a protective shell. 
Groundwater from wells is generally safe to drink because the earth filters solid particulates and the process is slow enough that microgens and pathogens die off, according to Scott Patterson, the nitrate rule manager for Montana DEQ. In the case of one of the Worden and Ballantine water sources, surface water does not appear to be going through that filtration process. One sign of that is the presence of algae.
"Algae can't grow in the ground because there's no sunlight," Patterson said. "In order for algae to get in there it had to be on the surface relatively recently."
Surface water pathogens can cause a variety of health issues including nausea, fever and digestive problems like diarrhea, Patterson said. In the case of nitrates, infants younger than 6 months are especially vulnerable because their digestive systems are incapable of distinguishing between nitrates and oxygen, Patterson said. Nitrate levels can be unsafe for adults and children, but those levels are much higher than the threshold, which puts infants at risk, Patterson said.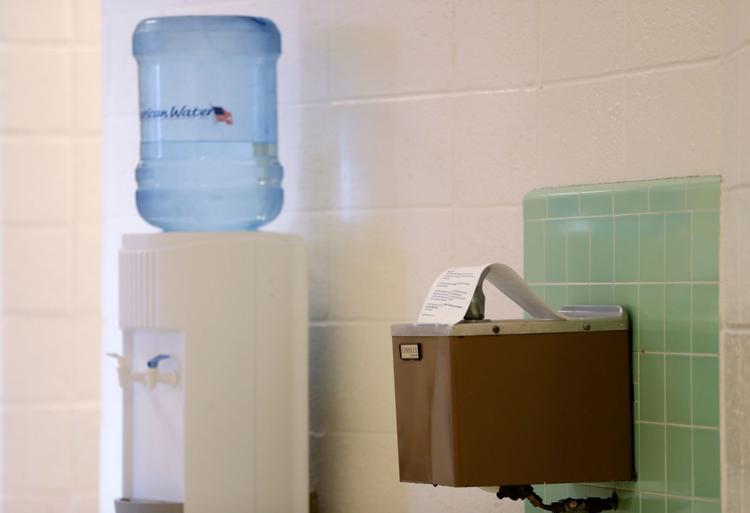 An infant exposed to water with dangerous nitrate levels could die. Oxygen deprivation because of nitrate consumption by infants manifests itself in methemoglobinemia, commonly known as blue baby syndrome. A lack of oxygen by infants suffering this condition leads to visibly blue skin. Blue baby syndrome can be fatal and may lead to vomiting, diarrhea, loss of consciousness and seizures, according to the World Health Organization. 
'A lot of unknown'
A water treatment facility for the water source would need to be able to treat the water for nitrates and surface water. That requires two different methods of water treatment, but it's not an unheard of situation, Patterson said.
The age of the horizontal pipe through which water flows has led to inconsistent information, including just how long it is. Montana DEQ says the pipe is at least a half mile in length, but could be as long as a mile. 
"Old timers in the community show us one thing, maps show us other things," said Lisa Kaufman, Montana DEQ's surface water treatment rule manager.
It's unlikely the source or sources of surface water in the pipe can be found, Kaufman said.
"There's always a chance if you find the place where the surface water is intruding into the source, then you could fix it," Kaufman said. "But in this case because of how their collector is situated or constructed, there's a lot of unknown."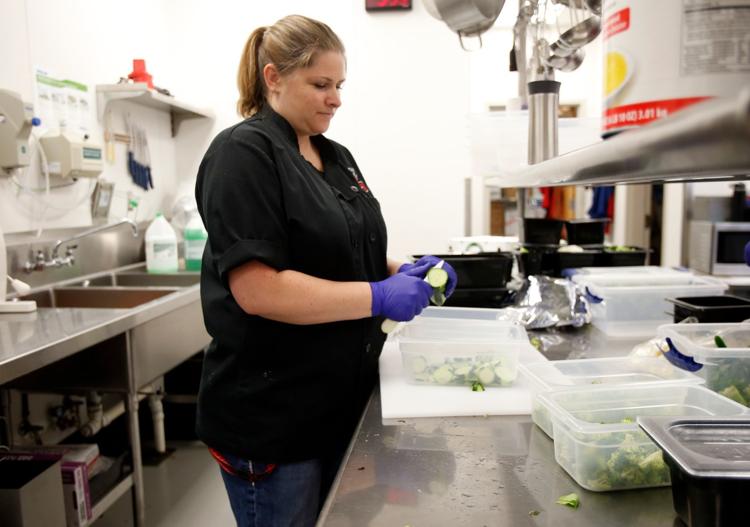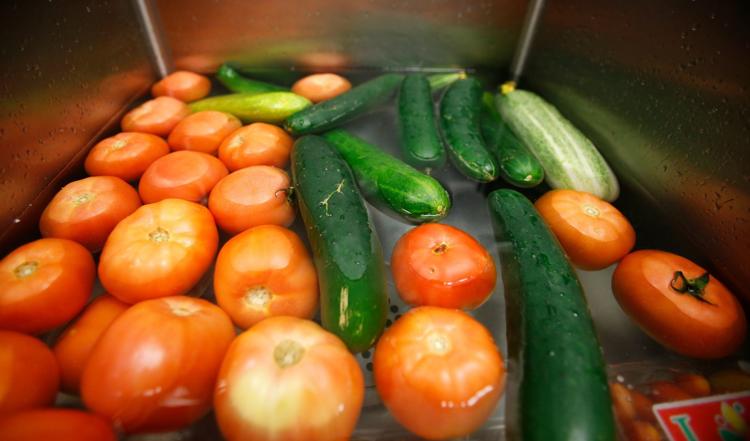 Fredricks echoed Kaufman, saying it was akin to trying to find a needle in a haystack.
The response in Worden and Ballantine has been proactive, Kaufman said. Because the public water supply is in violation of the Safe Drinking Water Act due to the surface water issue, Montana DEQ could potentially impose fines, but officials presented fines as an unlikely occurrence if progress continues.
"Our goal is for them to have a water source that is in compliance, and fines would not help them get there," said Karen Ogden, a public information officer with Montana DEQ.