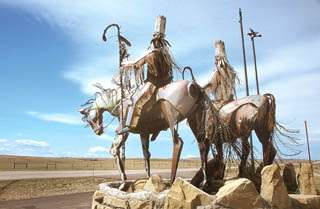 KALISPELL (AP) - There's something untamed about Jay Laber's art.
It's jagged. It's startling, and not just because it's made from rusted steel and storms of barbed wire.
On this spring afternoon, its wildness fits right in with a creek-bottom landscape emerging from its winter cover a few miles south of the Ninepipe National Wildlife Refuge.
Laber steps back into the muddy drive outside his work shed and eyes his latest sculpture.
It's a rider on horseback lancing a hoop in a traditional American Indian game, but Laber's not sure what's going to come of it today.
The horse's chest is an old car fender. The rider's breastplate is a rusted radiator. His leg is made from who-knows-what, with some of the green paint still showing. In the back is a full 1930s dashboard with steering wheel intact.
"It's a new twist on an old tradition," says the Lake County artist. He tries to figure out what went into his rider and pony, a sculpture destined for the University of Montana sports arena. He only comes up with a good guess, but that's good enough.
"The tradition was to make things out of whatever was handy," he says, "and that was handy."
His handiwork is being sought regionally these days.
The Blackfeet Hospital in Browning bought his massive sculpture of two medicine circles on an Army transport truck chassis. The higher predators of wolf, bear, eagle and man form one circle. The second circle, a buffalo and elk, supports the others, both through structural steel and spiritual significance.
Salish-Kootenai College displays his sculpture of a horseback buffalo hunter spearing his prey. Another Laber creation, a cow buffalo bawling for her missing calf, is owned by Laber's mentor and SKC's art director, Corwin Clairmont. A Volkswagen Beetle reincarnated in the shape of an 11-foot-long buffalo went to Germany.
Blackfeet tribal elders asked him to kill two birds with one stone: clear out car skeletons that have been littering the Browning-area reservation since a devastating 1964 flood, and capture the culture in art. He created four sets of two stoic chiefs on horseback and one pair sits at each entrance to the reservation - Babb, East Glacier, Cut Bank and along U.S. 89 to Great Falls. Only the latter duo was set the way Laber intended, creating an optical illusion that moves as the approaching driver changes perspectives.
Laber has learned the importance of taking time with his art.
"If I rush it, it won't be right," he said. "I'll just let it sit out there and then the next day I'll walk out and something will go together."
Hauling old iron and dead cars from flood plains to his yard, then wrestling them into sculptures, takes some muscle.
But it's in his heart, not in his brute strength, that his art takes shape.
"I do what I feel like doing that day," he says of his style that favors the free flow of creative juices rather than preplanning the finished piece before he begins.
"If I don't sketch it, it's what it wants to be when it's done," Laber says. "Things all happen for a reason."
Laber was born in Browning, but his family left after the 1964 flood and headed back to his father's native New Hampshire. Moves to Alaska, Florida, and Maine followed, until Laber knew that back East held the wrong lifestyle for him.
He headed to Montana five years ago. He first worked as a carpenter for a Washington tribe, but the commute wore thin. Three years ago, he was admitted to SKC and started forestry studies.
Again, the higher plan kicked in and "art just took over," he says.
Before long he had taken every art course the college offered and was helping other students finish their projects. Corwin suggested an independent study, and snapped up the finished sculpture for his own collection.
Laber's art is not confined to oversized, rusted metal. He works in a myriad of media, making prints, building tables and more.
He displayed an intricate table-top statue from computer wire and other found objects at a recent American Indian Higher Education Consortium exhibition in Missoula. It is a buffalo, held down with barbed wire, chasing a Bureau of Indian Affairs agent who is fending off the beast with his briefcase.
Assuming it was rich with satire, people quizzed him on the statement he was making with the piece.
"They put a lot of political significance into those things, but I kind of fell into it," Laber says, explaining that the barbed wire simply kept the buffalo from toppling off the sculpture base and the briefcase seemed to be the only thing a bureaucrat would be carrying at the time.
"But hey, they might have a better idea than I did," he says. "Why would I want to step on it? It's just there."
Is he a political creature in any realm?
"I don't think so," he says. "I've got an opinion on everything, but it's usually wrong."
Copyright 2002 Associated Press. All rights reserved. This material may not be published, broadcast, rewritten, or redistributed.