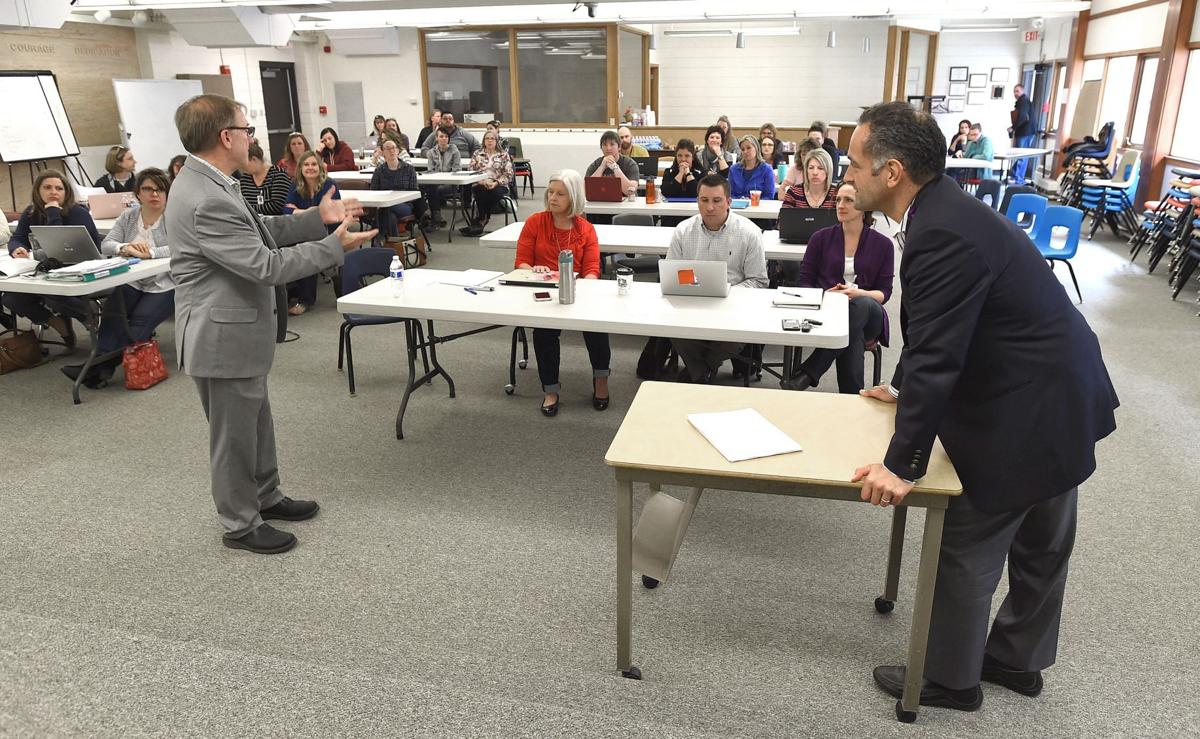 In 2015, a survey showed that an anonymous 18 percent of students in Montana had considered taking their own lives. Almost 9 percent had attempted suicide. 
Next year, Billings teachers and counselors could have the faces and names of those students when School District 2 rolls out a new program. But how to best help those students has some educators anxious. 
At a meeting of administrators, counselors and mental health professionals on March 31, school staff voiced concerns ranging from how to discern when students should seek psychiatric help to what to do if that student's parents don't agree with the school's assessment. 
District officials are working on creating a decision tree to aid schools, but mental health professionals emphasized a major theme: it's better to know which kids need help, and trying to help them won't make things worse. 
"Does asking about suicide cause suicide?" said Billings Clinic child psychiatrist Eric Arzubi. "No. No, no, no, no. The only thing it reflects is one's own anxiety talking about it."
SOS
Billings schools plan to give all sixth and ninth-graders a screening tool called Signs of Suicide, or SOS, which has been shown in clinical trials to reduce the likelihood that students will harm themselves. Screening will occur on different days for different schools, and screening days will likely have additional staff. 
SOS starts with a survey, asking students about their perceptions of the mental health. The survey is designed to help school staff identify students struggling with mental health issues. 
Studies have shown that the SOS program leads to fewer suicide attempts and less suicide attempt planning among students; there are few programs that have been studied among children.  
"This can move the needle," Arzubi said. 
The screening can encompass students struggling with anxiety who are unlikely to consider harming themselves to those who may have planned a suicide attempt; research shows that students are more likely than not to give honest answers. 
Educators were concerned that a deluge of information following screening could overwhelm limited counseling staff in a school, and that it would take several weeks to have follow-up conversations with students. 
Arzubi said it's unlikely that most kids the survey identifies wouldn't already be working with the counseling staff, and that statistically, only a few would require significant intervention. 
When a counselor speculated that it would take weeks to follow up with 20 kids, Arzubi said that "all 20 of those kids are not about to go kill themselves."
That's where educators said they need strong support from the district, providing resources to make educated decisions about which students need what services — and to protect schools and staff from legal liability. 
'Rely on each other'
Each school has guidance counselors, which traditionally have an academic counseling focus but often deal with behavioral or personal issues with students. The district has school psychologists that conduct limited visits to schools and contracts with other organizations to provide mental health experts. Arzubi's advice Thursday was an informal meeting. 
As part of a levy ask in May's election, the district said it would use extra funds in part to add mental health counselors. 
"We've gotta rely on each other," said SD2 superintendent Terry Bouck.
The strongest response is typically a recommendation to go to the hospital.
The Billings Clinic Psychiatric Center sees about a half-dozen new children or teenagers each day. Not all are admitted to the psychiatry unit, and the process is cumbersome, with long wait times. 
It can be a "terrible" first impression with mental health care, Arzubi said, and it might make families less likely to seek care in the future for those who are not admitted. 
And for those who are admitted, sometimes treatments fail. 
"That's gut wrenching," Arzubi said. "But it can happen."
But Arzubi emphasized to school staff that it's still better to know which students could be struggling with mental health problems, and to attempt to get them the right help. 
"One of the most effective things we can do in mental health is ... help someone understand what's going on in their head," Arzubi said. "You can start putting words to the feelings. If a child doesn't have words for their feeling, that leads to behaviors."