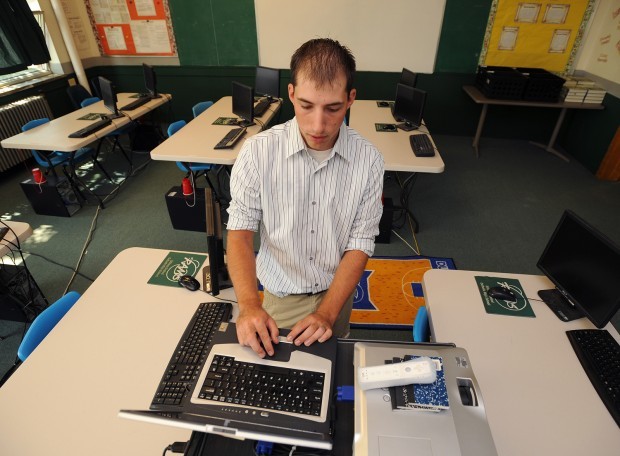 The phrase "with every ending comes a new beginning" may be a bit overused, but with the Billings Catholic Schools system that's what will happen beginning this week.
The system's first technology cycle - designed to evaluate and update its technology needs - will conclude with the start of the 2009-2010 school year on Wednesday.
Started in 2004, its goal was to provide the Catholic school system with a plan for keeping up-to-date with technological advances in the classroom.
"The first leg of that cycle is done, and it was very successful," said Don Larson, the schools' director of information services.
Updating the system
In those four-plus years, Billings Catholic Schools has spent about $200,000 on updating technology around the four schools - St. Francis Primary, Intermediate and Upper schools and Billings Central High - within the system.
Those updates include a mobile computer lab, made up of about 30 computers, for both the intermediate and upper schools and two computer labs at Central.
"You can bring a classroom in to them, or you can bring them to the classroom," said Harold Olson, BCS president.
Last year, the primary school, which serves kids in kindergarten through second grade, received four new interactive Elmo visual presenters, which allow teachers to hook up computers and other devices to a projector for the class.
"The more they use them, the more the kids like it," Principal Karen Petermann said. "They're fascinated with it."
The upper school, for sixth-, seventh- and eighth-graders, got five interactive whiteboards this year. The whiteboards allow teachers to display images from their computer, tests, quizzes and other information on a board. Students can use remotes to answer questions and participate in the discussion, and they provide teachers with instant feedback on individual and classroom statistics.
'We're excited'
"It's really hands-on," Principal Jim Stanton said. "You've just got to get in there and use them. We're excited."
When the technology cycle started there wasn't funding within the system's budget to buy new equipment. Olson said that since it began, just about all of the roughly $200,000 spent on technology has come from donations, grants and other special programs. Hardware has also been donated.
"Four years ago, resources were limited," Olson said. "And we really haven't had the resources to take anything out of our operating budget, so it's all come from other places."
That funding got a nice boost earlier this summer when former U.S. Senator Conrad Burns dissolved a special fund he had set up and divided the $300,000 in it equally between four educational institutions in Billings. The $79,800 given to the Catholic schools was designated for technology.
About $32,000 of that money has already been spent upgrading hardware for students and faculty at Central.
Larson said that now the system will begin the cycle anew and hopes to integrate more interactive whiteboards, videoconferencing hardware, new servers and virtual field trip hardware into the schools.
As new students come into the system, it's important to keep them up to date as technology advances, Olson said.
"Our kids have to be very literate as they move forward," he said. "They're coming in with skills that demand the best technology we can afford."
Billings Catholic Schools
• School officials say that registration is on par with last year's systemwide enrollment of 981 students. As with any year, there are fluctuations in the number of kids in each grade. The freshman class at Central High is one of the biggest in recent memory, Principal Shel Hanser said, with almost 95 students enrolled as of Friday. That comes on the heels of the 2009 graduating class, which was one of the smallest, of 61 students.
• There is virtually no teacher turnover this year, with only one new teacher coming into the system. Karen Petermann, St. Francis Primary School principal, said the low turnover rate helps kids feel more comfortable and secure, which in turn helps the school year "run so smooth."
• This year, the system will focus on evaluating its math curriculum. Last year it focused on the reading program, which led to the implementation this year of a new program and books, called Reading Street. St. Francis Intermediate Principal Chris Read said it is more comprehensive than the previous program and focuses on fluency, listening skills, competency, vocabulary and spelling.
• Each year a portion of the money raised at the school system's largest fundraiser, Mayfair, is dedicated toward the Special Project for each school. This year, $36,000 went to repave the parking lot at the primary school, about $22,000 went to repair the boiler at Central, $14,000 went to pay for new lockers and locks at St. Francis Upper, and $5,200 was spent on new desks and to fill the playground at the intermediate school. Mayfair raised a net profit of about $350,000 this year.