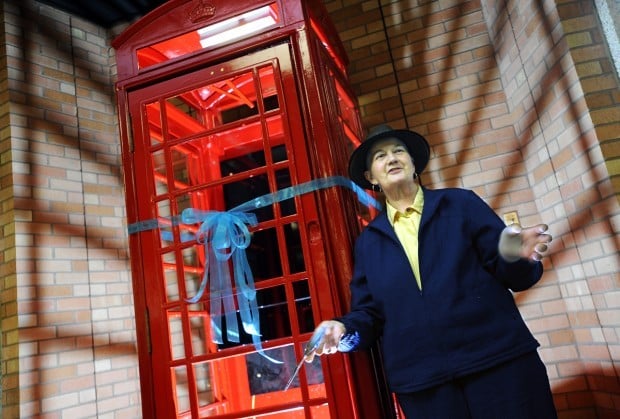 The red British phone box practically glows in the dusky indoor illumination of Montana State University Billings library's south wall.
"This is a little more fun than giving to the endowment," said Jane Howell, retiring director of MSUB's library system.
Howell bought the phone box at Christmastime from a Billings Army-Navy surplus store and donated it to the university as a memento of her four decades at the library. Howell was born in England and moved to the United States in 1968.
"It's a fitting tribute," said Brent Roberts, who takes over for Howell today in the library.
Howell was a little more candid.
"I thought it was an interesting way to remember the funny English lady," she said.
Howell is well known to students, staff and members of the Billings community as "that British lady" or "that British librarian," Roberts said. He said the phone box is the perfect complement to the library following Howell's retirement.
The idea was sparked last Christmas when Howell saw an ad from the Army-Navy surplus store touting the authentic British phone box. She put in a call, paid $3,000 and by April the kiosk had arrived.
"It was worn," she said. "The paint was chipped."
In the end, she paid a few more thousand dollars to have it restored and delivered to the library — a feat in itself. The box weighs more than 2,000 pounds. The kiosk has been wired again for electricity, so the frosted glass panel near the top that reads "telephone" glows yellow. The university will install a working phone so the box can actually be used for making calls.
Roberts did some research. The phone box is a K6 "Jubilee" model, meaning it was constructed sometime between the late 1930s and early 1960s, when the boxes were at the height of their popularity.
Howell has donated to the university's endowment for years, she said.
"I've always believed in giving back," she said.
But with her departure from MSUB, she wanted to do something different, something a little more special, she said. When she saw the ad for the kiosk, she knew she had found her answer.
"I think it will last longer than I will."