At Lockwood Elementary on a recent Friday, the youngest students at school practiced "m" sounds as if they had just raided a pan of fresh cookies.
These were students who would likely be at home if not for a targeted program Lockwood began about five years ago, focusing on students who aren't enrolled in Head Start or another high-quality preschool but will enter traditional kindergarten next school year.
Students attend school in two classes; one meets Monday and Wednesday, the other meets Tuesday and Thursday, and they alternate Fridays. They get a curriculum and atmosphere similar to what they'll encounter next year in kindergarten, helping them start school on a level playing field with kids who attended preschool.
"We look at it as an investment in the future of these kids," said Lockwood superintendent Tobin Novasio. "It actually saves our taxpayers money over time."
About a quarter of students who go through the program have ended up in Lockwood's advanced-track kindergarten class, a higher proportion than usual. And fewer of those students have required academic interventions — which require time, staff, and therefore money — as they get older.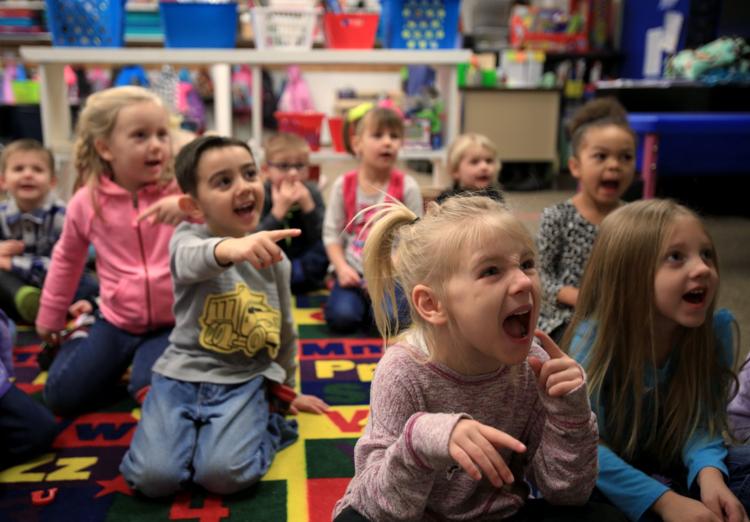 It's a program that Lockwood funds through its traditional school year budget — a nod to the importance of early education, no matter what name the program has.
A federal preschool development grant has supported the establishment and growth of several formal public preschool programs in Montana, but proposals for state funding haven't gained much traction; a $37 million proposal from Gov. Steve Bullock failed in 2015, and Republican lawmakers appear likely to reject a $12 million ask this year.
While research on the effectiveness of public preschool is mixed, most shows that programs lead to better academic, social and career achievement for students.
Social skills are a major focus on the Lockwood program.
As teacher Moriah Krafft called out students' names during attendance, some stood up and beamed. Others tentatively edged out of their seats, and some looked as if they were hoping to become invisible if they held still.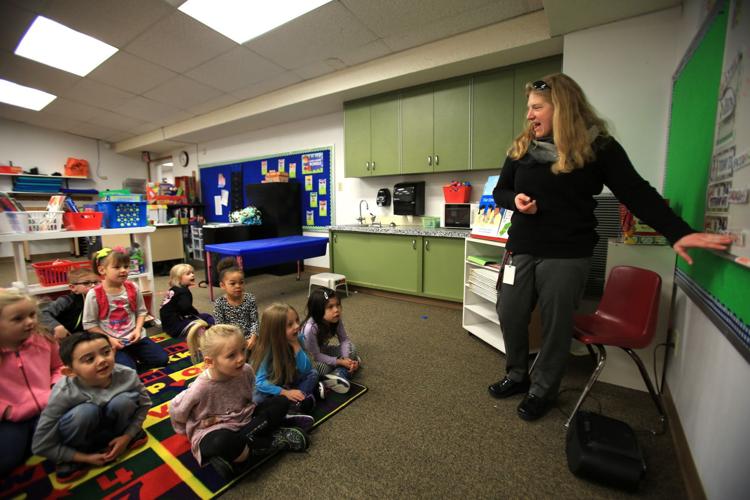 "When you come to a school this size for those students, it's sometimes scary," elementary school assistant principal Jenny Fox said. "They come back next year for kindergarten and they're confident in themselves."
That confidence extends to basic tasks like learning to use a fork to eat school lunch or wielding a pencil.
For example, students learned the mountain-like pen strokes that make up the letter "M" but didn't jump into writing exercises. Instead, they collected alphabet magnets scattered throughout the room and picked out the correct letter.
As Krafft listed off animals like moose and minx, a student chimed in, "What's a manatee?"
Krafft gave a quick answer, then deflected into another question: "Does zoo start with an 'm'?"
Sessions typically lasted shorter than five minutes, with students zipping between chairs, a group carpet and other tasks around the room.
"As long as you can keep them going, you can keep them engaged," Krafft said.
Lockwood plans to keep the program going, prioritizing it even if budgets get tight; in a perfect world, they could expand it. But that would require more money for a district looking to cope with funding cuts that accompany enrollment dips for this school year and likely next year.
"Is it likely to happen with the budget situation in Helena?" Novasio asked, reflectively. "Probably not."