Partway through a busy mid-December Monday, Reagan Bennett's first-grade classroom at Big Sky Elementary was a whirl of giddy energy as she stopped and called for the students' attention.
"Hands on top," she said, loud and clear.
The students stopped and put their hands on their heads, turning to look at their teacher.
"That means stop," the kids hollered back in unison before falling silent and waiting for Bennett's instructions.
The call and response — and the students' quick reaction — is part of a program a handful of teachers at the school are using designed to teach youngsters coping and self-regulation skills that can improve their quality of life years later.
The PAX Good Behavior Game is an evidence-based approach gaining traction in Montana schools, and mental and community health officials are pushing to get the game into first- and second-grade classrooms statewide.
"PAX is not a curriculum," said Claire Oakley, director of Population Health Services at RiverStone Health. "It's a technique that you can incorporate into anything you do in the classroom. Absolutely, what's important about PAX is it's teaching children self-management skills."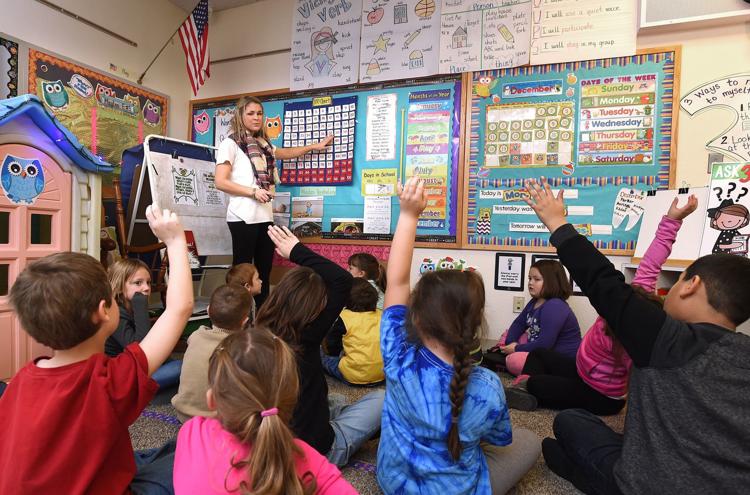 At its core, the game is a way of speaking, acting and reacting in the classroom.
In Bennett's classroom, as with others who use it, specific language and games weave their way into everyday activities that reinforce good behavior among students.
While giving the students instructions, she might pepper in something like "I'm looking for good PAX leaders" or "We should all have good PAX bodies and voices" to remind them of what makes up good behavior, including a set of ideals the kids helped come up with at the beginning of the year.
And when the kids' behavior and actions help minimize disruptions and promote a productive learning environment, they're rewarded, although not with treats or toys.
After a particularly good start to a Monday morning, Bennett stopped the class for a moment and engaged the 18 students in three quick and lively rounds of Simon Says before resuming their work.
Other times, teams of students who earn enough points through the day might earn a prize. Maybe they can do their schoolwork lying on the floor for the afternoon, or get a short and active burst of silly play partway through the day.
"That positive reinforcement is huge," Bennett said. "It makes them feel like they've done something. I can look at it and know I've made them feel good."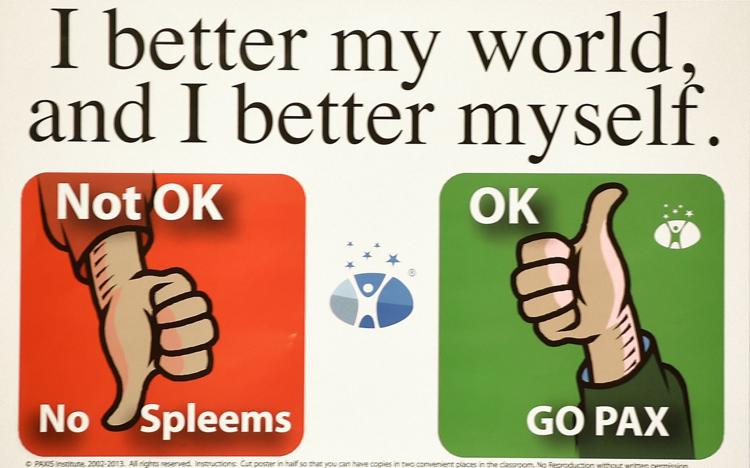 With the focus on taking note of good behavior, the idea is that it will also encourage kids to keep up the positive actions on their own, inspiring those who might tend toward disruptive behavior to correct themselves along the way.
PAX doesn't ignore negative or disruptive behavior either, but it does approach them neutrally. Using a made-up word called "spleems," a teacher can tally up such behavior against the prizes and activities for good behavior without singling out a specific child.
"They work really hard and talk about how to earn it each day," Bennett said. "And we celebrate it with the class."
You have free articles remaining.
Keep reading for FREE!
Enjoy more articles by signing up or logging in. No credit card required.
In her classroom, each student's desk also has a small card taped to a corner of his or her desk. One side of the card is a green "thumbs up" drawing and on the other is a red "thumbs down" with "Not OK, no spleems" on it.
Bennett said she can walk by a student and point at either symbol and get an almost immediate response.
Or, she can point to a poster on the wall with the same symbols, but adorned with "I better myself and I better my world" for a classroom-wide effect.
"You're honing in on the positive things, and that shapes your whole day," she said. "It's amazing, the repercussions it's had in the class."
The approach has garnered enough attention over the past few years that the Montana Suicide Mortality Review Team suggested in its most recent annual report that the 2017 Montana Legislature consider using it in all first- and second-grade classes in the state.
Research and studies have shown that PAX Good Behavior can help kids cope with emotional and mental health challenges later in life, including reducing suicide rates, said Karl Rosston, state suicide prevention coordinator with the Montana Department of Public Health and Human Services.
"It's not a suicide prevention program per se," he said. "It's an overall health resiliency program and suicide is one of the results we see with it. Coping skills, resiliency, conflict resolution, those are all skills that we've seen deteriorating in our young people over the years."
According to the National Registry of Evidence-based Programs and Practices, studies have produced encouraging results in behavior and health, both early on and over time. Oakley also cited a decadeslong study of PAX students in Maryland that indicated a reduced risk of depression, suicide and drug use along with increased high school graduation and college entry rates.
Oakley helped to facilitate a training on PAX Good Behavior in Billings in October 2015 and another in June, drawing dozens of teachers from Billings and the area.
Educators in Hardin and a handful of other areas also have received training.
Rosston said the Butte school district recently put PAX into its classrooms and that a number of Montana tribal communities have done the same.
"We think it should be done in all elementary schools, first and second grade, and we're going to try to identify how to do that," he said. "We would like to see something done at a statewide level."
School districts and classrooms are welcome to pick it up, but statewide implementation would likely take a legislative act, he said.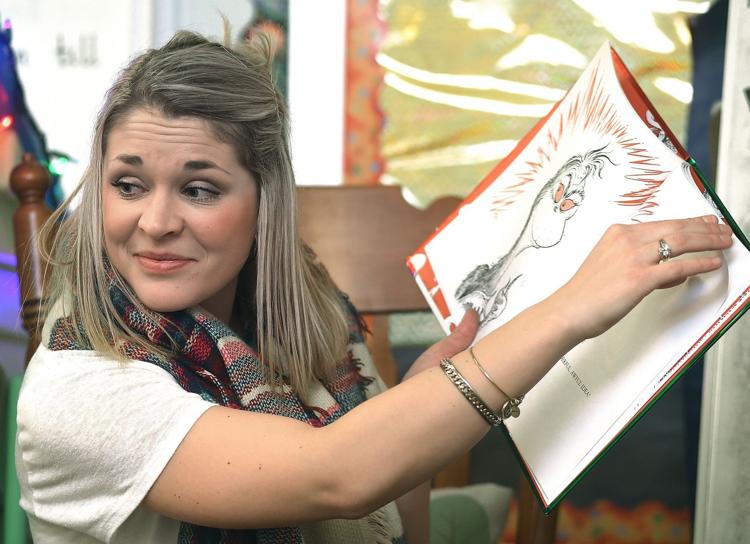 Both Rosston and Oakley described the PAX Good Behavior Game as a proactive program that aims for long-term results and hope to be able to provide training for more teachers, if they're willing, soon.
"The point with PAX is it's a long-term payoff," Oakley said. "Teachers should understand that it's not a new curriculum they have to learn. It's a new technique, and they can work it in however they want."
After a handful of teachers at Big Sky Elementary attended the June training and brought it to their colleagues, Bennett thought it was just that — a new curriculum to put in place.
But a deeper look and the early results have shown it's worth the effort.
"We're teaching them about doing the right thing because it's the right thing," she said. "It's your job as a person. So much of education is teaching them how to be good people."