Children at Orchard Elementary sit in a small clinic entryway, sniffling, coughing or maybe looking just fine. Perhaps they left class with suspected strep throat or are waiting for a pre-scheduled appointment.
The Orchard clinic, which opened this year, is the only school-based health center in Yellowstone County and one of only a handful in Montana. In-school clinics proliferated in urban areas across the nation in the 1970s and began popping up in rural areas later on.
"If you don't meet their physical needs first, they're not going to learn," said Orchard Principal Karen Ziegler. Health centers also cut down on time missed for appointments and help kids stay healthier and avoid strings of missed days for illness.
The health centers have only taken root in Montana in the past few years. By most accounts, they're flourishing. But they're still rare.
"I think this is a model that we can't ignore," said Billings Clinic child psychiatrist Dr. Eric Arzubi.
The Orchard clinic is a partnership between School District 2, RiverStone Health and Billings Clinic. The clinic is staffed by a nurse, physician assistant and social worker and is regularly visited by Arzubi. It treats any Orchard student who enrolls in the clinic, plus their immediate family, from noon to 4 p.m. on weekdays.
"We're doing an integrated care model," said Andrea Frangiosa, the physician assistant. "We treat the whole child."
That means that the clinic doesn't just help with runny noses or vaccinations, but also looks at things like nutrition, social and family life, behavioral issues and class work. Many of the mental health resources can help diagnose learning disabilities or direct students toward counseling or therapy. And for many children, schools are the only place they have access to those resources.
"Those are so important in the development of a child in having a good strong foundation to be in class every day," Frangiosa said. "Sometimes the teachers will come down and let us know about students they're concerned about. That just doesn't exist in the (main) clinic."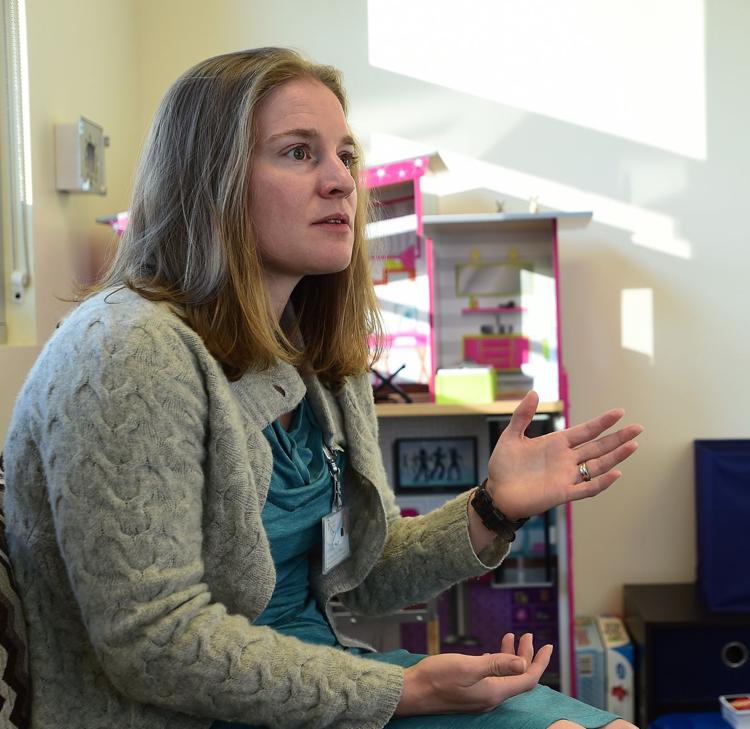 Coordination between the school staff and clinic is essential.
"It's a huge wraparound service," Ziegler said.
The Orchard clinic — a remodeled speech therapy room — might not exist without Arzubi. He said that his vision for the clinic wouldn't have gone anywhere without support from SD2 and RiverStone.
Arzubi previously worked with several school-based health centers in Connecticut and thought Billings was ripe for a similar model.
"I think it became a nice opportunity to create a community-wide operation," he said.
The City of Billings and the South Billings Urban Renewal Association paid almost $50,000 for the remodel, and the Education Foundation for Billings Public Schools added $7,500 for furniture and supplies. The clinic doesn't use any grants and uses the same business model as other RiverStone clinics.
So far, many cases have been typical aliments like sore throats and colds. But the clinic did help prepare a student with a broken bone to be transferred to a hospital.
Orchard students have to enroll in the clinic to be treated there. Within three weeks of school starting, modest enrollment of 25 students boomed to 100, and has almost doubled since then, Arzubi said. That's about half of all the school's students, and enrollment typically increases for the first few years a health center is open.
"In my mind, that's probably more successful than we could have hoped, at least in terms of enrollment," he said.
Across the state
Enrollment certainly increased at Missoula's first and only health center, which opened in 2012.
Partnership Health Center and Missoula County Public Schools collaborated to build a clinic across the street from Lowell Elementary, a school with a high percentage of students from low-income families.
A $500,000 grant helped get the program off the ground.
"You kind of have to be a little forward thinking," said Partnership executive director Kim Mansch. "It was just a new concept here."
Roughly 80 percent of students in the school of about 280 are signed up to be treated at the clinic, which also is open to their immediate families. Almost 250 unique patients have been seen this year, and that number is expected to rise throughout the school year.
The clinic is staffed by physician assistants who are overseen by a physician at a nearby main clinic. It can offer all the services of a full-fledged clinic.
Billings, so far, has been the only other urban district to contact Missoula to find out more about creating a health center.
The Fort Peck Reservation has instituted school-based health centers at four schools on the reservation, starting with Poplar Public Schools in 2007. The system was recently recognized with an award from Harvard University as an outstanding example of tribal governance.
The tribe partners with several universities, health care organizations, faith-based organizations and the state of Montana to help secure a variety of care.
Students can get medical, dental and mental health care at the health centers. Sometimes, the school is the only place where such resources are available. Other medical providers are often overwhelmed.
"It's really hard because for some of the services that are available (outside the school), there's a long waiting list to get people in," said Kenny Smoker, who runs the tribe's Health Promotion/Disease Prevention Wellness Program. "We're an impoverished reservation. A lot of people don't have the resources to get the care."
With the health centers in several schools, "in some respects, the folks at Fort Peck are ahead of the curve in Montana," Arzubi said.
Libby also has a partnership with Altacare to provide extensive mental health resources.
While programs in Billings and Missoula represent some of Montana's most urban communities, that's not a trend reflected in the rest of the country, according to John Schlitt, President of the School-Based Health Alliance, a national nonprofit that advocates for health centers.
"The shift is going toward rural," he said.
Rural challenges
More than half of health centers nationally are found in urban schools, but rural areas account for 27 percent of health centers, according to the most recent national census conducted by the alliance, which was performed in 2010-11. The rest were in suburban areas.
A 2008 study found that a greater number of total students in urban areas used the health centers, but a higher percentage of rural students in each school used them. A 2000 study examining health centers in urban and rural areas in West Virginia found that about twice as many rural students were enrolled to use health center than students in urban areas, and that enrollment rates more than doubled in schools statewide.
One of the biggest obstacles is already well-known for rural medical providers. It's simply hard to attract qualified medical professionals to rural areas, especially specialists. And small communities have a hard time creating the volume to sustain a business model for healthcare.
Arzubi suggested that telemedicine resources could be used in conjunction with school nurses.
Limited resources make collaboration even more important, he said. And the chance to reach students who live in a sprawling community when they're at a central location is important.
"You've got a captive audience," Schlitt said. "Once they get bused out, it's hard to get back into the community for medical appointments. Why not bring the medical resources into the school?"
Health centers are stronger priorities in some states than others. West Virginia, New York and Maine all have implemented expansive networks in rural areas, but all also have financial support from the state. About 15 other states have competitive grant programs.
"That's not to say that this model can't thrive in a state that doesn't," Schlitt said. "(But) in rural communities, federal and state dollars are going to be very, very important."
The Northern Rockies and Plains were almost devoid of health centers in the alliance census. Idaho and Wyoming all had no health centers at the time, nor did North Dakota. South Dakota had six. The census didn't register the Fort Peck program, which was the only one in Montana at the time.
Seat time
One of the program's major goals in Billings is to improve school attendance. By offering students an on-site health option, it decreases the amount of school they miss. Parents don't have to take time off work, pick students up, drive them to another clinic or set another appointment and drive back to school or home.
"It's incredibly disruptive for a number of people," Arzubi said.
For families without transportation, it offers access to care they otherwise might forgo, and it cuts down on missed appointments.
Having the clinic at school can also increase attendance, encouraging ill-feeling children who might just be working through a morning malaise to get to school, where, after a check-up, they sometimes perk up.
For serious problems, appointments with specialists can be made by clinic officials, sometimes speeding up the process. And if small problems can be caught before turning into larger issues, students miss less school, and healthcare costs decrease by avoiding trips to urgent care or the emergency room.
Treatment in schools can also put some students at ease, promote better communication between schools and families and help de-stigmatize mental health treatment.
"You're not plucking them out of a natural environment," Arzubi said. "The more connected a child feels to a school and the adults in the school, the better a child does in life."
The clinic is still determining potential summer hours.
SD2 Superintendent Terry Bouck said that the district hopes to establish another health center at a middle or high school in the next couple years.
"It's a great program and we're interested in expanding it," he said. "And we will."