A Democrat has been Montana's Superintendent of Public Instruction every year since 1988. But that streak could be in jeopardy, according to a statewide poll commissioned by Lee Newspapers.
Republican Elsie Arntzen holds a slight lead over Democrat Melissa Romano, with a large chunk of voters still undecided, according to the poll of 1,003 likely voters contacted from Oct. 10 through 12.
Lee Newspapers asked Montana voters: "If the 2016 election for Superintendent of Public Instruction were held today, would you vote for Melissa Romano, the Democrat, or Elsie Arntzen, the Republican?" The poll shows Arntzen receiving 42 percent to Romano's 38 percent, with 20 percent still undecided. The margin of error for statewide figures is plus or minus 3.2 percentage points.
If the 2016 election for Superintendent of Public Instruction were held today, who would you vote for?
It's unusual territory for a Democrat running for the state's highest educational office. In Lee's 2012 poll, then-incumbent Denise Juneau held a 5-point lead. That race ended up as a narrow victory for Juneau.
Romano, a Helena teacher and math coach, emerged early as a teacher's union-backed Democratic candidate. Arntzen, a state legislator and retired teacher, also had a clear field on the Republican side.
Romano's campaign has already spent about $247,000, according to available campaign filings, dwarfing Arntzen's $123,000. But Montana teacher's union spending on the race is unprecedented.
In 2012, MEA-MFT, through its Committee on Political Education, spent about $35,000 supporting Juneau. In 2008, it contributed about $50,000 to Juneau's bid.
This year, MEA-MFT has spent almost $300,000, according to campaign filings, fueled in part by a pair of $100,000 contributions from national teachers unions. Combined with candidate spending, this year's superintendent race appears to be the most expensive ever.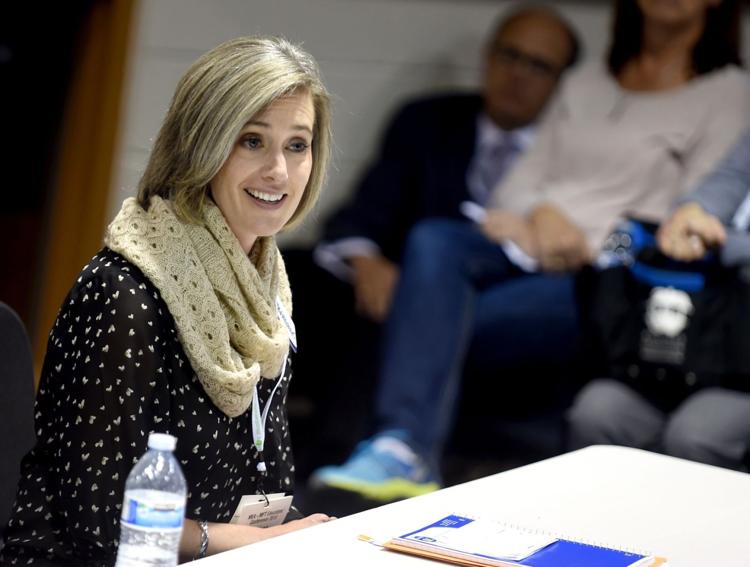 "Back in 2012 we had a proven incumbent running," said MEA-MFT president Eric Feaver. "Despite the fact that she was an accomplished incumbent, she barely won. Obviously we couldn't sit back in the election."
Arntzen launched a brief primary campaign for Montana's lone U.S. House seat in 2014, which Ryan Zinke eventually won, and has been a state legislator since 2004. Romano is a political newcomer.
"We knew (Romano) was going to need a lot of help running against a candidate who may have some statewide recognition," Feaver said. He said he wasn't concerned by current poll results. 
History
Traditionally, Democrats have had an advantage in Montana's superintendent race. Democrat superintendent candidates usually received more votes than the Democrat in the governor's race in recent decades; some people who usually vote Republican cross over in the superintendent race.
Superintendent election by party identification
Education tends to be more prominent in Democrats' platforms, especially when talking about equity in education, a major trend in recent years.
"That tends to be the kind of gospel that you have more often at that end of the spectrum," said Tom Halverson, director of the education policy program at the University of Washington.
That Democrat-leaning trend was obscured by Brian Schweitzer's landslide victory in 2008, but it appeared it could be waning in 2012; Juneau received fewer votes in her race than Steve Bullock in his, while her Republican opponent received more votes than the Republican gubernatorial candidate.
Romano's campaign has focused more on its message than name recognition, which internal polling showed wasn't a concern, said campaign manager Derek Ketner.
"Our strategy basically was to raise enough money that we could have our budget planned out before October," he said. "It wasn't really a strategy of getting her name out there … I think at the end of the day, voters want to know that their OPI candidate is going to be supporting public schools."
A public-private distinction has been a major attack on Arntzen this year, as opponents have seized on legislative votes like support for a tax credit program for donations to private, religious schools and support for education savings accounts, which would divert per-student state money away from public schools.
Democrats have also criticized Arntzen, whose husband is the CEO of Century Gaming, for pumping about $71,000 of her own money into her campaign.
"Her personal contributions essentially pale in comparison to (union spending)," said former Montana GOP executive director Chris Shipp, who works with Arntzen.
'Special interests'
Arntzen has criticized longstanding Democrat control of the superintendent's office and the influence of "special interests," as she's often characterized MEA-MFT.
Superintendent election by gender
"It has been 30 years since they've been in control. The tie between Helena and Washington, D.C., has been strengthened," she said.
Feaver's got no problem with the special interest label, with context.
"You bet we're interested in seeing that we have quality schools and quality government," he said.
There don't appear to be third-party groups campaigning for Arnzten. An Americans For Prosperity-backed school choice advocacy group popped up in July, with education savings accounts as a top priority.
Both campaigns will likely continue to hit the airwaves. Artnzen spent little during the last reporting period in late August and September, but had more than $120,000 left in her campaign coffers, more than twice what Romano had. Several of Romano's media contracts run through Election Day.
There appears to be more undecided Republicans than Democrats; 11 percent of Democrats said they were undecided compared to 25 percent of Republicans and 23 percent of Independents.
Ketner said Democrats wanted to get out Romano's message before ballots were mailed out.
"That's when a lot of Montana voters are making their decisions."
**Correction: A previous version of this story incorrectly characterized undecided voters. Eleven percent of Democrats, 25 percent of Republicans and 23 percent of Independents are undecided.