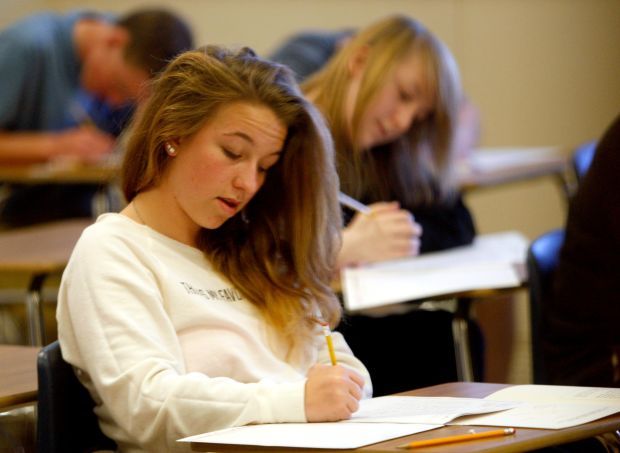 Superintendent of Public Instruction Denise Juneau might as well have delivered an early Christmas present to high schools when she announced that juniors would take the ACT as a statewide standardized test instead of the beleaguered Smarter Balanced exams.
All juniors already take the ACT; Juneau said the move would cut standardized testing time by two-thirds.
Local principals were feeling quite merry Tuesday about the decision.
"It's going to have more relevance and more meaning to our students," said West High Principal Dave Cobb. "The kids in Billings are taking the same ACT exam as the kids in New York City."
Unlike many standardized tests, the results have a direct application to students; the ACT is commonly used as a college entrance exam or to gauge career readiness. When students take tests like Smarter Balanced, their collective results can affect schools or districts, but they don't affect individual student grades or evaluation.
It also didn't help that Smarter Balanced exams suffered technical glitches that caused delays and in some cases cancellation of tests last spring. Those glitches also may have compromised the validity of results.
"The Smarter Balanced exam, because of the problems that we have, I really feel like the kids have not taken the test as seriously," Cobb said.
Schools were also pleased about gaining several hours of instructional time. If a multi-hour test is administered during the same period over several days, "you're missing anywhere from up to three or four days of instructional time," Laurel High Principal Ed Norman said.
Staff members also get back time spent on delivering and preparing for assessments, Skyview High Principal Deb Black said.
"Our counselors take care of all of our testing," she said. "The time that they could be spending one-on-one with students … now they've got that time back."
Norman was pleased about the comparability of ACT scores through the years, although Montana has only tested all juniors since 2014. Previously, only students considering college took the test. Scores from those years are typically higher than when all students are tested.
Still, "it's something that has a ton of data backup," Norman said, and can be compared nationally.
A year of pilot testing in 2014 didn't yield results, and scores from 2015 may have validity issues for Smarter Balanced; "We're going to have a group of kids going through here that we didn't have that data on," Norman said.
Junior year can sometimes be students' toughest, as they're moving into advanced coursework or trying to catch up with graduation approaching. Many take college entrance exams other than the ACT like the PSAT plus other district standardized assessments and regular in-class exams.
"They have testing fatigue," Cobb said.
The ACT is not specifically aligned to Montana content standards adopted in 2011; however, the test was tweaked in 2012 as many states adopted the Common Core standards.
The test "was not designed to directly measure progress toward those standards," an ACT document about the changes to the test says. "(But) significant overlap exists between the Common Core State Standards and the college and career readiness constructs that ACT Aspire and the ACT measure."
Principals said they were aware that the ACT wasn't specifically aligned to Montana standards but said it wasn't a major concern.
Black said that she heard rumors of the change several weeks ago.
"I emailed our (district) testing guys, and I said 'really, this is my Christmas present,'" she said.