Jordan Public Schools superintendent Nathan Olson has a simple way to explain why teachers leave small districts for better-paying schools.
"Everyone wants to eat something other than ramen noodles," he said.
Montana pays beginning teachers worse than any other state in the country. Salaries get better for more experienced teachers, but still fall short of some neighboring states. And in rural areas, which often cycle through young teachers for open positions, a sparse housing market can drive up costs of living.
Some schools that received extra oil and gas money during the Bakken boom offered bonuses for teachers. Some districts have purchased housing for teachers. Others have paid teachers at a bumped-up experience level on their salary schedules, essentially paying teachers for experience they don't have. At least one school has agreed to pay for a teacher's degree, under the condition the teacher stick around for a while.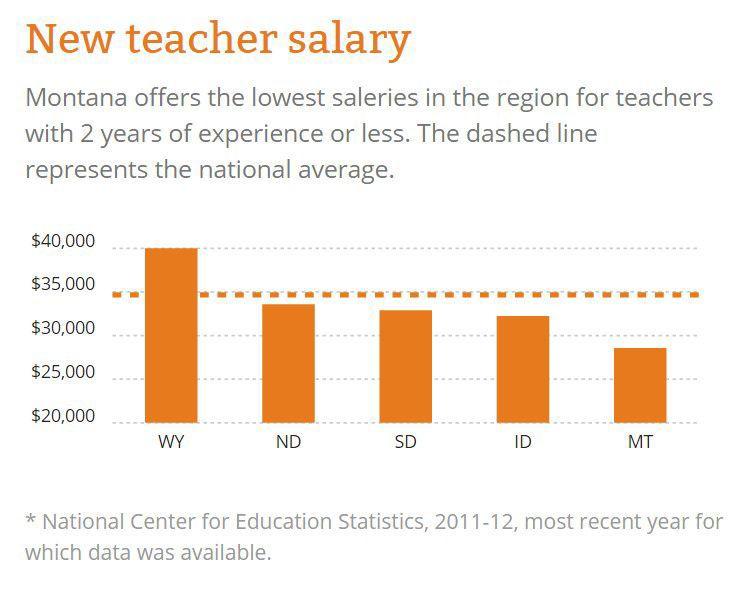 But programs are patchworked across the state, and many districts take no special measures.
Montana does have a loan assistance program that was passed in 2007 as part of a special legislative session addressing education funding, and state officials said that a $40 million preschool development grant is helping produce more certified teachers.
Education costs
In Jordan, the district isn't waiting for the state to change or beef up financial assistance.
Two years ago, Garfield County High School needed to hire an English teacher. Judy Billing had been teaching at the elementary level in Jordan, but was looking for a change. She moved to the English position, but switching grade levels and subjects often requires different training and certifications.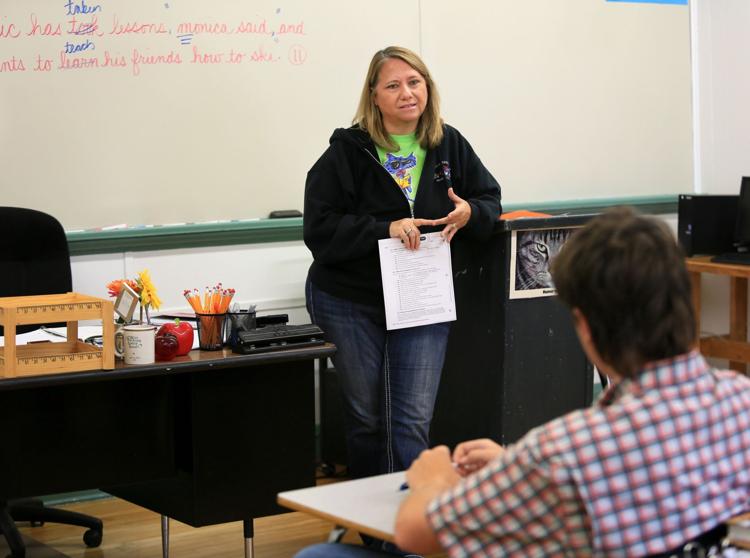 Billing has pieced together online courses from different schools working toward her master's degree that hits English certification requirements. The advanced education will also move her up on a pay scale, but since Billing is a veteran teacher on the back end of her career, it wouldn't pay for what she spent for the degree.
Jordan's school board signed off on paying for her degree, so long as Billing sticks around for a while. Such agreements don't appear to be widespread in Montana, for financial reasons or otherwise.
"A lot of us think, well, we (paid for) it on our own," Billing said. She's also the president of the local teachers union, and acknowledges there's some resistance to what is sometimes seen as unfair compensation. She sat out the union vote that approved her agreement with Jordan.
Several administrators were skeptical that their school boards would be willing to pay off the costs of teachers' education.
Billing said that dire hiring situations may convince more teachers of the necessity of new programs, even if they don't jibe with past practices.
"If that's what we have to do to get (teachers), then we should," she said. "It's too bad that we have to."
Funding models
Montana's school funding model sets a floor for what schools' budgets can be, made up of required local taxes, federal money and state aid, which can fluctuate depending on the wealth of a district's tax base.
The state also sets a ceiling, which is up to local taxpayers to reach by passing general fund levies. A minimum budget is 80 percent of a maximum budget. Some districts see that 20 percent gap as a key to offering teachers better pay. But depending on the wealth of a district's tax base, how much the typical taxpayer contributes can vary.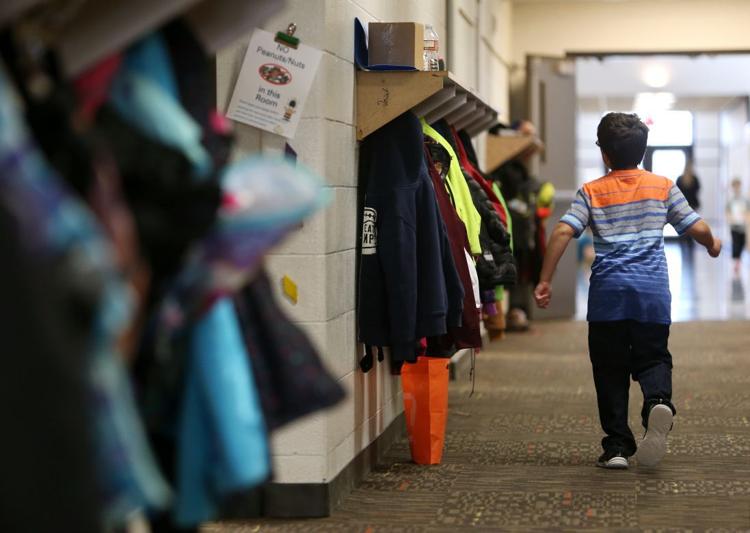 "We need to get a levy passed if we're going to keep and retain good teachers," said Elder Grove Superintendent Justin Klebe. "(But) it's a big burden on taxpayers."
Right next door to Billings, Elder Grove recruits teachers just fine.
You have free articles remaining.
"Our big problem is retaining," Klebe said. "We'll get these great teachers, and they'll teach here for a year or two, but then they're applying for Billings because Billings pays more than Elder Grove."
Elder Grove has a largely residential tax base, and tax increases fall heavily on the average homeowner. The school, like many in Eastern Montana, often struggles to pass levies.
A recent interim legislative commission on school funding proposed a draft bill tweaking the state's existing loan aid program for teachers. But no sweeping funding overhaul proposals came out of the group.
Loan assistance
An analysis for the interim commission suggested the existing loan program might not be targeting schools who need teachers the most.
About 170 educators were paid about $497,000 for the 2014-2015 school year, but 38 of those teachers taught in AA school districts. While large schools sometimes have trouble attracting teachers in specific subject areas, smaller, more rural schools almost always face greater challenges.
Some legislators took issue with Billings Senior High being in the same program as schools like Lima, a tiny K-12 district tucked in Montana's southwest corner 50 miles from Dillon.
"As with setting any priority, you've got to deal with the most chronic issue," said Jeff Essmann, a Republican legislator representing Billings who sat on the interim commission.
A draft bill suggests changing location parameters to direct more aid to the most rural schools. The current formula that determines what schools are in the program uses economic and academic factors; schools with a lot of poor students and struggling academic records often have higher-than-usual teacher turnover.
The bill also changes the payment structure from its current four-year, $3,000-per-year system.
"There was apparently a pattern of people using it the first year and leaving and going to a different district," Essmann said.
The bill recommends a three-year escalating system, from $3,000 to $4,000 to $5,000 — but only if teachers stay in the same school or district.
Whether the proposal gains traction remains to be seen; Essmann hedged his bets when asked if changing rural definitions would disadvantage urban schools in his district.
"I think the proposal still has some flexibility with respect to hard-to-fill slots, regardless of location," he said. A provision says that more schools can be included if allocated money isn't used up by teachers applying for the program, and the rural definition changes only have to be "considered" when selecting schools.
Other states have adopted more dramatic measures.
More than 20 states use diversified pay programs, which offer higher salaries in high-needs districts beyond programs like loan assistance. Seven states require minimum salaries, and 17 states use a statewide salary schedule, that requires minimum salaries depending on experience.
Montana doesn't use any of the approaches. Idaho uses a statewide salary schedule, and Wyoming uses diversified pay.
Iowa created a program in 2013 offering grants and extra funding to high-needs districts, who then designed their own plans including higher teacher pay and more professional support for teachers. A 2015 review of the program found 94 percent of district hit retention goals.
South Carolina proposed wiping out up to $30,000 in student debt if teachers work in the state's neediest districts. The state's existing program offers to erase up to $20,000, depending on the subject taught and turnover level of the school. It doesn't specifically target rural schools; in some states, turnover problems are concentrated in low-achieving urban schools.
In Nevada, Clark County – an urban district – bumped salaries up from $34,600 to $40,900 amid intense recruitment. Oklahomans will vote on a ballot measure in November to raise minimum teacher salary about $5,000 from the current $31,600. Arizona passed a constitutional amendment in May increasing education funding $3.5 billion over 10 years, some of which will increase teacher pay.
In Montana, since the loan program was approved in 2007, there hasn't been a single bill proposed in the Montana legislature to target excessive teacher turnover through increased pay.
Jordan superintendent Olson speculated that the key to more education funding is more economic activity, increasing tax revenue. Until more funding arrives, he expects teachers to keep leaving for higher-paying jobs.
"When you get an absolutely stellar teacher, that's usually what happens."