In the 2016 graduation ceremony pamphlet for Little Big Horn College, 33 students are spread out under a variety of academic areas — associate degrees in education, business, Crow studies, community health among them.
Some of those students from the Crow Agency school will go into the workforce. Others will move on to four-year studies.
"I want you to get that bachelor's degree. I want you to get that doctorate degree," said Shawn Real Bird, a Crow legislator who gave an impassioned speech at the ceremony in Crow and English.
Various programs encourage tribal college graduates to continue their education in the Montana University System. In the fall of 2015, 89 students — including 12 from Little Big Horn College — transferred. In 2006, that figure stretched up to 124. It was as low as 67 in 2012.
For students on reservations, accredited tribal colleges offer an easier transition to advanced education than traveling to larger state schools filled with students from different cultures.
Crow Agency is almost 60 miles from Billings. Others, like Chief Dull Knife College in Lame Deer, are even farther from a larger town.
The students have a variety of reasons for their choice to attend tribal colleges. Some may not be prepared for the academic rigor of a four-year university. Many are adult students, with children and jobs. Many aren't ready to leave home.
College President David Yarlott introduced the student theme for the graduation ceremony Friday, a quote from Chief Plenty Coups: "Education is your most powerful weapon. With education you are the white man's equal; without education you are his victim."
"If you think about what's going on in our environment, in our society now, Chief Plenty Coups' quote takes on more meaning," Yarlott said.
"Be courageous"
"It's been a tough year. A tough couple years," said James Vallie, the student speaker at graduation.
"Heck, it's been a tough life," he said, with a little bit of a laugh.
"I really didn't care much for school. I always just wanted to work. But (my family) kept pushing me back into school."
He started working as a cook at the college.
"I used to see all these students here, everyone graduating and doing really well," he said.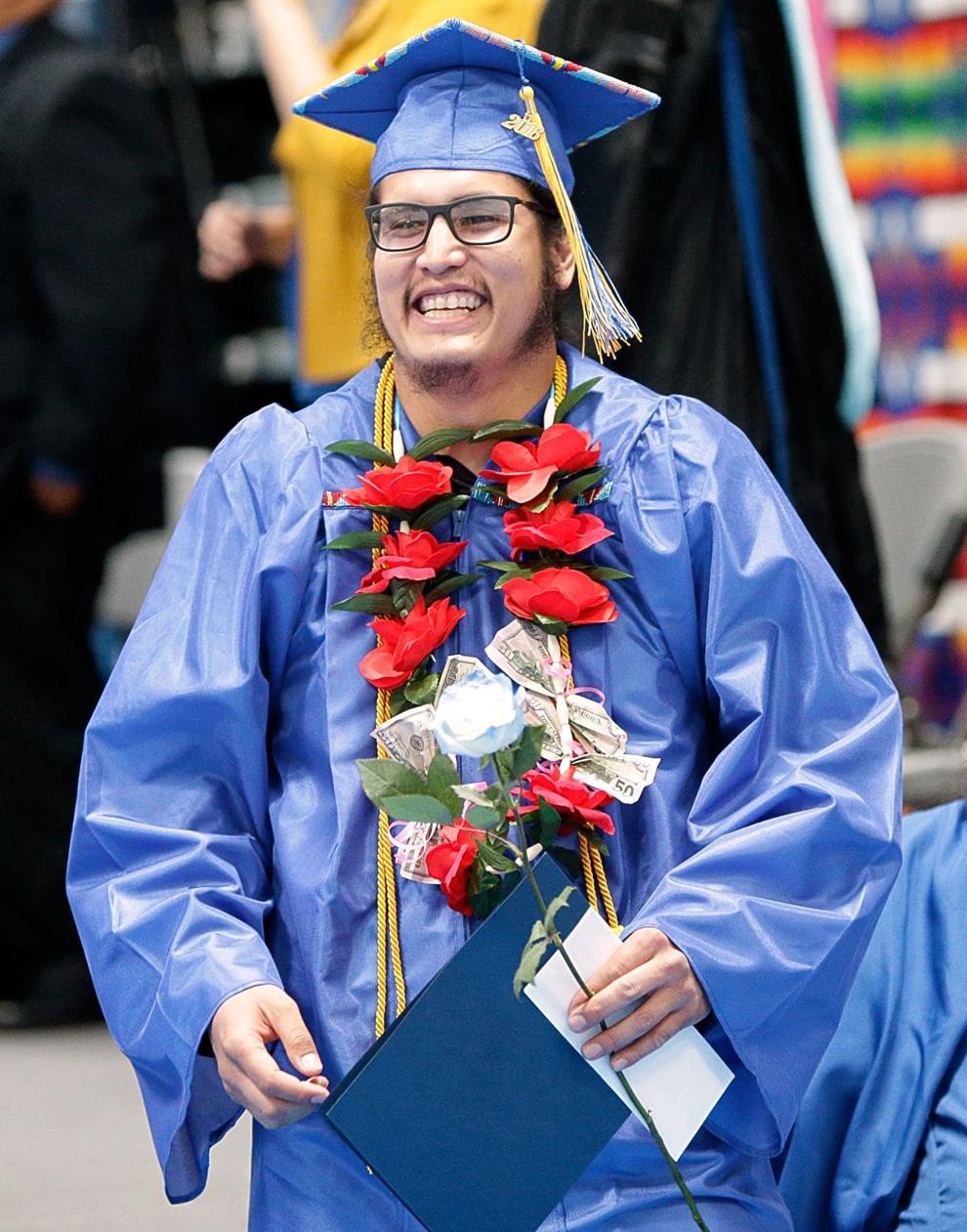 Making sure students do well at the next level can be challenging. In 2014-2015, 183 Native American students earned bachelor's degrees in the Montana University System, second only to an all-time high of 207 the year before.
But retention rates at four-year schools were about 52 percent for Indian students in 2014-15, compared to about 76 percent among the larger student body. A smaller, but still significant gap exists at 2-year colleges.
Yarlott previously said only 15 percent of students who go to four-year colleges graduate if they don't start out at tribal college. If students attend those two-year schools first, their success rate jumps to 85 percent.
The figures are anecdotal. Tribal colleges don't have to participate in the National Student Clearinghouse, which tracks college student enrollment and graduation data. Both Little Big Horn and Chief Dull Knife colleges are working to become a part of the clearinghouse.
"We ask the instructors to raise their standards, to raise their expectations," said Little Big Horn College Dean of Academics Frederica Lefthand. "If you raise them and challenge (students), they have the potential to meet whatever challenge you give them."
The school tries to connect students to a faculty member at their new university. Moving to a new community and new school can still be intimidating for students.
"Above all, you must be courageous," said Denise Juneau, Montana's Superintendent of Public Instruction and a member of the Mandan Hidatsa Tribes, who spoke at graduation.
Home away from home
Reno Charette, who runs the American Indian Outreach Office at Montana State University Billings, works to ease those transitions.
"It's nice to have an office they can duck into and they know that they can hear tribal languages spoken here and they will see other native students here," she said.
The office offers academic support, organizes cultural events and helps students manage schedules, with a focus on reaching out to students proactively.
"Where you really make the difference is in individualized service to the student," Charette said.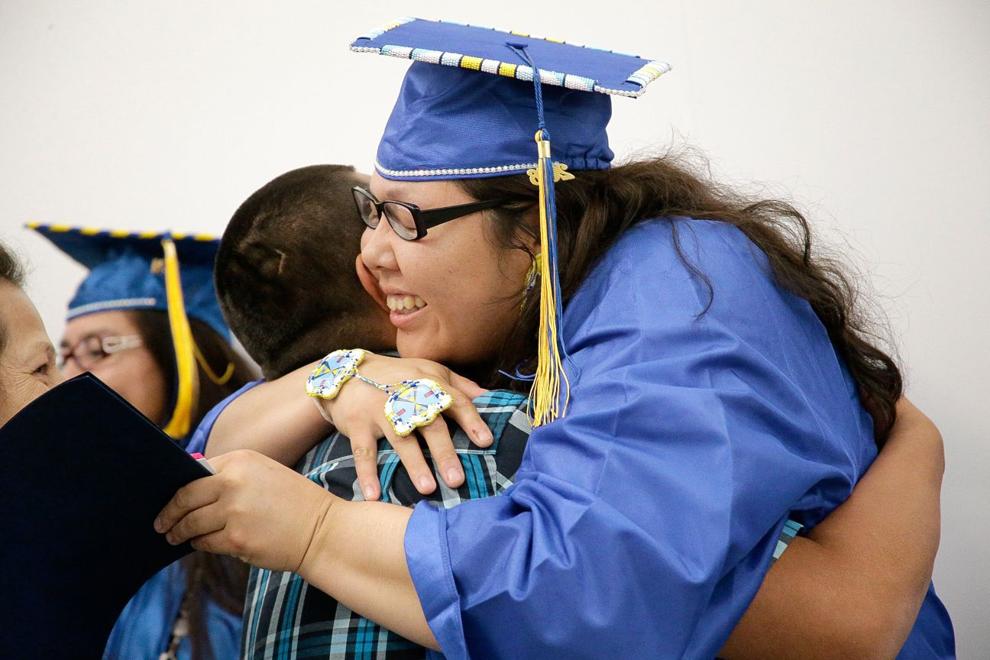 MSUB has about 20 new Native American students who transfer from tribal colleges each year, she said, mostly from Little Big Horn, Chief Dull Knife, or Aaniiih Nakoda College on the Fort Belknap Reservation. The school's retention rate for Native American students fluctuates, from highs of about 50 percent to lows around 28 percent. Another 20 to 60 new Native American students start each year going straight to MSUB.
"We tend to get a population of students, much like a tribal college student who is older, has obligations, they have jobs, they commute," Charette said. "Our Native population isn't the type that necessarily comes to campus and hangs out."
Rocky Mountain College typically had between 20 and 40 Native American students in the late 1990s and 2000s, but enrollment has waned in recent years, down to two students this year.
Students can feel caught between their heritage and demands of a fast-paced world. But that doesn't mean the two are incompatible. Reservation leaders implored students to combine to the two.
"So for the economic development, some things we have started … is because we need to diversify," Tribal Chairman Darren Old Coyote said during a speech at the ceremony, specifically citing the tribe's current reliance on coal revenue.
Terrell LaForge, 22, who earned an associate degree in business administration, hopes to start a service-based business and eventually expand into franchises.
"Everything is running around business," he said.
Those franchises would be located around reservations.
"As you move forward in your life, always remember where you come from," Juneau said. But a degree "will open many doors that you cannot even see right now."