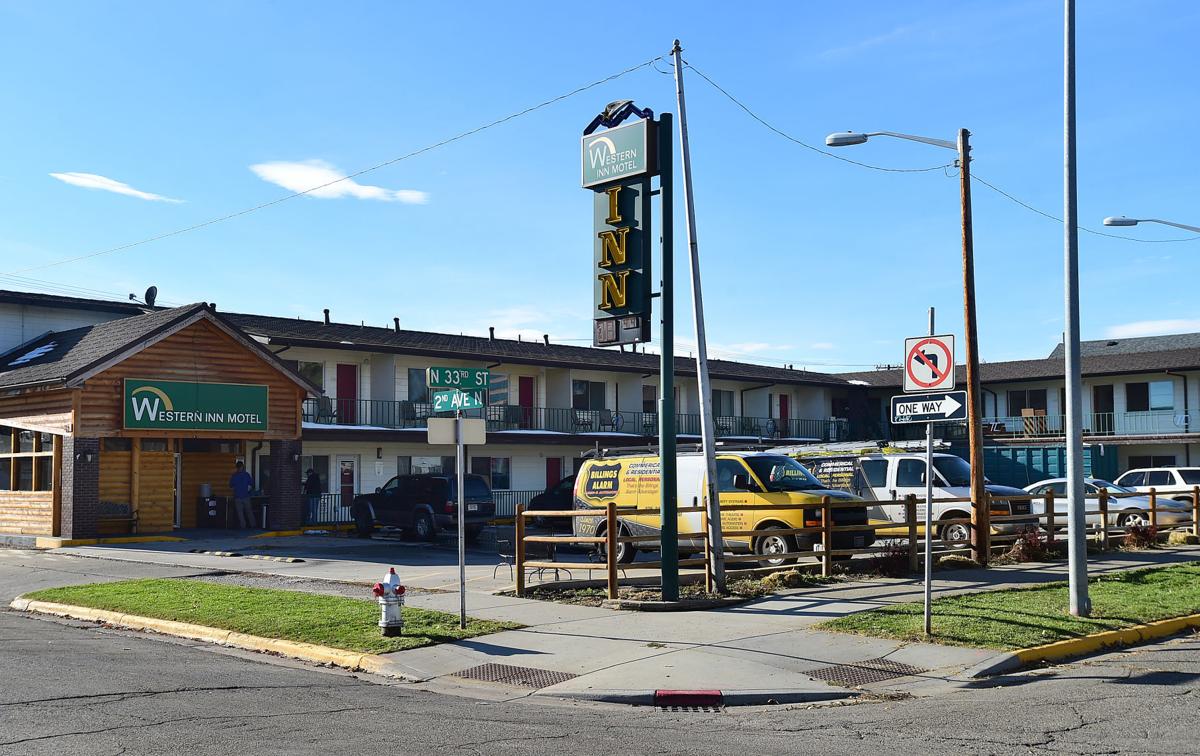 Those needing a place to sleep through the night in downtown Billings this winter will have a place.
Access to a "low-barrier shelter" is being set up by the Continuum of Care network of local social services and health care organizations, and will be housed in the former Western Inn on Second Avenue North. The building was purchased by HAB Development, an arm of the Housing Authority of Billings. 
Continuum of Care has named the shelter Off The Streets. 
The organizations that serve Billings' vulnerable population grapple every winter with trying to create a space that will give people shelter from the cold and inclement weather overnight. Each year, the city organizes a vigil to remember those from the homeless and transient populations who die in the cold. 
Having a low-barrier shelter in place this winter will go a long way to preventing those kinds of deaths, said Erika Willis, executive director of Tumbleweed, past chairwoman of the Continuum of Care and one of the organizers who worked on setting up Off The Streets. 
"We are really proud of the work that's been done," she said. 
She called it an intense process that has involved dozens of people, businesses and organizations. 
That said, Off The Streets is only temporary.
The old Western Inn will house the shelter for 12 months. During that time it will also function as a quarantine and isolation center for members of the homeless or transient populations who are tested for COVID-19 and don't have a safe place to isolate. 
A portion of the funds that helped set up the shelter came from federal COVID-19 and FEMA dollars. It'll cost roughly $100,000 per month to operate, including staff and security.
Those using Off The Streets as a cold-weather shelter will only be able to stay from 7 p.m. to 7 a.m. Those needing it for COVID-19 quarantine or isolation will stay there until public health workers at RiverStone give them the green light to leave. 
Organizers describe Off The Streets as a last resort shelter. Those who arrive seeking a space there — the shelter will have 40 fully-furnished rooms — will first be screened and diverted to other services if they qualify. 
That includes the Montana Rescue Mission, which operates the Men's Shelter and Women and Family Shelter, and the Crisis Center, a 24-hour crisis shelter designed to help those with immediate substance abuse or mental health needs. 
MRM, as a private religious organization, has an intoxication policy that prevents those who might pose a serious threat to themselves or to staff or others using the mission from staying there. The Crisis Center has limited space. 
In cases where other shelters can't take those individuals, Off The Streets would house them for the night and provide them a pathway to services.
"It's not about enabling," Willis said. "It's about meeting people where they're at. We're going to meet people where they are, not where we want them to be."
Off The Streets organizers have been communicating with business and property owners near the old Western Inn to address concerns, answer questions and troubleshoot potential problems. 
They have a lot of expertise to help guide the process, Willis said. 
Continuum of Care is a group of over 20 local organizations that assist, manage or treat members of Billings' vulnerable and transient populations, and includes everyone from St. Vincent Healthcare, Billings Clinic and RiverStone Health, to Tumbleweed, the YWCA, United Way of Yellowstone County and the Montana Rescue Mission. 
Willis is hopeful the community will come together to support each other as everyone works to address the needs of Billings' vulnerable population, its business and property owners and those who live downtown. 
"This will improve public safety," she said. "Safety for everybody."