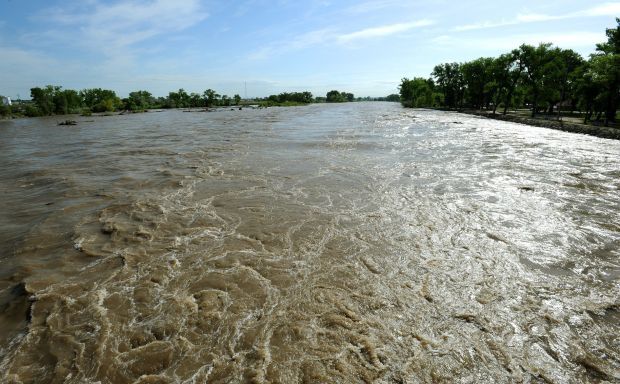 Two emergency shelters opened their doors Sunday in Yellowstone County, where officials continued to prepare for flooding on the Yellowstone River — expected to all but exceed its historic high-water mark early this week.
As of press time, the latest river forecasts still indicated that the river would crest in Billings Tuesday morning just shy of the June 1997 record and remain above flood stage well into the weekend.
Up to 1,000 homes in the county could experience some degree of flood-related impact, Disaster and Emergency Services Coordinator Brad Shoemaker said during a media briefing Sunday afternoon. The Red Cross later that day opened two emergency shelters for displaced residents, at the LDS Church at 640 Broadmoor Drive in Billings and at the Laurel Middle School at 725 Washington Ave.
The Red Cross shelters will provide meals, temporary lodging and access to community resources, although they do not allow pets other than service animals. Displaced residents do not need to call ahead to make reservations.
Shoemaker said the county is working with the Humane Society and the Yellowstone County Animal Shelter to figure out logistics for those with pets that need temporary housing.
County residents concerned about possible flooding impacts can view maps of flood-prone areas on the county website at www.co.yellowstone.mt.gov/mapping/index.html. To view areas of potential flooding, click "Layers," select "Floodplain" and then check the box next to "Current Flood."
Shoemaker reminded residents to avoid contact with floodwater, which can carry contamination from runoff and septic systems, and to avoid attempting to walk or drive through flooded areas.
Sandbag stations remain open throughout the county at the following locations: Amend Park; Huntley Fire Station; Worden Fire Station; Blue Creek Fire Station; and the soccer field at Fir Avenue and East Maryland Road in Laurel.
As of Sunday evening, there were no evacuation orders in effect in Yellowstone County.
Farther west, river forecasts projected that both the Clarks Fork of the Yellowstone River and the Stillwater River would reach record flood levels by Monday evening.
"We've definitely elevated our preparedness level," Tom Kohley, the DES coordinator for Carbon County, said Sunday evening.
The county has established an emergency operations center in Fromberg, where about 45 structures are at risk of flooding on the eastern side of town along the Clarks Fork, Kohley said. The Red Cross has also been preparing to possibly open an emergency shelter at the Fromberg School if evacuations are necessary.
Just downstream at Edgar, the river was nearly a half-foot above flood stage by Sunday evening and was expected to crest Monday evening at nearly a foot above its all-time record of 9.3 feet, set in June 1997. The river is expected to remain above flood stage until Sunday.
Kohley said the riverside towns of Edgar, Bridger and Belfry aren't expected to see significant flooding impacts, although some individual homes will likely see flood impacts along the river's edges. A public meeting to discuss potential flooding impacts is scheduled Monday at 6 p.m. at the Fromberg School gym.
Near Absarokee, the Stillwater River is forecast to reach minor flood stage by Monday morning and crest about 5 inches above its record flood level Monday evening. The most recent forecast showed the river peaking just below major flood stage.