A large multimillion-dollar excavation project will begin this fall to remove potentially toxic chemicals from part of a 580-acre federal Superfund site in Lockwood, which was used for a chemical repackaging company and a tanker-cleaning operation.
The land sits to the north of Interstate 90.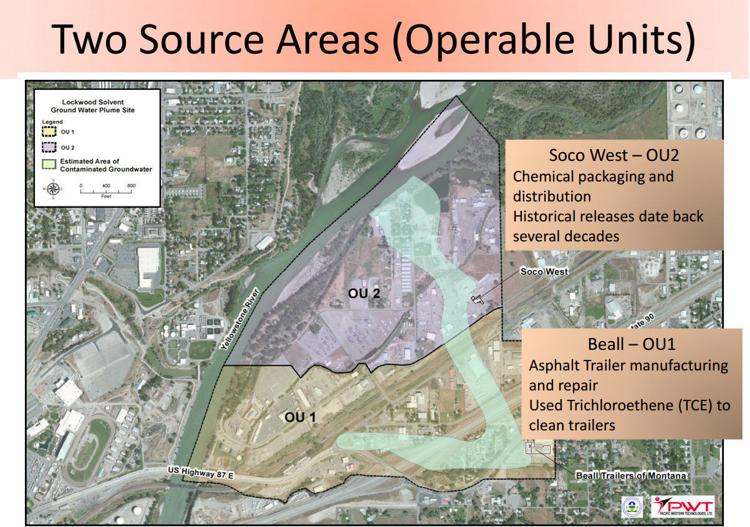 Authorities have already worked with property owners and residents nearby to mitigate groundwater and air quality concerns. They say there is little to no risk to residents living near the area, but still the land must be cleaned before it can be used. 
The Environmental Protection Agency plans to dig up about 28,000 cubic yards of land in the area, where high levels of the toxic chemicals, referred to as "contaminants," are still found in the soil and groundwater.
Superfund cleanup sites are designated by the Environmental Protection Agency and funded by Congress. Money is set aside to clean up or remediate sites that are contaminated by toxic chemicals. 
"This particular contaminant — the volatile (chemical) — binds with that clay soil," said Roger Hoogerheide, an EPA remedial project manager for the site. "So we're going to dig it out, excavate it, and we're land-farming it."
Once crews dig up the soil, land-farming refers to spreading out the dirt and tilling it, dispersing the contaminant into the air. This will be done in six stages to reduce impact on the neighborhood, which is populated by both businesses and residents.
Still, the excavation will be "substantial," Hoogerheide said.
The Lockwood solvent groundwater plume Superfund site was first designated in 2000, about 14 years after local officials first identified solvent contamination in water wells.
The sources were Beall Trailers of Montana, which used solvents to clean tanker trailers, and Soco West, a chemical repackaging company formerly known as Brenntag Inc. Harmful chemicals released by the companies for years included tetrachloroethene, trichloroethene, dichloroethene and vinyl chloride. Some of the contaminated groundwater flows into the Yellowstone River.
Exposure could have happened through showering or cooking with contaminated well water. Two homes needed work done to mitigate harmful vapors emitted from contaminated soil.
The EPA is working with the Montana Department of Natural Resources and Conservation, as well as the Montana Department of Environmental Quality, to restrict new wells from being placed in the Superfund site. Residents were previously hooked up to Lockwood water and sewer service.
The project was split into two sections, operable units 1 and 2, which are situated around each former business site.
The larger excavation job — 28,000 cubic yards — will take place in unit 2, which sits around the former Soco facility and borders the river.
A smaller amount of soil excavation took place on unit 1, to the south near the Beall facility. Much of the contamination identified there is deeper underground, as far as 45 feet. The EPA has chosen a "vapor extraction system" method, boring into the ground and pulling out toxic vapors.
"Basically you're pulling off what would be the interface between the groundwater and the air," said Tillman McAdams, EPA remedial project manager for operating unit 1. "And you're just taking the volatiles off."
McAdams said that should be online later this month.
The soil still shows high levels of contamination. Tetrachloroethene is one of the most prevalent contaminants. It's a colorless solvent linked to kidney and liver damage, memory loss and cancer, according to the EPA.
Soil tests conducted last year showed tetrachloroethene concentrations of 1,060 milligrams per kilogram in some samples. The target limit is 0.65 mg/kg, which was exceeded in about a quarter of samples.
Groundwater tests showed similar results. Tests in October showed that 41 of 56 monitoring wells exceeded the target limit of tetrachloroethene. The highest recorded level was 17,900 micrograms per liter.
The groundwater target limit is 5 micrograms per liter.
The EPA is using an ozone sparge system on the groundwater, which started in 2004 but was expanded this year. This involved injecting ozone into underground wells at the bedrock level and treating the air that seeps back up.
"We've also recovered 1,600 pounds of PCE (tetrachloroethene) at this particular site since we've been running this in 2004," Hoogerheide said.
While the officials said there is no health concern for people living and working in the area, cleanup is still projected to be ongoing for years.
The project is budgeted for about $14.3 million.