Kaiden Keating sprinted across the playground at Newman Elementary, eager to show off his wheels. It's the sort of summertime spurt that you'd expect from a kindergartner-to-be.
But Keating is just as eager to show that he can spell his name (with a "K," he assures a visitor, none of this "C" business), and tick off numbers as he lifts fingers.
Not every student arrives at school with those skills, or even the social and behavioral ability to get along with their peers on the playground. Starting lines vary wildly among kindergartners, and even if some can progress just as fast as their peers, those early gaps can persist into high school outcomes like graduation.
This summer is the first that School District 2 has expanded a six-week, half-day kindergarten jumpstart program that aims to demonstrate that when students get extra time in the classroom, good things happen — that moving up the starting line can help close long-standing achievement gaps.
"We have kids come in that have never held a pencil or cut with scissors, and some that are ready to read," said teacher Teresa Logan.
Some students have been in preschool; some haven't. Some have extensive social experience with their peers; some have almost none. Some are young 4-year-olds; some will turn 7 during the school year.
Logan, a kindergarten teacher at Highland Elementary, and Tana Mungia, a kindergarten teacher at Orchard, are teaching 20 students in the Newman program. The late approval of the program conflicted with family plans and summer jobs for Newman's kindergarten teachers.
"I just believe that we need preschool in our schools, and this is a good head start," Mungia said. She saw the results of the Orchard program firsthand, calling it a "huge difference."
Routine learning
When Logan blew a whistle, Keating and other students pivoted from the playground equipment to racing to line up at the door, grabbing backpacks and standing in line with minimal ruckus. Principal Joe Walsh beamed.
"I usually can't get that until October," he said.
When Walsh and principals at Orchard and Ponderosa advocated for expanding the program, they cited social and behavioral components as being just as important as the academic aspect.
The jumpstart program creates a cohort of kids who can be leaders for the peers, helping to accelerate an acclimation process that often interferes with instructional time. 
"They're used to the school, they are comfortable with the routine," he said. "This has allowed us to make a smoother transition."
It also makes for a smoother transition with parents, and gives educators an early start on building relationships. The summer program doesn't have transportation, relying on parents, but Walsh said attendance has been above 90% for most days.
"The parents have been so receptive," he said.
'Phenomenal' growth
"This one's trying to trick you," teacher Karissa Gordon warned her students.
The to-be Ponderosa kindergartners sat on a carpet eyeing a placard with the letter "C." They had already tutted their way through "T" sounds, puttered through "P," and slithered through "S." Their current letter might make an "S" sound in its name, but its sound in words is different.
That most students knew to cluck out a K-type sound instead has Gordon, a second-grade teacher at Ponderosa, thrilled.
"The growth in three weeks is pretty phenomenal," she said.
Most research shows that a strong, academic-based preschool gives students a better chance to succeed later in life — and that it can make an even bigger difference for groups of students that are more likely to struggle in school, like kids from low-income families.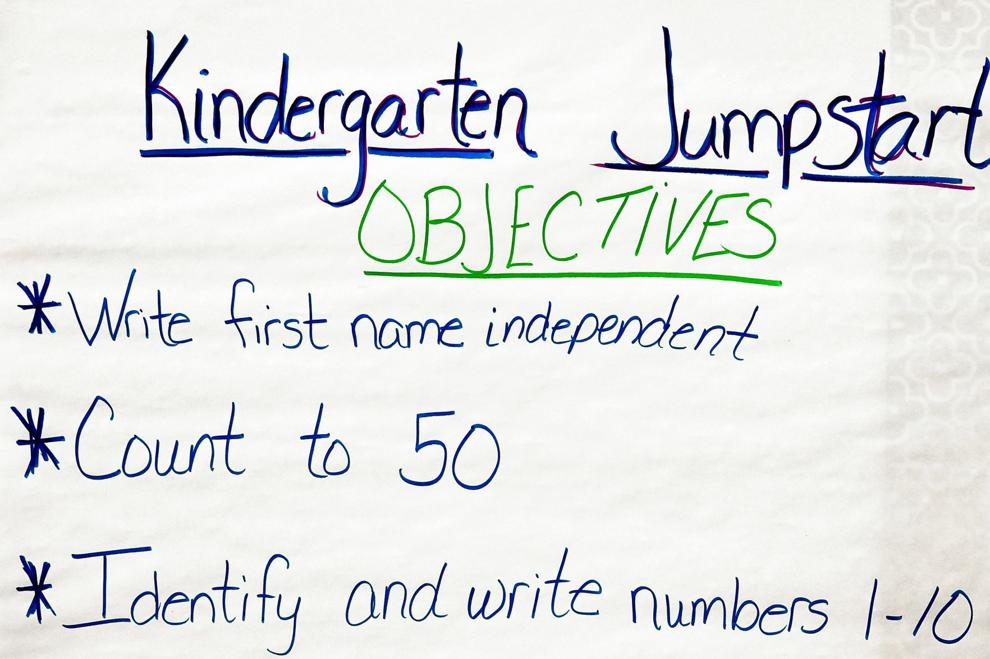 No one in SD2 has trumpeted the jumpstart program as a robust preschool on par with federal programs like Head Start, or as some sort of silver bullet. Instead it's viewed as a step in the right direction, both toward preschool and summer school. Superintendent Greg Upham likes to encompass both concepts when he talks about "expanding the school day" for students who struggle to reach academic goals. 
Riverside Middle School launched their own small-scale summer school program this year, hoping to give students an opportunity to get back on track while avoiding the dread that the phrase "summer school" can carry for older students. 
"Ideally, this is something that can benefit any kid anywhere at any school," said Ponderosa principal Clay Herron. 
But it's not a coincidence that it began at Orchard, which has a high proportion of students from low-income families, or that it expanded to Newman and Ponderosa, which have similar demographics. All three schools have lower test scores than their more affluent counterparts, which follows a national trend. 
If kids struggle early, it's easy to develop negative perceptions of school that complicate efforts to catch up academically. 
Gordon hoped the jumpstart program can plant seeds for kids that can bloom into early success. 
"They're going to have a more positive experience," she said. "If they've had this negative experience, that's when dropping out become the next option for them. ... If you wait to address it, you're always playing catch up."
All of the teachers at Newman and Ponderosa advocated for further expansion of the program. 
"We have plenty of willing teachers," Gordon said, "and obviously plenty of wiling kids and parents."