Twenty-seven of the 34 staff at the Billings Public Library strive to make Friday nights fun for families.
In teams of three or four, they plan, hold and clean up after Friday Night Fun events held from 6:30-8 p.m. each week. What they've accomplished since the program began this fall has been generally appreciated by the up to 78 people who've attended the 10 or so offerings to date.
"It has been both interesting and fun," said Gavin Woltjer, the library director and one of the 27 employees helping to make the program go. "We're trying to keep it varied and be intentional so that we get people who haven't been in the library before."
On Friday, four Backyard Theatre actors did some improv — including decorating a human Christmas tree while using dialogue ranging from soap opera to action flick — and performed scenes from their upcoming play, "Almost, Maine."
The actors "are open to just about anything to get the community involved," said Amanda McCave, who co-founded the troupe in 2013.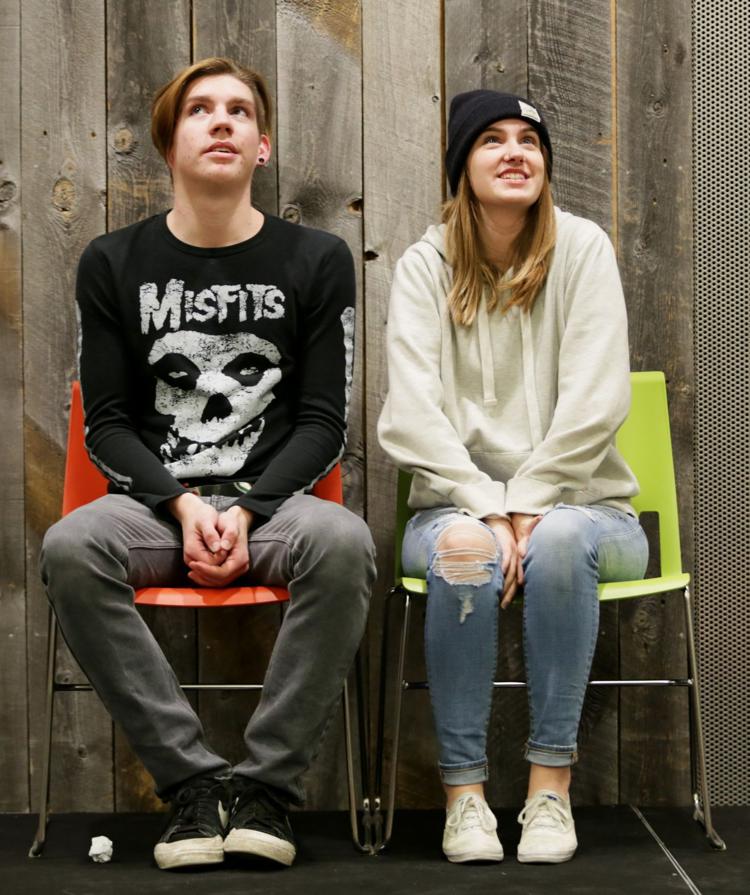 Programs have included a celebration of all things Hobbit, a murder mystery and what Woltjer described as "a geek-out event" centered on the TV horror series "Supernatural."
On Dec. 22, Woltjer will tell Christmas stories while children and their family members make ornaments, nibble Christmas cookies and sip hot chocolate.
On the final Friday of the year, attendees who bring a new or unused white elephant gift can swap it for another, with all the leftovers going to Family Services.
January's Friday Night Fun menu includes a Jan. 12 Hawaiian winter festival, complete with an introductory course on playing the ukulele.
Amy Fugate, a Navy veteran who works in the library's acquisitions department and was stationed at Pearl Harbor with her husband, Steve, said that although she's played the ukulele only a few years, she looks forward to offering a fun festival for island lovers of all ages.
"It'll be packed with activities and prizes," she said, urging participants to bring their own ukulele "or at least be willing to sing along."
By farming out responsibility for brainstorming event ideas, staff has managed to develop program ideas through the Memorial Day weekend.
Genesis of a fun program
The Friday Night Fun idea emerged when library and senior city staff decided, based on headcount and circulation figures, not to continue the tradition of re-opening the library on Sundays as summer turned to fall this year. Instead, they extended library hours through 9 p.m. each Friday, with the library opening an hour earlier on Saturdays.
Woltjer said he's heard "only a handful of complaints" about the decision to close on Sunday year-round. Positive feedback after Friday night offerings has bolstered staff to be "as creative as they want to be" planning their nights along with their teammates, he said.
"It has given the staff a chance to plan and work together," said Mary Leichner, who works with the Bookmobile and the library's senior homebound program.
"When the weather gets nice this spring," said Cindy Patterson, the children's librarian, "we expect even more people to come in on Friday."
"It gets us to engage and have fun with the community," Woltjer said, adding that the fun and educational events "give us a different dynamic on why we do what we do."
"We are constantly learning from the process," Woltjer said. "A year from now, we'll know more about what the community interest is, and that will drive the program."