Poly Drive Elementary has changed a bit through the years. 
When Clayton Croff was principal from 1968 to 1982, the school at one point held 535 students — 35 per classroom in sixth grade. 
Under Kevin Croff's tenure, that figure was down to 360, and those sixth-graders are now taught at middle schools. 
But the father-son duo, who occupied the same office years apart, agreed that one thing remains the same. 
"That's relationships with people," Kevin said. "He built that foundation for me."
Kevin will move to Bitterroot Elementary this school year after six years as the second Croff to lead Poly Drive. The shift is part of SD2's usual trend of rotating principals after a maximum of about six years. 
The elder Croff's tenure began during a different educational era, when Kevin was only six months old and classrooms were so packed that Poly Drive ran out of desks.
"We had to go down and buy some tables," Clayton said. 
Clayton's career had spanned Montana at that point, from teaching in Hobson to working as a principal in Harlowtown to working for the Office of Public Instruction in Helena. 
"I liked the elementary principal job better than all the politics in Helena," he said. 
Kevin grew up with Poly Drive as a second home, shooting endless baskets in the gym over the summer and buying 10-cent Orange Crush sodas in the teacher's lounge.
When he returned to Poly's lounge as principal, the role of educators had changed dramatically.
"He and his staff do so much more for kids now than when I was principal," Clayton said. "He mixes with the kids a lot more than I did."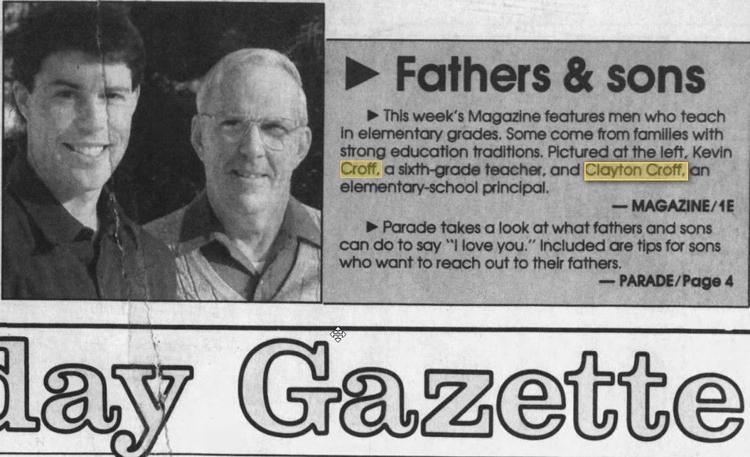 Kevin pointed to the acronyms that surround education: SBAC for state-required testing, NWEA tests for the district, MTSS for mental health support, PLCs for teachers' info-sharing and analysis groups. 
"I think it is really going to help kids a lot more than what we did," Clayton said. 
Data gathering systems have given educators more information than ever, Kevin said. He noted that Poly Drive identified 10 homeless students among its population last year. 
"You don't think about that, Poly Drive, West End," Kevin said.
For those students and others, he can compare attendance information, test scores, and behavioral interventions. 
"Back then, they just didn't have the information to keep track of the kids," he said.
Clayton still thinks his teachers did a bang-up job and still oozes pride when he talks about Poly Drive — especially his former students he's tracked into adulthood.
"That's part of the fun part ... you get to see what they're able to do," Clayton said. 
To his point: during a conversation outside a training seminar at City College, Ben Steele Middle School principal Joe Halligan walked out and greeted Clayton, who was his principal at Central Heights. 
That doesn't mean Clayton pushed his son toward education. It ended up being a logical path for Kevin to follow, but after completing his student teaching, he had doubts about entering the profession. 
That's where his dad gave him something of a nudge.
"Dad said, 'Well, we put you through four years of college so you're going to give it a shot,'" Kevin said.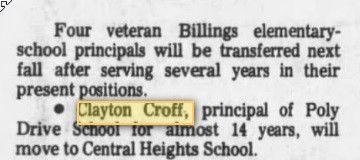 Kevin eventually moved into administration. While SD2's transfer policy will take him out of Poly Drive, it also put him in there; he moved from Meadowlark Elementary six years ago. It's also a process his dad went through, moving to Central Heights and then Arrowhead elementary schools. 
It's tough to leave relationships built with families at one school, both men said, but there are also upsides to a new environment. 
"Sometimes it's good to have a different perspective on things," Kevin said. 
He'll swap places with Lorri Wolverton, who was principal at Bitterroot.
"I had some Wolvertons," Clayton said, thinking, trying to place her among decades of students.
What goes around comes around
Kevin Croff spoke to the Gazette in 2016 about concerns over cars speeding down the road in front of the school, also called Poly Drive. In 1977, the Gazette spoke to Clayton Croff about safety concerns at crosswalks on Poly Drive and Rimrock.