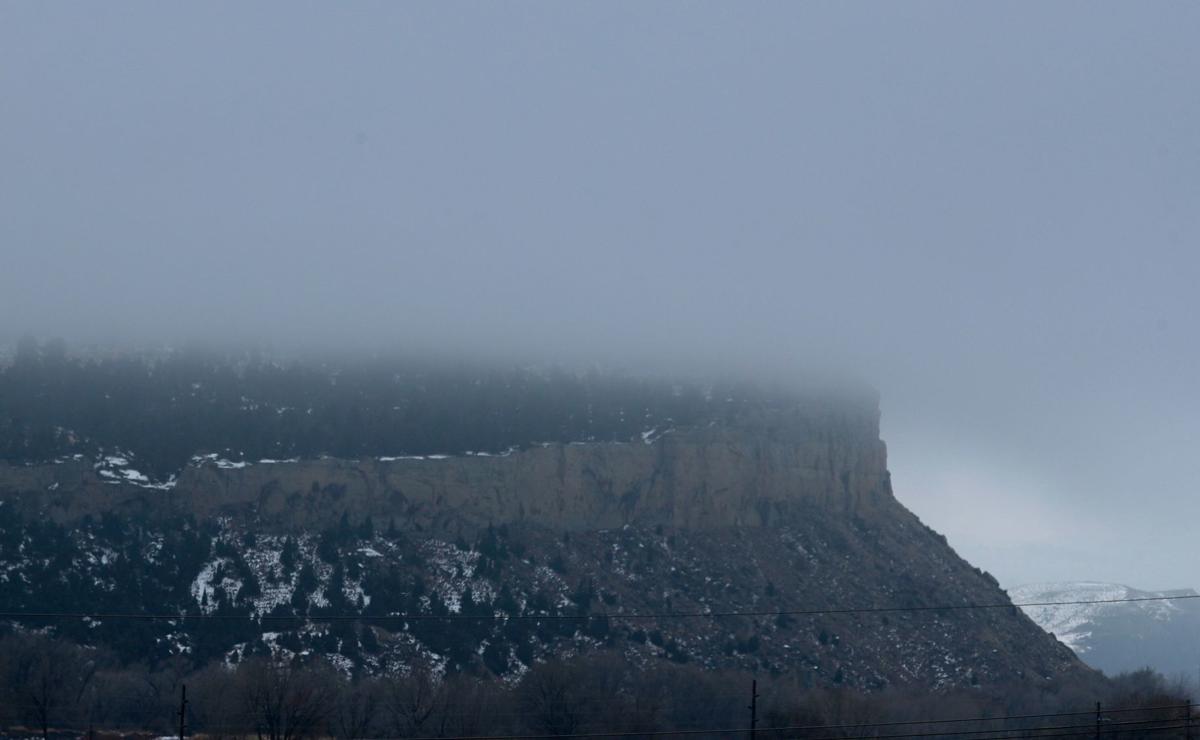 Fog that moved into the Billings area Friday afternoon was anticipated to lift late Saturday night, but not without causing flight delays and roadway crashes.
As of noon Saturday, the fog began to lift and allow visibility of up to two miles, compared to a quarter of a mile Friday evening. The fog ventured out from Billings early Saturday morning toward Roundup and Sheridan, Wyoming, causing slick road conditions, according to Billings National Weather Service meteorologist Dan Borsum.
Wind speeds will increase to 10 to 15 mph tonight, driving the fog out of the area, Borsum said. He did advise that travelers driving in southeastern Montana, especially near Hardin, should anticipate dense fog if conditions persist.
A handful of flights at the Billings International Airport continued to experience delays as of 2 p.m. Saturday, including Cape Air, Delta Air Lines, United Airlines, Alaska Airlines and others. These airlines also had to divert a number of flights arriving in Billings to Bozeman.
"It's the time of year that when weather impacts travel, it brings a lot of anxiety," Borsum said.
The fog was also the cause of a four-car collision at mile marker 470 on Interstate 90 west near the West Arrow Creek Road interchange around 9:30 a.m. Saturday morning.
A Wyoming woman driving a pickup and a horse trailer westbound on I-90 lost control and hit the guardrail in the right lane, causing the truck to be inoperable, Montana Highway Patrol Trooper Darvin Mees said.
A semi truck crashed into the truck and trailer a few minutes later while the woman was still in the truck. The force pushed the truck into the ditch on the westbound side of the road. The semi rested along the median and in the eastbound lane on the interstate.
Later, a car traveling east slowed down as it came upon the crash but was quickly rear ended by another eastbound car.
The woman driving the pickup and trailer had to be extricated after the collision with the semi and was taken to a Billings hospital with non-life threatening injuries. No other injuries were reported.
Multiple emergency crews responded to the crashes, including Lockwood Volunteer Fire Department, Yellowstone County Sheriff's Office, the Montana Department of Transportation, Montana Highway Patrol and others, Mees said.
"It was fortunate that first responders weren't struck," Mees said.
Because all vehicles were driving too fast for road conditions, citations were issued to all drivers involved in the crashes.
Both westbound lanes were shut down and traffic was diverted and at a standstill for about 30 minutes, Mees said. Eastbound traffic was reduced to one lane for a couple of hours. The interstate is now open.
Another crash Saturday morning involved multiple cars and semi trucks that slid off the road at mile marker 518 to 520 on I-90 about three miles east of Garryowen, according to MDT. The road has been reduced to single lane traffic.
Interstates and highways in the Billings area saw wet and dry conditions north to Lavina and east toward Hardin and Miles City. Snow and ice covered the roadway from Billings to Roundup, while roads were clear through Big Timber, Livingston and the Bozeman Pass.
Get local news delivered to your inbox!
Subscribe to our Daily Headlines newsletter.