As the number of cases of coronavirus escalates in Montana, hospitals are preparing for more patients while also working to protect staff and others from exposure.
Even the smallest hospitals in rural Montana are preparing to possibly screen and test everyone who comes through the door, while continuing to care for their older, long-term patients.
Roundup Memorial Healthcare is just now recovering from an outbreak of influenza B in the town's elementary school, where about 25% of the students were infected, according to Roundup Memorial Healthcare CEO Holly Wolff.
As of Saturday evening, at least 30 people in Montana have tested positive for the coronavirus and numerous state and county officials have declared a state of emergency. 
In Roundup, the hospital suspended walk-in patients to its clinic and posted flyers around town announcing the restrictions. Appointments may be made over the phone, Wolff said. Building entrances have been closed to visitors and the emergency department has been staffed to screen anyone arriving with symptoms.
An emergency room bay could be used as an isolation and testing space, said Wolff. No positive cases have been confirmed in Musselshell County as of last week.
Supplies and staffing are areas of concern as well, as the hospital serves about 5,000 people in the county and others in nearby Golden Valley and Petroleum counties.
"We're always trying to keep our supplies up, but financially we operate on very tight margins, so we can't ever have very large stockpiles," Wolff said. "We'll be able to function for a while but we'll not have a lot of supplies to replenish if we do have a lot of cases. Those are a few lingering fears."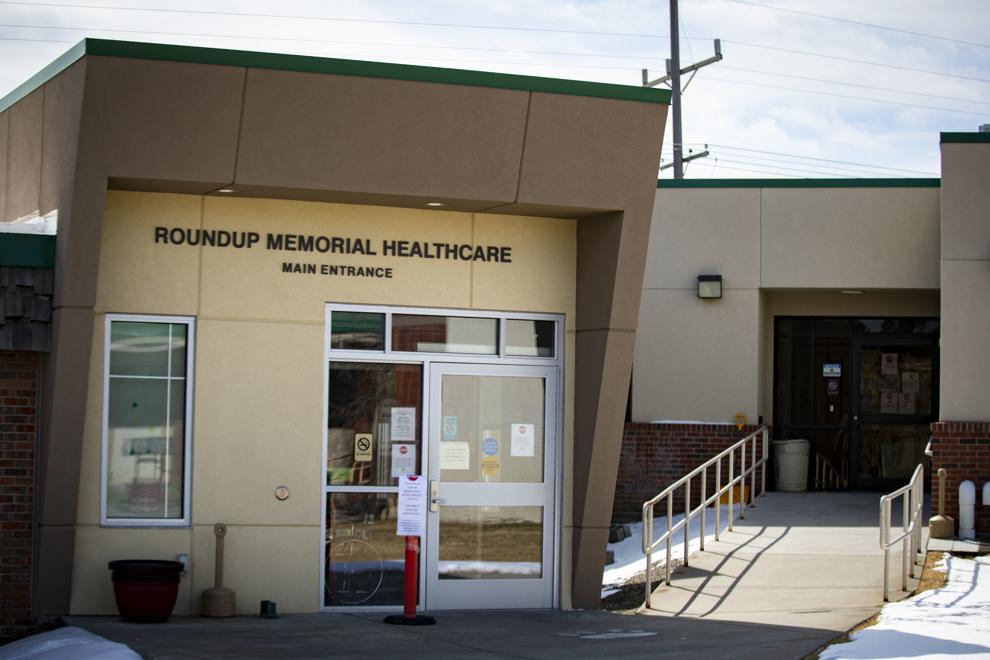 Other, smaller critical access hospitals in the state are also taking steps to ramp up their incident command groups, safeguard vulnerable populations and preserve supplies and staffing.
At Daniels Memorial Healthcare Center in Scobey, for example, CEO Eric Connell said the hospital opened an alternate temporary clinic location for ill patients in the town's ambulance hall. Health care workers are also operating a drive-thru triage center where people can be tested from their car. One test has been conducted so far as of last week at the center, Connell said.
Nationwide shortages on supplies are a concern for smaller hospitals, Connell said, and staff is encouraged to reuse and sanitize certain pieces of personal protective equipment.
Staff at Dahl Memorial Healthcare in Ekalaka has set up an emergency operation center and has restricted visitors to the facility's nursing home, hospital and clinic, according to Raquel Williams, Carter County public health nurse. No one yet had been tested for COVID-19 at the hospital as of last week, Williams said.
In most hospitals right now, including Dahl Memorial, visitors are restricted and patients are screened for symptoms. Staff look at things like travel history and exposure to sick people, Williams said. All entrances are now locked and staff and health care workers are asked to self-isolate by only traveling from work to their homes.
"Not just here, but everywhere, health care workers are in short supply," Williams said. "Demand is high, so we want to keep everyone as healthy as possible so that we can continue to care for people as they get sick."
These three small hospitals are included in the 49 total critical access hospitals operating in rural Montana.
Montana's 2019 Legislature extended Medicaid expansion and enhanced the supplemental reimbursement program for hospitals, which has helped prepare these health care facilities' response to COVID-19, according to Rich Rasmussen, president and CEO of the Montana Hospital Association.
About one in four critical hospitals close in rural areas nationwide, Rasmussen said.
But additional assistance is needed to help these rural hospital networks better operate and remain open.
Waivers and financial assistance
President Donald Trump declared a national state of emergency on March 13 to combat the novel coronavirus, allowing the Secretary of Health and Human Services to waive certain laws and regulations within health care networks. This helps hospitals take on more patients and improve care.
With that, Trump waived the restriction for critical access hospitals to limit 25 beds in a facility and the provision to only allow an inpatient to stay in the hospital for 96 hours.
Gov. Steve Bullock expanded access to telemedicine and telehealth services on Wednesday and enacted a policy allowing patients and providers to communicate by telephone or through secure online communications. Existing policy only allows telemedicine services through video chat and leaves out those who may not have access to those capabilities through laptops and smartphones. He also eliminated language that prevents Medicaid from paying for telemedicine services. Those changes went into effect Friday.
The federal government also lifted restrictions for Medicare patients, allowing them to communicate with a provider through telemedicine from their homes within the same town.
"When we are fortifying our communications around social distancing, it's really important that we look for strategies that can bring that into the clinical setting, and telehealth does that," Rasmussen said.
The Montana Department of Health and Human Services also plans to seek additional federal waivers as needed.
The federal government is considering low-interest loan programs, and other organizations and agencies are looking for ways to assist smaller hospitals. The Montana Hospital Association is continually communicating with member hospitals about tools, resources, federal or state level policy changes and more.
"As an association, we're trying to be the advocate for our hospitals so they can stay focused on being advocates for their patients," Rasmussen said.
Shortages in staffing and supplies
Many critical access hospitals struggle with maintaining staffing and supply levels in general, Rasmussen said, but during health crises these levels are not sustainable.
Critical access hospitals report staffing levels and supply inventory, including personal protective equipment, to the Montana Department of Health and Human Services twice a day. The state uses this information to decide when supplies in the state and federal stockpiles may be released and where it should go.
"There are shortages with supplies. We happen to be in pretty good shape for the next little while. The unknown is the challenge," Connell said of Daniels Memorial Healthcare Center. "If we get a surge of 100 patients through the door we're probably ill-equipped."
The association has close contact with commercial suppliers and has hosted webinars with hospitals across the state to ensure ways to secure staffing.
Roundup Memorial Healthcare, Dahl Memorial Healthcare, and Daniels Memorial Healthcare Center have little cushion when it comes to staffing. Most smaller hospitals have few physicians and nurse practitioners on staff, and even fewer on shift during certain times of the day. If patient numbers surge, little backup may be available.
Wilderness Medical Staffing is one of a few companies providing about 60 traveling doctors and nurses in Montana, Alaska and Washington. The spread of COVID-19 has affected the number of providers who can serve in other communities among those states, according to Mary Ellen Doty, co-owner of Wilderness Medical Staffing.
Because providers don't want to spread the virus and many hospitals are restricting visitors and providers who have recently traveled, many are staying close to where they practice and are constantly wearing personal protective equipment when they work, including in Montana.
However, Doty said there are enough providers available at this time to fill any hospital requests in Montana.
Older populations in rural Montana
Montana is the ninth oldest state in the nation, with half the state's populations in their 40s or older. In smaller communities like Ekalaka, Scobey and Roundup, critical access hospitals often house seniors long-term when a town can't support a nursing home.
People older than 60 and those with existing health problems or compromised immune systems run a high risk of contracting the virus, and may develop a more severe illness, like pneumonia.
Some critical access hospitals have around 20 long-term residents, so it's important to keep them isolated.
For example, Roundup Memorial's long-term residents are housed in different wings of the hospital and visitors and non-essential staff are restricted from the area, Wolff said.
Daniels Memorial Healthcare Center and Dahl Memorial Healthcare are also implementing visitor and staff restrictions to their long-term residents.
"We're not only a hospital but we have people, their home is in our facility," Connell said. "And now, in order to keep them safe we have to say, I'm sorry, but your family cannot visit you."
As things progress, more changes will be made to support hospitals, especially those that operate on the outskirts of major urban areas.
Healthcare facilities have to work together to care for patients as things change over time.
"It's so unique in Montana, this balancing act between our urban communities and our rural communities," Rasmussen said. "Both of the hospitals rely upon one another."