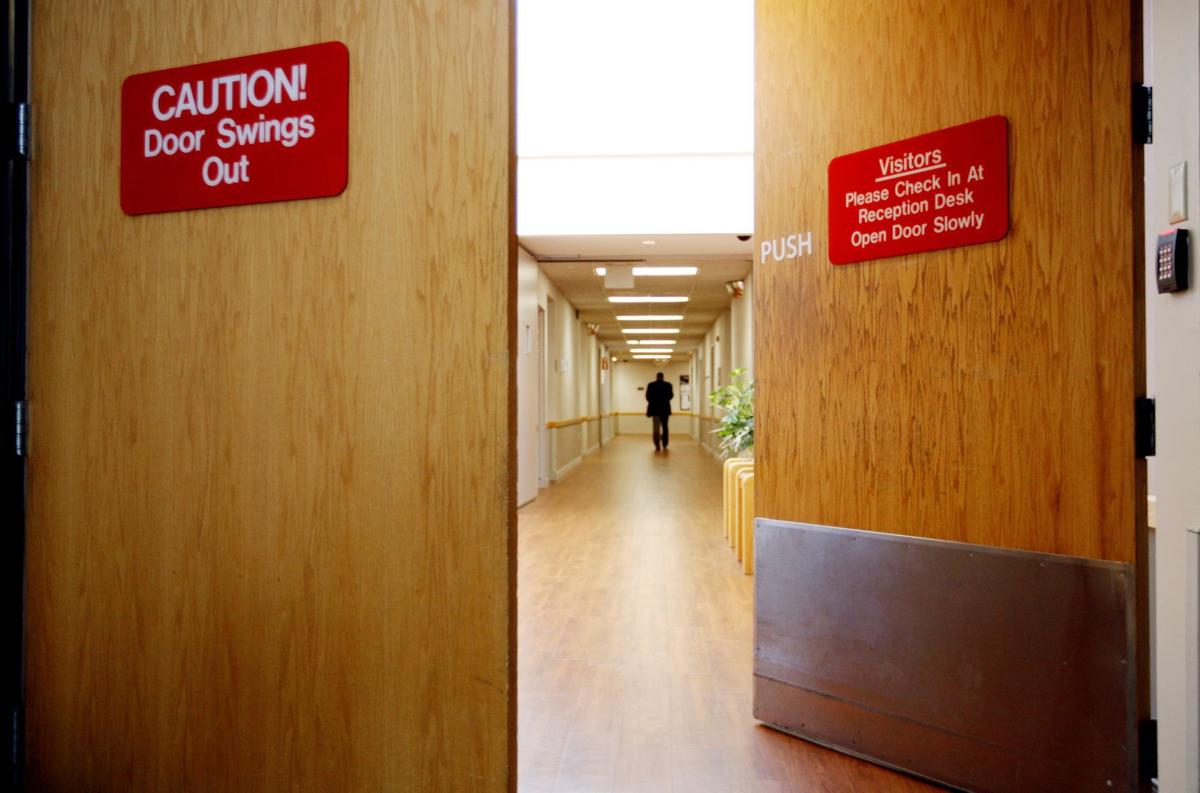 Inside the lobby of the Billings Clinic Psychiatric Center, just to the right of main reception desk, is a large set of heavy double doors.
They're almost always closed and locked, save for the comings and goings of staff and patients, and it might be tempting to try to imagine what's behind them: sterile white hallways, flickering fluorescent lights, sparse concrete or padded rooms, patients in frayed pajamas or straitjackets.
"Everything seems daunting," said Keri Cross, nurse manager for the clinic's psychiatric service line. "But so much of that perception is from movies and TV, which really is not accurate."
What's actually behind those doors is far different — more of a secure therapist's office, dorm, hospital unit and classroom rolled into one.
The hospital's psychiatric department treats hundreds of people in crisis each year, with 12,677 total adult and youth inpatient days recorded for the 2015-16 fiscal year.
It's an acute care unit, providing active but short-term inpatient care. A typical patient stay might be two days to a week but, in rare cases, can last up to a month. The department also provides some outpatient services.
"When people come here, it really is a crisis-driven situation," said Carol Christensen, manager of the psychiatric center.
Treating someone with severe depression compared with treating a person with bipolar disorder requires different approaches. Even with underlying similarities in treatment — like combinations of psychotherapy and medication — treatments vary for each patient depending on their needs.
One of the common threads is a focus on what is called trauma-informed care, a wide-ranging approach that focuses on understanding, recognizing and responding to any type of trauma a patient has experienced.
It's not about asking what's wrong with a patient, said Christine Reed-Tobin, a psychiatric social worker. It's about asking what happened to a patient and getting to potential root experiences that lead to some of their behavioral issues.
That can help patients get a better understanding of their own emotions and their interactions with others by rebuilding their sense of control, Reed-Tobin said.
"We get them to start talking and thinking about their decisions," she said.
Daily treatment
The center is staffed 24 hours a day, seven days a week with doctors, nurses, nurse practitioners, mental health workers and social workers. At 44 beds, it is one of the largest inpatient psychiatric hospital units in the state and sees an average of about 24 adults and eight youth on a given day.
Throughout the day, patients might be in a strictly scheduled mix of individual meetings, group sessions and classes.
Some sessions include working on setting goals for the day, something as simple as a patient being aware of how he or she reacts when angry or during a good conversation with a loved one, while focusing on working through different daily challenges.
To make this treatment effective, the staff shows dedication to their work, said Dr. Eric Arzubi, a child and adolescent psychiatrist and chair of the hospital's psychiatry department.
"People are really passionate about what they do," he said.
That's not, however, to say that everything always goes according to plan.
Patients can sometimes be challenging, and their illnesses can result in behavioral outbursts, especially at the beginning of an inpatient stay.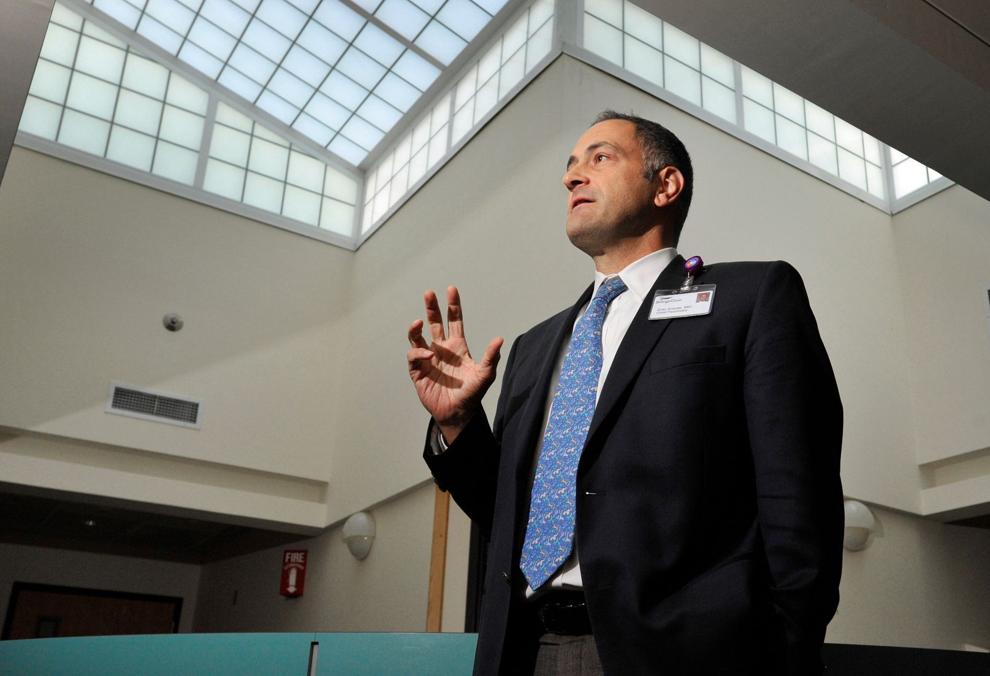 Staff members are trained to de-escalate situations. While they have rooms with restraints if necessary, Arzubi noted that the number of times those are used has dropped each year. The rooms more often help de-escalate a situation for a short time by isolating a patient without restraints or extra medications.
"The only reason we'd restrain or seclude someone is if they're hurting themselves or others," he said.
Instead, they work to find other ways to calm a situation.
Arzubi cited one case, a teenage boy who'd had a history of abuse and neglect and whose behavior was quickly escalating while there.
During an interview, Arzubi took the boy to the center's gymnasium and the two shot hoops while chatting. It seemed to have a positive effect, and the staff decided to see if it would continue.
"Part of the day was playing hoops with him every day, making him feel like he's not just locked in a unit," he said. "We wanted to normalize it. It became a normal thing, and it got to where he really got excited to see me every day, and eventually he started de-escalating."
Adult and youth patients at the psychiatric center have separate units. Several hallways have adjustable locking walls to accommodate larger or smaller numbers if necessary, and have a similar layout: dormitory-style rooms, group classrooms, offices, staff areas and even outdoor courtyards. Their routines are also similar.
To reduce anxiety, a patient's schedule is posted on the wall each day, mapping out most of the day down to when medications are administered and when patients will have free time or go to bed.
"We have those posted so they know how their day is going to go, which helps," Cross said.
Newer treatments
The psychiatric center uses traditional methods for working on mental health issues such as psychotherapy, counseling and medication along with newer therapies based on a patient's needs.
It also offers outpatient services, which don't requiring staying at the center, through its Behavioral Health Clinic and the Youth Partial Hospitalization Program. The youth program provides mental health services in a collaborative effort with the Yellowstone Boys and Girls Ranch.
Dr. Elizabeth Walter, a Billings Clinic psychiatrist, said that the hospital's Equine Assisted Psychotherapy — an experimental approach that brings horses together with patients and mental health and equine professionals — has intrigued her.
"I was fascinated at finding out how good horses could be at helping people," she said.
As prey animals, horses pick up on nonverbal cues, such as a person's posture, Walter said.
For example, if a person is meek or has low self-esteem, they might back up when a horse approaches them. If somebody is assertive, aggressive or angry, the horse might choose to stay away from them.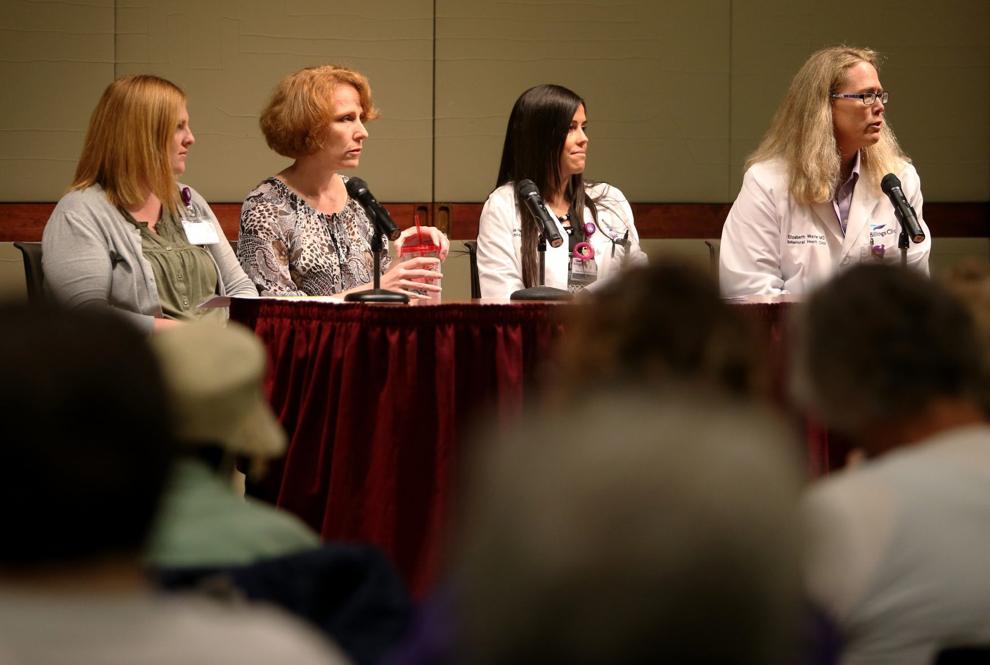 That horse's behavior can help patients recognize that aggression or meekness in themselves without much prompting from somebody like Walter.
"The horses can be very good at reflecting what's happening in people's lives," she said. From there, patients can begin to find their own solutions, she said.
Through an open label pilot program, this hospital is studying another experimental treatment aimed at helping teens quickly reduce depression symptoms.
Called triple chronotherapy, the treatment begins with a 36-hour period of sleep deprivation, followed by several days of advancing the patient's sleep cycle. Each morning in the process the patient also undergoes about 30 minutes of light therapy.
All of the participants in the study are volunteers and already receiving inpatient treatment, usually including therapy and medication, at the hospital.
It's early in the study and Dr. Mariela Herrea and Diane Hurd, a registered nurse, aren't exactly sure why it works. Little data is available on the therapy's long-term effectiveness on youth, but the results have been encouraging.
"Not everybody responds the same, but it looks promising for now," Herrera said.
Stabilization
The ultimate goal is to get patients stabilized, out the door and connected with longer-term care, if needed.
But, as staff are quick to point out, the method, model and facility create their own demands. Since the unit is a short-term care facility, there's no guarantee a patient will continue with the long-term plan.
"One of our greatest challenges is not having follow-up on patients," Christensen said. "We can't be the end-all, be-all for all people."
Many of the patients at the Psychiatric Center end up there do because they don't have anywhere else to go. The goal in the often-short time they have is to start working on coping skills and developing the tools they need to continue care upon release.
There's no catch-all approach for staff to get that done.
"It's very complex," Cross said. "There's not always a set of specific rules to intervention."
It does, however, start with developing a relationship where the patient feels comfortable around and trusts the people providing treatment at the ground level.
Even then and even though a number of patients do return for additional care at some point, staff might never know the long-term effect of their work.
"We don't always get to see that, patients getting better," Cross said. "It takes some time to teach your staff where to look to get those wins, but when you do find it, that's amazing."
It can be tough working to heal and keep safe a person who, at least at the time, might not want the help, Christensen said.
"Sometimes, after, they'll write to us and say, 'You saved my life,' " she said.
But not all of their patients want their lives saved, she said.
"How do you get OK with that as a health care professional? As human beings, it's hard not to feel that," she said.
Following up
One follow-up tool the center does have is its Bridge Clinic. 
An outpatient program held at the inpatient center, it provides short-term follow-up services for adult patients, especially regarding psychiatric medication, as they work with other providers in the community.
With a psychiatric nurse practitioner and social worker in charge, group sessions with as many as six people can get together to receive some treatment on medications and access to social services.
It's a program that Arzubi said has worked well, using the space and resources available, because it helps patients feel like they're not on their own after leaving. About 60 percent of the people to whom it's available show up for appointments, a number higher than is normally seen.
"As part of a group, there's a dynamic there where you can interact with other people who are struggling with some of the same problems," he said.
As treatment for mental illness evolves, and with more and more patients walking through the large wooden double doors each year, the psychiatric department at Billings Clinic continues to put more emphasis on therapeutic treatment, including through trauma-informed care.
Through all of that, Arzubi said, it comes down to the staff connecting with the patients.
Those connections "can give you a whole new level of understanding," he said. "Letting them say, 'I'm not crazy. There's a reason why things are the way they are.'"