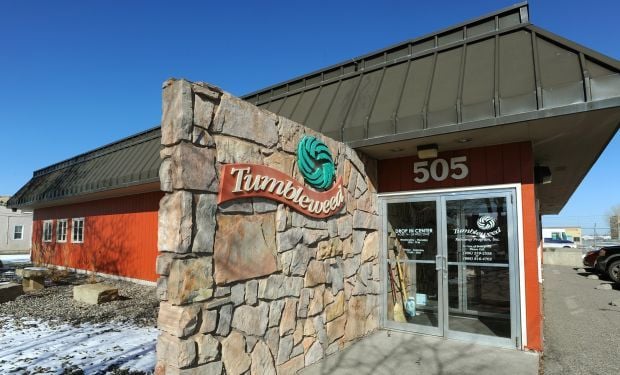 Several former employees of the Tumbleweed Runaway Program are alleging the program's director exaggerated information about the homeless youth it serves.
Those claims against Executive Director Sheri Boelter have prompted an investigation by the organization's board of directors.
The allegations were first reported earlier this week by the online news outlet Last Best News. 
In letters to the Tumbleweed board and subsequent interviews with The Gazette, several former employees alleged a pattern of Boelter embellishing client stories and fabricating data to garner support for the program's work.
At issue are statistics and anecdotes presented during a fundraiser, along with the characterization of program activities to community members, and a reported encampment of 50 homeless youth in Lockwood discovered by Boelter and another employee during a surveying project in 2013.
Tumbleweed is a nonprofit organization offering crisis counseling, drop-in and transitional living services to homeless youth in the Billings area.
The organization had $753,000 in total revenue for the fiscal year ending June 30, 2013, according to disclosure forms filed with the IRS. Boelter received about $78,000 in total compensation that year, the records indicate.
Boelter, who has served as Tumbleweed's executive director since 2011, denied the claims made by two of the employees quoted by Last Best News, and at least one former employee has submitted a letter to the board corroborating the director's work.
Earlier this week, Boelter agreed to an interview with The Gazette, but later directed all inquiries to the board.
The board then issued a statement responding to the Last Best News story, saying the report "repeats allegations" that have been "made by persons who have told us they have no personal knowledge of the information." 
The statement says the board has been addressing the allegations since December and will continue to investigate any credible reports of wrongdoing.
A list of questions sent to the board could not be answered Thursday because the board chairman, attorney Paul Collins, was traveling this week, a Tumbleweed staff member said.
On Monday, one of the board's members, Debbie Schenk, resigned from the board.
"I don't have any answers," she said, declining to discuss her decision.
"I don't want to be involved in the board anymore," she said.
Questions were initially raised in letters sent to the board by two of the organization's past development directors.
The first was sent Dec. 3 by Sabrina Currie, who served as development director for 11 months before resigning in October 2014.
A separate letter was sent in February by Carmen Price, who held the position for the previous six months, according to Last Best News.
She declined to discuss or provide a copy of her letter to The Gazette. Price is a former Gazette reporter.
In the letters, the former directors said Boelter frequently provided them with information about youths served that they couldn't verify.
Currie, in her letter, outlined several occasions in which Boelter and other Tumbleweed representatives seemed to manufacture heart-wrenching anecdotes or publicize unsubstantiated data, including during the organization's annual fundraiser in October.
One of the chief questions raised involves an unusually large youth encampment Boelter claimed to have discovered during a 2013 Youth Count! survey to tally the number of homeless youth.
The survey was organized by Americorps VISTA volunteers and held over three days in July 2013.
The project, which aimed to identify "invisible" and undercounted youth, was covered extensively by local media. Data on homelessness can also help quantify the need for youth services to community members, donors and grant providers.
Volunteers spread out around the Billings area and collected surveys from at least 176 individuals. Of those surveyed, 96 individuals met the established parameters for age and homelessness, according to the published census report.
More than half of the 96 people surveyed were produced from an excursion by Boelter to an encampment of as many as 50 teens near Lockwood.
Some former employees, including Currie, have questioned the legitimacy of surveys collected by Boelter and the existence of an encampment that large.
Last Best News reported that no one but Boelter, along with one other employee and a youth guide, ever visited the encampment where they said they encountered dozens of youth living outdoors. 
Camps of that size have never been discovered by Yellowstone County Sheriff Mike Linder or his staff, Linder said Thursday when contacted by The Gazette. Deputies have rarely encountered youths in outdoor camps, and never more than two or three in a particular location, he said.
"I can't imagine that we had 50 youths in a homeless camp. That would have been big news," Linder said.
Kendra Nieskens, the street outreach leader who accompanied Boelter, insists the encampment was real. She sent her own letter to the Tumbleweed board in December describing her trip to the site, which she described generally as located off Highway 212 and Interstate 90.
In an interview Thursday, Nieskens said the youth at the encampment were wary of the visitors. The surveyors spoke first with the group's apparent "leader" before moving quickly to collect whatever information they could, she said.
Because of the precarious circumstances, they didn't survey all of the individuals, Nieskens said. They settled on the number 50 for the surveys in an attempt to honestly reflect the size of the camp, she said.
"We tried to count their heads as best we could," Nieskens said. "We weren't trying to falsify anything. We were trying to grasp a real concept of how many were actually out there. In that moment, we weren't working in a malicious or fictitious way."
The camp had disassembled when they tried to visit it again several weeks later, Nieskens said.
Nieskens resigned from her position at Tumbleweed in January 2014, but she described Boelter as a compassionate and honest leader who never told her to inflate numbers or engage in other dishonest behavior.
"I don't think this is very fair what's happening to her," Nieskens told The Gazette. "She's the kind of person that lives with integrity, and that's the type of leader she is, too."
It wasn't just the Youth Count! data that troubled Currie. While development director, she said she was unable to verify data provided by Tumbleweed for things like the number of lesbian, gay, bisexual and transgender runaways or total "mouths fed" by the organization each year.
Other former employees, including former outreach worker Tasha LeClair, said that information for the public and grant applications appeared to flow through Boelter.
"When I got there, there were hardly files on the youth that we had. It was a little disconcerting," LeClair said.
LeClair, who was employed on Tumbleweed's street outreach team from June 2013 through January 2014, said she was surprised by the lack of data the organization was collecting.
And as a member of the street outreach team, LeClair said she expected to spend more of her time canvassing town to find at-risk youth. Due to various problems that LeClair said she never fully understood, outreach workers never went out more than once a week during the summer of 2013.
That wasn't the picture painted by Boelter to visitors, LeClair said.
"Sheri would often lead people back through the drop-in center and would be telling them all the things we were doing," she said, "and they were grossly exaggerated."
LeClair said she too began asking questions, only to become frustrated. She decided to resign, then was denied an exit interview she had requested with the board of directors.
LeClair decided not to contact the board independently.
"If they were aware that there was a policy that employees weren't able to talk to the board directly, I didn't think it would do very much to reach out to them on my own," she said.
Instead, she filled out an online form with the federal Administration for Children and Families to report her suspicion that a federal grant application contained fraudulent data.
"I just hoped that the tiniest bit of prodding would reveal that something was amiss," she said. 
Currie said Thursday that she has not been interviewed by the Tumbleweed board governance committee since delivering her letter in December.
But in an email correspondence two weeks later with Collins, the board chair, Currie said she was asked to keep her concerns private until the board finished its investigation. 
Get local news delivered to your inbox!
Subscribe to our Daily Headlines newsletter.