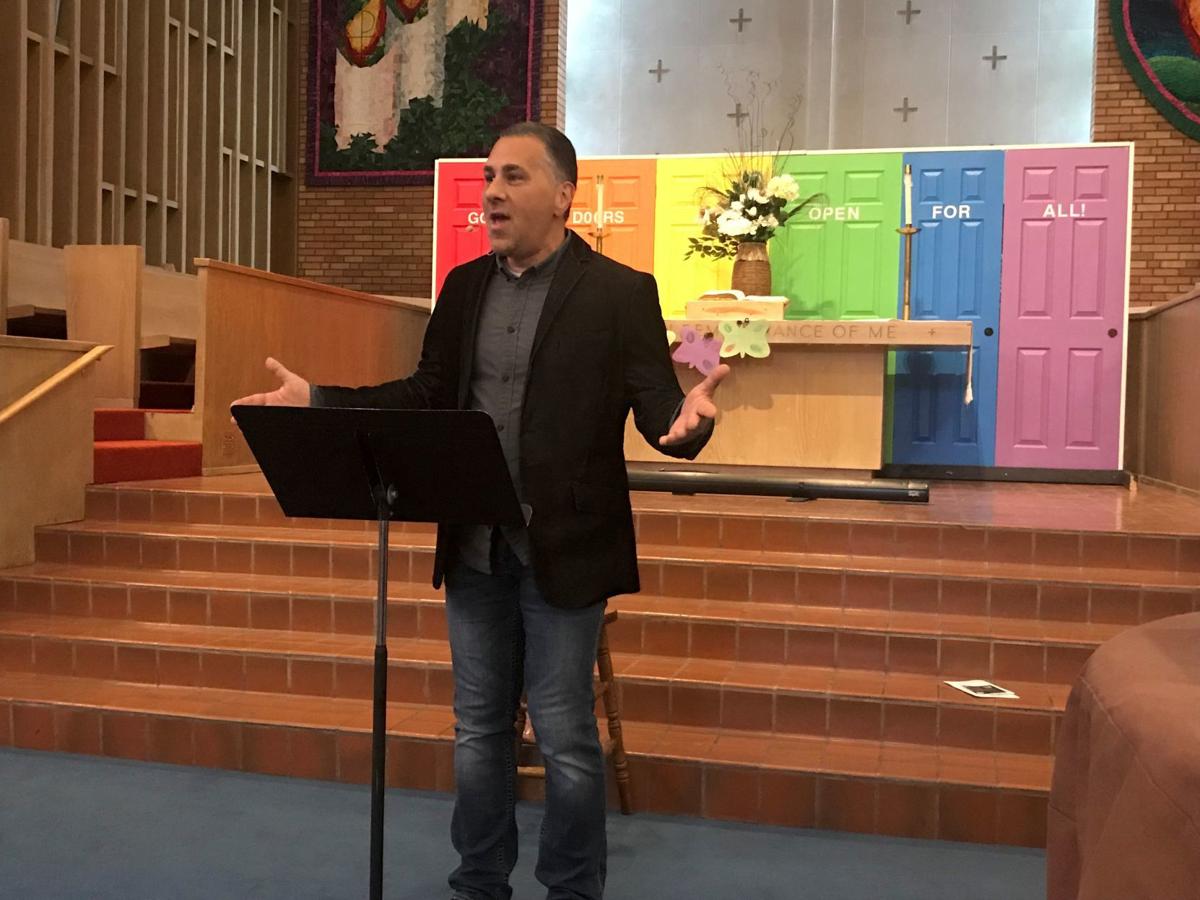 John Pavlovitz calls himself a recovering "super Christian megachurch pastor man" he writes the popular blog "Stuff That Needs To Be Said."
And, that's exactly what he dished out to 250 or so people gathered recently at First Congregational Church in downtown Billings for a speech sponsored by the Montana Voter Policy Institute.
Pavlovitz, who's still in ministry in Raleigh, North Carolina, is also the author of the best-selling book "A Bigger Table." 
He said he has four non-negotiables as he seeks to enlarge the table, a metaphor for welcoming people, whether it's to a church, social or political setting:
• Radical hospitality, which he described as "the Italian mother's welcome where you will be showered with food and affection until you can take it no more."
• Total authenticity, not "reading the room to notice how people are dressed and what they're talking about" to make the calculation, "if I share this, will it push me to the periphery of the community?" Using that approach, "we become highly censored versions of ourselves. What if we could really come as we are? What if there are no deal-breakers?"
• True diversity, because despite what churches say about themselves, "most churches are less diverse than places we work or shop at." Churches, he said, should also be theologically diverse, "which will take work from you. We have to be students of other people, because their stories will change us."
• Agenda-free relationships. "What would it be like if people weren't trying to fix or save or renovate you?" he asked. "I just want to know your story for the beauty of it."
Pavlovitz interrupted his presentation to pass a microphone around the audience for a session he calls "What are you thinking?"
"My problem is," one man said, "I don't know how to set the table for people I don't like."
A woman asked Pavlovitz, an unabashed liberal, if he would invite President Trump to the table.
"Would I!" Pavlovitz replied, adding it must be difficult to go through life "as a horribly damaged person. No one pops out of the womb that hateful. People ask me if there are people beyond reach, and I say some are right now, but they may be reachable somewhere down the road."
Now in his late 40s, Pavlovitz said he can no longer be upside-down, which puts a damper at the amusement park. "I see a roller coaster and get on, and my brain says, 'I thought we talked about this.'"
Since the 2016 election, he said for him "everything feels upside-down." And, for other progressives, he said. "You feel those fractures in your relationships and you struggle with people you felt you knew and no longer recognize. You may feel upside-down, too. You look at the perpetual parade of horrible on social media and you feel things will never be the same again."
But "that unrest in you is an alarm. It is keeping you profoundly human during a hard time."
Pavlovitz said he sees signs of hope, including "ordinary people becoming activists," "church groups going to Pride events" and "the judiciary rising up to protect us."
"Your activism will look just like you," he said. Maybe it's not "standing in the street with a sign, because that's not for everyone. Your activism will be complex and quieter and nuanced. And you don't need to become a jerk blogger," he said with a laugh. "That job is taken."
Pavlovitz once spoke in California's wine country, where he was made to feel so welcome in a man's house that the two became fast friends.
That man lost his home during last year's wildfires. His friend told him he'd "saved what he could, and the house was gone."
That sounds about right, Pavlovitz said.
"We are not going to fix this election and all the ills of the church, but we are going to do something," he said. "We will speak, love and act in mercy and compassion, and save what we can. Let us bring hope to a world that feels like hope is gone."