Four community fridges will be installed around Billings to provide easy meals and emergency pantry staples to address food insecurity in town.
One fridge will be housed at Kirks' Grocery, and another at Billings First Congregational Church, and both will be open to the public. The remaining two will be available to school children, faculty and parents at Riverside Middle School.
The public fridges will be stocked with donated food and anyone may grab ingredients or meals as needed for free.
"It's no questions asked," said Emilie Burditt. "It's the 'take what you need, give what you can' philosophy."
Burditt, a AmeriCorps VISTA member serving in Billings, is working to install a fridge at Billings First Church and finalizing details for the fridges at Riverside School.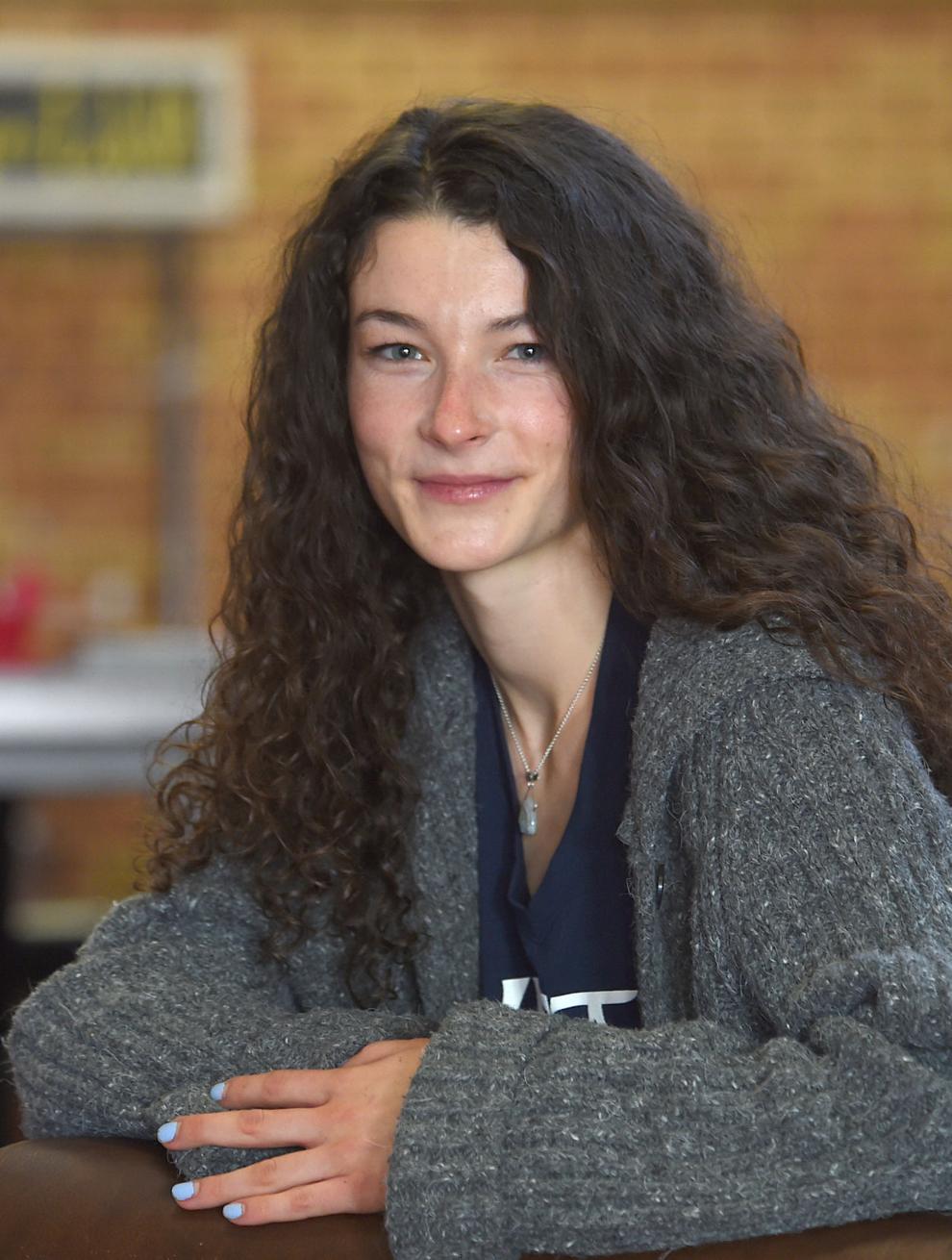 Burditt got the idea while attending the University of Wisconsin-Madison where there were several community fridges across campus. She wanted to translate the idea to her work in Billings as a VISTA member.
"Most of my college career I utilized food pantries, but I didn't feel I could always get fresh produce," she said. "Being able to walk back from a class and get fresh fruits and veggies from the community fridge really supplemented my diet."
Collaborating on the project is Sarah Moyer, founder of Eat.Share.Give, who helped bring a community fridge to Kirks' Grocery and is taking on the responsibility of stocking the fridge with prepared meals.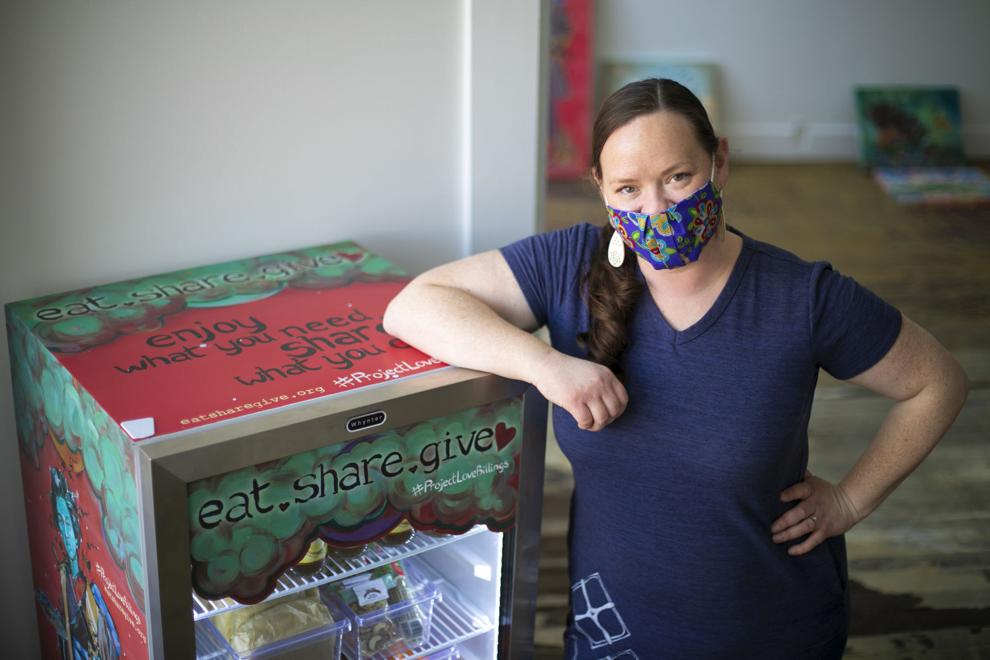 In December, Moyer announced she plans to open a pay-what-you-can restaurant, Eat.Share.Give, in the former Commons 1882 building downtown. Construction is ongoing on the restaurant.
She spent her spring and summer preparing sack lunches for kids under the name Project Love, after COVID-19 related school closures left many children who rely on school lunches without the daily meal. A community fridge was an easy extension of Moyer's previous work to provide affordable food to Billings residents.
"The idea came out of the Project Love idea of meeting people where they are," she said.
That the two separate organizations decided to open community fridges within the same month, while coincidental, was serendipitous, Moyer said.
Burditt, Moyer and Eat.Share.Give development director Anna Paige, said they're all working toward the same goal.
"For people who are working on these sort of community-based issues, like working to solve food insecurity, it's so important to be able to work together," Burditt said.
Burditt is aiming to have quick snacks, like yogurt, fruits and veggies for the fridges at the school — along with a few pantry staples like eggs and milk, she said.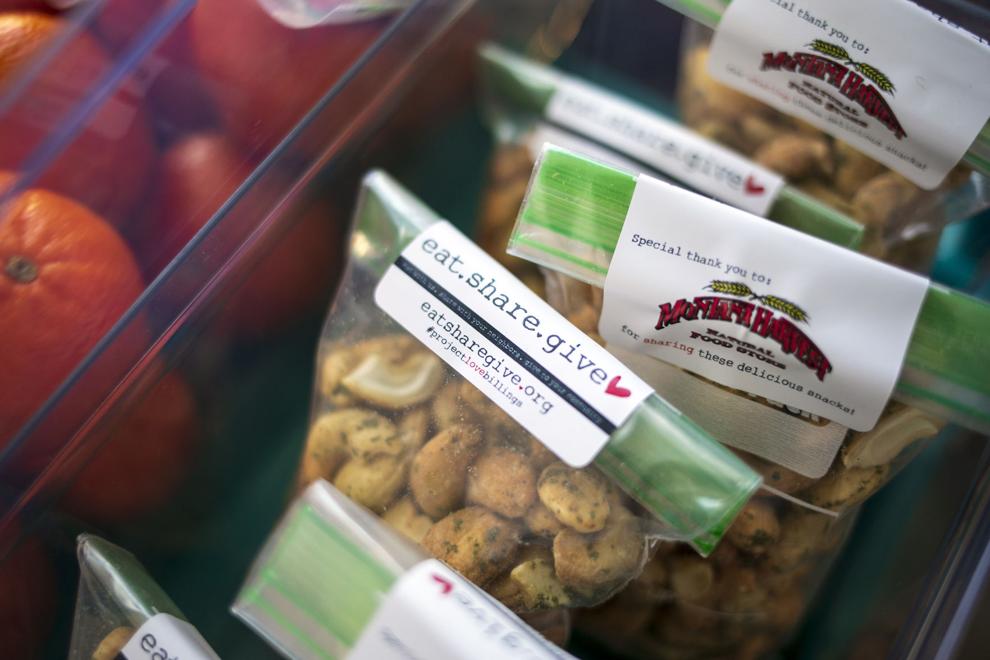 "This is definitely to be used as an emergency food resource," she said. "We're not trying to step on toes with food pantries or Billings Family Service. This is really meant to be if you're walking by and need a meal or quick snack like apples or bananas you can come to fridges and take what you need."
All the fridges will take the current pandemic into account, requiring people to wear a mask and use hand-sanitizer prior to accessing the fridges.
Burditt is spending her year of VISTA service in Billings looking at urban food insecurity. The COVID-19 pandemic has highlighted a need in Billings for accessible and affordable food, she said.
According to the Montana Food Bank Network, one in 10 Montanans struggle with hunger, and nearly 40,000 children live in "food insecure homes."
That number has likely increased with the COVID-19 pandemic.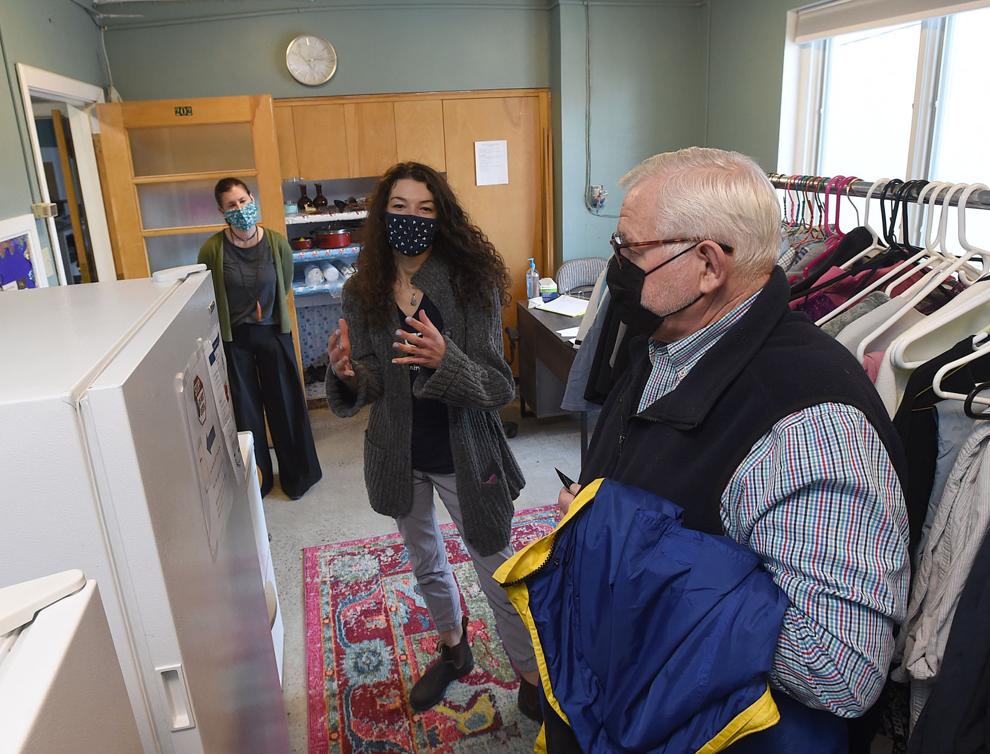 "COVID has heightened food insecurity" said Moyer. "There are a lot of people who aren't able to take advantage of all the different systems we have in place. We're offering more options for the community."
Moyer is unveiling her community fridge at the newly remodeled Kirks' Grocery on Friday during an art exhibition from 3 p.m. to 9 p.m. for artists Emily Davidson and Brian Keith Scott.
Moyer's fridge, adorned with art by Davidson, will have ready-to-eat meals, like sandwiches, and healthy drinks and snacks, open to anyone during Kirks' Grocery's regular hours.
The community fridge, labeled as an Eat.Share.Give project, will operate roughly the same way as Project Love.
Local vendors and restaurants will donate food and ingredients to stock the fridges, which Moyer will prepare into healthy, easy meals.
Depending on what donations look like weekly, Moyer may supplement the fridge with purchased fresh fruits and vegetables, or non-perishable snacks, she said.
Moyer will start with the one fridge at Kirks' Grocery, and look to expand after she has a better idea of its need in the community. Both Moyer and Burditt hope to place more fridges around town.
"I'm really hoping they are successful," Burditt said. "Once we can get the word out and see how the community takes to it — I'd love to see more community fridges."
Burditt is teaming up with Eat.Share.Give to have both pantry staples and prepared food at the Billings First Church fridge. 
Pantry staples for the Riverside fridge and Billings First Church fridge will be stocked with donations from Billings Family Service and Produce Depot, as well as individual donations, she said. 
Anyone may bring donated items — think pantry staples and fresh vegetables and fruits — directly to the church or the school during business hours.
While the fridges at Riverside School will be open for business next week, Billings First Church is facing one major setback.
"We are looking for a fridge," Burditt said.
She's looking for community grants to purchase a fridge, or would gladly accept a donated fridge, she said. 
She did win a small grant from Freedge, an organization that brings community fridges to towns across the globe, to offset the costs to cover the fridges at Riverside with artwork.
Burditt is working with the art teacher to buy art supplies so that students can decorate the fridges themselves.
"That makes it special and specific to the kids," she said. "I want them to feel like it's their own."