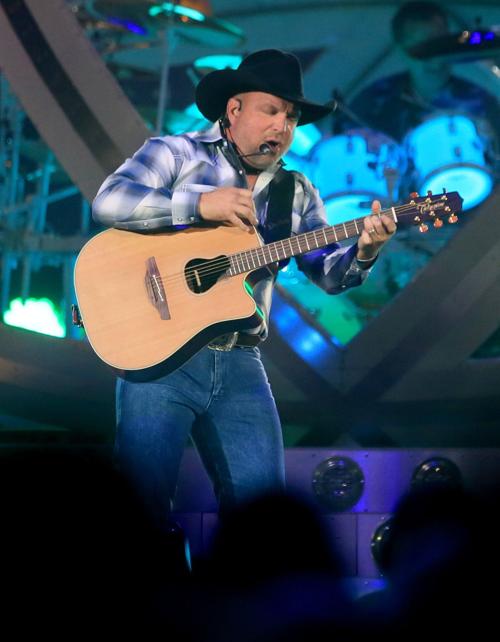 Country superstar Garth Brooks may have packed up his 20 semi-tractor trailers and headed down the road to his next gig, but MetraPark is still riding high from 50,000 fans gathering last weekend for five concerts in three days.
"Everything went like clockwork throughout the weekend," said Bill Dutcher, MetraPark's general manager, on Tuesday.
Dutcher and Sue DeVries, assistant manager, gave the concert lowdown to Yellowstone County commissioners during their board meeting.
While accountants are still adding things up, and won't likely have financial results until next week, some numbers are apparent.
More than 50,000 people attended the five shows in the Rimrock Auto Arena. Brooks performed one show Friday night and two each Saturday and Sunday. His wife and tour mate, Trisha Yearwood, also performed.
Brooks' promoter told MetraPark officials that when Brooks comes to town, the boost to the local economy is about $10 million, said DeVries.
Some area hotels and eateries reported record sales.
MetraPark pulled off the complicated logistics without any major problems.
Brooks is a hands-on fellow who is personally involved with his show, from production to ticket sales to venues, DeVries said.
Brooks is one of the few artists, DeVries said, who, with his representative, checked out the entire house to make sure every seat had a good view. He "sought out (MetraPark) staff and talked to everybody," she said.
"Garth himself hand picks the places" based on areas where he's had success, DeVries said. MetraPark was the smallest venue on his tour, she added.
Brooks "came back to Billings, Montana, because he loves this area," DeVries said.
"Garth truly was an exceptional guy," DeVries said.
Logistics
MetraPark's traffic planning to help people enter and leave the grounds also went smoothly, Dutcher and DeVries said.
Two crashes that occurred outside the MetraPark grounds did result in about an hour delay of some shows, DeVries said.
MetraPark's decision to add more paid parking for $10 a space also was well received. All but 10 spaces for a Sunday concert sold out, DeVries said. The paid parking generated about $33,000.
There were no complaints about the parking fee, she added. Offering a paid parking option seemed to take the "angst and anxiety out of it," DeVries said.
Concert-goers also could park at Centennial Arena and board a YMCA shuttle bus.
Commissioners Robyn Driscoll and Denis Pitman, who helped at the concerts, praised MetraPark staff.
Driscoll, who shuttled fans on a golf cart, said, "Everybody was happy. I met somebody from Poland." She also said there were people from throughout Montana.
Pitman said traffic flowed well with MetraPark able to clear the parking lots in about 40 minutes.
DeVries said some fans got scammed by online ticket resellers but that she had "a little stash" of tickets available for purchase.
A few website ticket resellers got stuck for several hundred tickets after Brooks met the demand by adding a fifth concert, DeVries said.
Commission Chairman John Ostlund complimented MetraPark staff for "an incredible event," saying, "You pulled it off without a hitch."
Economic impact
The local economy also benefited from Brooks' concerts.
Costco's manager called MetraPark Saturday night and said, "What the heck!" DeVries said.
People who couldn't get into a restaurant between the Saturday afternoon and evening concerts went to Costco and "about cleaned them out," DeVries said.
Uberbrew, a downtown microbrewery and restaurant at 2305 Montana Ave., set a record for sales on Saturday, said Paul Morup, a manager.
"We had a great weekend. Garth Brooks hit the Metra like a Father's Day tornado," Morup said, referring to the 2010 Father's Day tornado that nearly destroyed the arena.
"What was hilarious," Morup said, was going to Food Services of America, a restaurant supplier, on Monday morning to restock.
Also there to restock food supplies were managers from Applebee's in the Heights, the 406 Kitchen and Tap Room and Jake's, Morup said. "Everybody got cleaned out," he said.
Boothill Inn & Suites, near MetraPark at 242 E. Airport Road, also had a record revenue weekend, thanks to Brooks.
Shelli Mann, Boothill's general manager, said the weekend was "the best weekend we've had in 16 years of business. It was a fantastic weekend for revenue."
Mann, who helped run Boothill's two shuttles for guests, said, "Everyone I talked to had a fantastic time at the concert. I had a hotel full of happy people."
Some of Boothill's guests went to more than one show, she said. Mann noted the "sheer energy" Brooks poured into all five shows.
Mann estimated her hotel had about 725 guests over the three days. She made calls to other hotels as well. "Every hotel in town was full," she said.
Mann, who also is chairwoman of the area's tourism business improvement district, which is comprised of hoteliers and distributes bed tax dollars, said the district contributed $50,000 to help bring the concerts to Billings.
MetraPark came to the district about two years ago saying the Brooks concerts were a possibility, but that it needed help to make it happen, Mann said.
The district agreed to contribute $10,000 per concert, knowing there could be multiple concerts, Mann said.
"We were more than happy to help. We knew it would put heads in beds. That's always our goal," Mann said.