Two small goats were found killed, dragged and partially eaten by a black bear in a south Billings neighborhood on Wednesday.
Hours after the goats' bodies were found, south Billings resident John Hamrell heard gunshots near his neighborhood.
"It wasn't a big gun," Hamrell said, gesturing toward the Kampgrounds of America pond he said lies behind his Garden Avenue home. He had been in his work shed staining a dinner table when he heard the noises. "Something small, like a .22."
The goats' owner shot at the young black bear, said Capt. Bill Michaelis of the Yellowstone County Sheriff's Office, and the bear is still at large. 
"It hadn't really bothered anything until this morning," Michaelis said.
Since about Monday people south of the city have reported seeing a small black bear roaming in the area of the KOA and Yellowstone River Campgrounds facilities, at 547 Garden Ave.
Michaelis said the bear is about 2 years old.
Maintenance manager Tim Cecconi saw the animal digging through trash at the KOA Monday night, but the bear ran when Cecconi's dog, an Australian shepherd and Chow Chow mix named Zarra, charged it.
Cecconi, who has lived in the area 13 years, said it was the first bear he's seen in those parts.
Hamrell also said he witnessed the bear's appetite for garbage. On Tuesday night at his Garden Avenue home he heard a dragging noise around midnight coming from just beyond his fenced-in front yard.
"I thought, 'what in the world?'" he said.
Without streetlights Hamrell couldn't see what was causing the noise. The next morning he noticed the garbage collector out at 6 a.m. picking up trash strewn about his neighbor's yard. He then saw his trash was in a similar condition.
Hamrell said he thought it odd, since the trash cans seem too big for neighborhood stray dogs to knock over. He said he saw wet bear tracks in the dirt.
One of the goats was found at about 6:30 a.m. Wednesday by a neighbor on their way to work, Michaelis said. It was about 300 yards from where the owner had kept the goats penned, he said, adding that it looked like the bear had either climbed or partially pushed over a fence to gain access to the pen.
The second goat's body was found about 50 yards away from the first, said Brad Balis, a game warden with Montana Fish, Wildlife and Parks. There were bear tracks between the two bodies, and some bear fur was caught in a barbed wire fence.
"One goat was partially eaten. The other one was mostly just killed," Balis said. "Sometimes animals will kill things and move them to another area where they feel more comfortable to eat."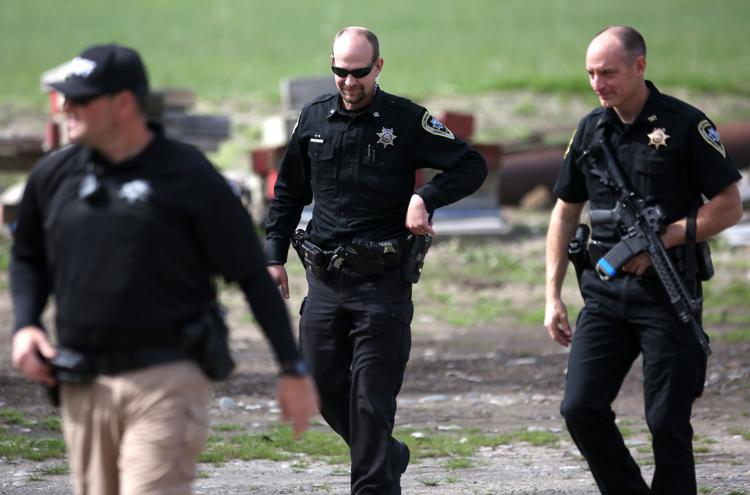 Montana Wildlife Services was called in because of the dead goats, and a culvert trap has been set in the area. The trap is painted yellow and Balis asked people to stay away. 
The bear could hurt someone or kill more domesticated animals if it is relocated, he said. Because of that risk, the bear will be euthanized if it's captured, he said. 
Balis advised residents to "remove any and all bear attractants" since the bear is still loose. This includes avoiding putting trash outside early for pickup, removing food from bird feeders and keeping pet food and barbecue grills indoors.
Balis also encouraged people to avoid the area. The bear's behavior is typical of bears that have yet to reach adulthood, he said.
Hamrell agreed, recalling what he'd heard of young bears from his days living in Frenchtown. 
"They're the ones that get into the most trouble," he said. "They have more guts than brains at that age."