When Gov. Steve Bullock walked into a digital literacy class at Ben Steele Middle School, teacher Josh Haber put him to work. 
The class was working on a coding activity, learning to link a series of commands to cajole a computer program into achieving a goal. 
The work seems basic, Haber told the sixth-graders, especially using a block system that provides a more coherent representation of the usual strings of letters and words. 
"This is the same way that a college introduction to computer science class would do their introduction to coding," he said. 
Computer science education initiatives have been gaining steam for a while. 
The Obama administration proposed a $4 billion program in 2016 that didn't come to fruition, but would have been aimed at expanding access to computer science courses. 
In November, Virginia became the first state to adopt mandatory computer science standards, requiring schools to teach the subject. Arkansas requires high schools to offer non-mandatory courses and has pumped money into teacher training on the topic. 
Bullock has touted the value of computer science programs in the past; his wife, Lisa Bullock, holds a degree in mathematics and computer science and has taught high school computer science classes.
Computer science had a brief flash of electoral attention in Montana when Greg Gianforte, the U.S. Congressman who lost the 2016 governor's election to Bullock, touted a plan to put computer science courses in every school. After initial confusion about the plan, Gianforte's campaign clarified that schools wouldn't be required to offer any classes.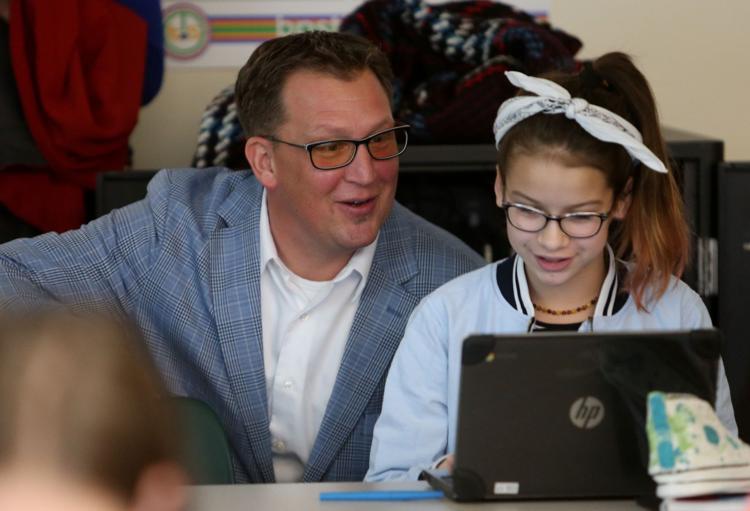 Montana offers a set of guidelines for teaching the topic, but does not have full standards like many other topics. The content standards revision schedule shows that "Digital Literacy/Computer Science" standards are currently in the review process and will be up for adoption in 2020.
As part of the group, the governors pledge to: 
Enable all high schools to offer at least one rigorous computer science course.
Fund professional learning opportunities so teachers can be prepared to teach these courses.
Create a set of high-quality academic K-12 computer science standards to guide local implementation of courses.
​Teacher preparation already has legs in Montana as part of a training initiative from Big Sky Code Academy, a private group. 
The group focuses on helping teachers already certified in other subjects to train up in computer science enough to at least teach basic courses. 
"With the rural states that we work in, flexibility is key," said Lander Bachert, a former Montana teacher who helped train Haber. "There's at least a class offered."
The group also has a handful of Montana school districts signed on: 
Whitefish pledged to bring computer science to all schools, starting with K-8 computer science programming that include modules taught by classroom teachers and in after-school clubs, and integrating high school students later. 
Swan Valley pledged to "bring as much computer science as possible to their student body and staff." 
 Seeley Lake Elementary School District pledged "to bring computer science to three schools in 2018."
Wednesday's exercise wasn't Alexis Dvorak's first rodeo. The sixth-grader already had some previous coding experience from her time at Boulder Elementary, and had moved on to using Java, a code script language, to add features to a hypothetical travel smartphone app. 
"I just wanted to challenge myself," she said. 
It helped that her family has a vacation coming up, and she's been planning out what to take along. 
"I have a horrible memory," Dvorak said. "It's easier to keep track of it on (a phone)."
Most students stuck to simpler tasks with programs offered by Code.org. They moved through levels on a game that required them to make tweaks along the way using blocks to change the game's code.
"A good part of what we're after is just getting them exposed to (coding)," Bachert said. 
A major part of the coding push is jobs-driven. Code.org, another computer science advocacy group, describes such classes as putting "students on the path toward some of the highest paying, fastest growing jobs in America."
"I think it's important," Bullock said, "both for a job perspective and opening up your minds to new ways of thinking."