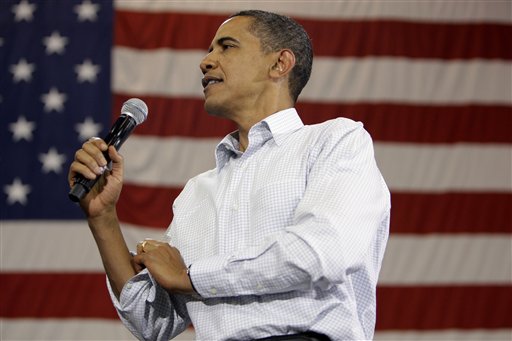 Nearly 60 percent of Montana voters disapprove of the job President Barack Obama is doing, according to a Montana State University Billings poll released Friday.
Only about 32 percent of those surveyed like how the president is carrying out his duties.
That contrasts with recent national polls that show about 47 percent of Americans approving of Obama's performance, said Craig Wilson, MSU Billings political science professor who helped oversee the poll.
About half of the poll's questions focused on national issues and the rest on Montana topics.
No questions were asked about the race between U.S. Rep. Denny Rehberg, R-Mont., and his Democratic challenger, Dennis McDonald, because Wilson's son works for the Rehberg campaign.
In the statewide race for Montana Supreme Court justice, candidates Nels Swandal and Beth Baker are in a neck-and-neck race, each with about 21 percent.
However, 58 percent of those surveyed were undecided.
The survey results reflect several things about the court race, Wilson said.  Both candidates have spent less than $50,000 on their campaigns, the race is nonpartisan and advertisements are low-key, as expected in a judicial race.
The poll also asked voters about four state issues appearing on November's ballot.
Nearly 61 percent of those surveyed supported a constitutional amendment to ban any new real estate taxes, while about 29 percent opposed it.
There was a similar split — 63 percent for and 22 percent opposed — for an initiative to cap loan interest rates.
Nearly half of those polled supported an initiative to abolish outfitter-sponsored nonresident hunting licenses and about 32 percent were against it.
About 53 percent of voters were against calling for a Montana constitutional convention and about 32 percent were for it. Every 20 years, Montanans are required to decide whether they want to have a constitutional convention.
Poll results also revealed that Republicans, Democrats and independents generally came down on the same side of initiative issues, Wilson said.
Asked how much the Tea Party movement reflects their political opinions, about 17 percent said a "great deal," nearly 24 percent said "moderately," about 16 percent said "seldom," nearly 35 percent "not at all" and about 9 percent were undecided.
The poll also found that among statewide voters:
Forty-nine percent said they planned to vote for the Republican candidate in their state House of Representatives race. About 35 percent said they would vote for the Democratic candidate.
About 47 percent opposed the decision of the United States going to war in Iraq. Nearly 45 percent supported it.
About 52 percent said they supported going to war in Afghanistan, while about 37 were opposed. In last year's poll, 54 percent said they supported it.
Nearly 61 percent opposed health care reform legislation enacted into federal law this year. About 27 percent supported it.
More than 47 percent supported and nearly 30 percent opposed abolishing the "don't ask, don't tell" policy, allowing gays to serve in the military as long as they don't reveal their sexual orientation.
Forty-seven percent support repeal of the state's medical marijuana law in the next Legislature. 
Nearly 66 percent support a state law that would allow police to take a blood-alcohol test at any time from people suspected of driving drunk.
About 52 percent opposed legalizing same-sex marriage in Montana and nearly 34 percent supported it.
MSU Billings students and professors have conducted the poll annually since 1989.
Scott Rickard, director of the Center for Applied Economic Research, and Dan Lennon, MSU Billings sociology professor, also worked on the survey with 52 students.
This year, the number of calling stations was increased, which meant that the poll could be completed in less time to further improve the accuracy of the results.
During this year's random sample telephone poll, 416 Montanans who were registered to vote were questioned Oct. 19-22.
For the first time, the MSU Billings poll included about 21 percent cell-phone users, roughly the same national percentage of cell-phone users of voting age.
The survey results have a 5 percentage point margin of error.