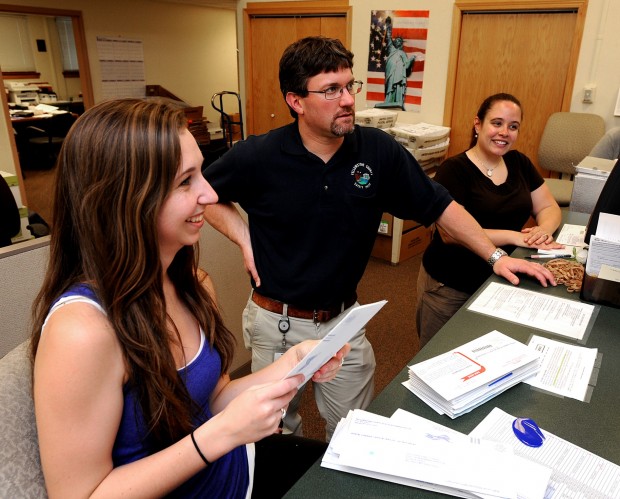 With just one day left to vote in the primary election, Mae Woo wanted her Billings neighbors on Monday to know there was still time to join the Ron Paul revolution.
She hung her campaign signs on a chain link fence along Shiloh Road near the intersection with Central Avenue and hoped for the best.
Montana, with its June 5 election, is one of the last states to vote in the presidential primary. And though Mitt Romney sewed up enough delegates last week to secure his party's nomination at the GOP national convention later this summer, Paul voters like Woo were still battling for a decent showing.
Voting is already brisk in Yellowstone County, where 64 percent of the community's 45,863 absentee ballots had been submitted by 2 p.m. Monday.
For the 16,494 absentee ballots that haven't been returned, mail is no longer an option. Non-absentee voters have until 8 p.m. Tuesday to get to the polls. Election officials must have all ballots by 8 p.m. Absentee ballots can still be hand delivered to the Yellowstone County Courthouse elections office or at any polling place.
Polling places have also changed since the 2008 general election. Billings polling places have steadily consolidated at MetraPark. This election, even districts serving the West End have been moved to MetraPark, which has caused some confusion.
"I talked to three people today, who should know better, that were not aware of the change," said Sen. Jeff Essmann, R-Billings, who serves the West End.
All voters in the city of Billings vote at MetraPark, but the outlying areas still have their own polling spots.
Voters west of Billings vote at Elder Grove School on South 64th Street. Voters south of Interstate 90 go either Elysian, Canyon Creek or Blue Creek schools.
North of Billings Heights, voters go to Independent or Pioneer schools.
Laurel voters vote at Laurel High School. Lockwood residents vote at Lockwood School.
Huntley voters go to Yellowstone Valley Electric Cooperative. Worden voters go to Huntley Project Elementary. Shepherd voters go to Shepherd High School.
If you're not sure if you're registered to vote or where to cast your ballot, Montana Secretary of State Linda McCulloch offers a "My Voter Page" at http://sos.mt.gov where residents may go to get that information. The Secretary of State also publishes a daily list showing how many absentee ballots have been returned in each county.