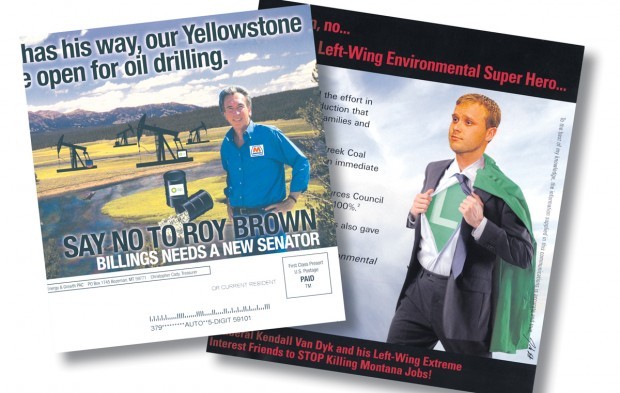 North-central Billings mailboxes have been flooded with attack ads and candidate literature as the most expensive legislative race in state history hits full speed.
Timed with the release of absentee mail ballots last week, more than 20 different campaign fliers have landed in Senate District 25 mailboxes in the past week. The race pits incumbent and former Republican gubernatorial candidate Roy Brown against Democrat Kendall Van Dyk, a local representative who skipped a chance at re-election to the House to take on Brown in the Senate.
The mail hasn't favored Brown. There have been about four negative ads against the incumbent for every one in his favor.
Democrats targeted Brown's seat early after noticing only a third of the voters in the district chose Brown over Democrat Brian Schweitzer in the 2008 governor's race.
"I've never see anything like this. Ever," said Brown, as he looked over one flier associating him with BP, oil-drenched wildlife and environmental catastrophe.
Brown said the ads brought his wife to tears and that was before a weekend barrage of mailers criticizing the couple for allowing their home to be featured in a magazine article during the recession. The home has a reputation for giant holiday decorations.
Negative ads have also targeted Van Dyk, but to a lesser degree. The Montana Republican Legislative Campaign Committee has issued fliers depicting Van Dyk as a green-caped "extreme-left-wing environmental super hero." The committee also linked him to President Barack Obama.
And there are TV commercials suggesting that Van Dyk intends to raise Montana taxes by $20 million, which the candidate called a blatant lie.
But mail has quickly become the driver in this race, for which both candidates had raised roughly $70,000 by June. A second round of finance reports is due out soon, and Van Dyk suspects he and Brown will both be over the $100,000 mark.
Mail is important, Van Dyk said.
"Fortunately, people are not going to get mail from me every day until the election," Van Dyk said. "We did a lot right away and we may do some more later. When 80 percent of your district votes through the mail, that's when you need to communicate with them."
Van Dyk has taken the fight to Brown. His own campaign literature accuses the incumbent of being an absentee senator. Brown doesn't live in the district and according to Van Dyk, Brown isn't from the district.
Brown, whose family moved to Billings from Wyoming when he was a toddler, said the statements are misleading. He represented the district he lived in until it was redrawn by a Democratic-leaning redistricting committee before the 2004 election. Now he lives 100 yards outside the perimeter. Van Dyk has lived in the district for about four years.
But the hardest-hitting ads in the race are coming from a third party, the Values Energy & Growth political action committee, VEGpac for short, out of Bozeman.
VEGpac accounts for most of the third-party fliers against Brown. Registered for business just three days before mail ballots were sent out, VEGpac ads feature British Petroleum's bright green logo combined with oil-killed animals and cash pouring out of black BP oil drums.
In one piece of literature, VEGpac superimposes six oil wells and an Exxon drilling rig over a photograph of Yellowstone National Park's Hayden Valley, suggesting that if Brown "has his way, our Yellowstone River-basin will be open for oil drilling." Dead fish have been drawn into the river and a Marathon Oil logo has been superimposed onto the lapel of a smiling Roy Brown.
Brown worked for Marathon Oil from 1974 to 1982. The candidate said he hasn't worked for a major oil company for almost 30 years. He has carried bills in the Legislature that he said were needed to jumpstart Montana oil production, namely a 1999 bill that eased taxes on companies drilling in Montana. Brown credits the legislation with getting Montana's oil economy going again. His opponent said the tax break was needless and that neighboring states did fine without similar laws.
That career as a petroleum engineer, as well as his legislation promoting oil and gas drilling, prompted Democrats to label Brown "Big Oil Roy," a common label used with success by Schweitzer two years ago.
Little is known about VEGpac, which uses a post office box for its mailing address and lists Christopher Cady as its treasurer. Cady did not return calls from The Gazette for this article.
Van Dyk said he knows nothing of the group campaigning against Brown.
"I can tell you there's no coordination from my campaign with any third party on these pieces," Van Dyk said, adding that coordination between his campaign and a third party group would be illegal.
The VEGpac ads and Van Dyk's do share a common trait. Both use the same image of Brown wearing a long, black jacket and a long red scarf. The same photograph appears in at least five Van Dyk mailers and at least two sent by VEGpac. Van Dyk said use of the photo was coincidental.
Brown's campaign literature rarely mentions Van Dyk, referring to the Democrat only as "my opponent" and focuses on attacks against him without ever really saying where they originated. One flier includes a pecan pie recipe from Brown's wife.