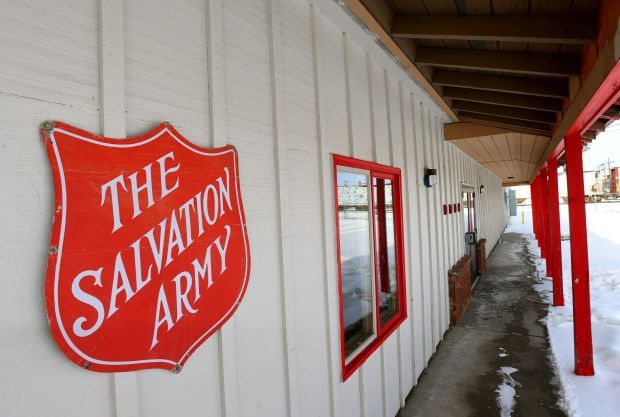 The Salvation Army's former thrift store at 10 S. 30th Street is one of a handful of buildings city officials and service providers are exploring as a warming or sobering center to serve Billings' homeless and transient population.
Maj. Edward "Duke" Markham, who heads the Salvation Army's Billings operation, said Thursday he'd like for the building, once it's renovated, to serve "as a cold-weather center if there's no room at the inn."
It would not, he said, compete with the work and mission of the nearby Montana Rescue Mission, at 2902 Minnesota Ave.
"I don't want to run a full-blown mission," Markham said. "The city struggles with people who are inebriated or on drugs. As long as they're being cooperative, it's a place where they won't have to be out in the snow."
"We'll try to get them warm, get them something to eat and help them recover a bit," he said. "Hopefully the next step is to pull them in the right direction and get them to the right agency to get off alcohol and addiction."
"We don't want to be seen as enabling people," he added. "They will be spoken to and directed. People will be there who care about you and are watching after you even if we don't agree with your lifestyle."
Markham said a funder whom he declined to name is interested in helping to get the building renovated and purchase needed equipment, including cots.
"We're not going to go elaborate," he explained. "It'll be simple cots and blankets. They'll have a place to check in. It'll have restrooms and a shower facility, as basic as possible with open sleeping."
During the day, people will be able to wash their clothes and access donated warm clothing, Markham said. An existing feeding program would be augmented to include the center, if employing the former thrift store is the way officials wish to go.
That has not been decided, City Administrator Tina Volek said.
"It's an amazing offer for which we are very appreciative," she said. "There are several locations we are exploring, and we'll continue to explore all of our options at this point."
Mayor Tom Hanel said it's an offer "we will take seriously, but I haven't seen a proposal or any documents. We haven't sat down and visited personally about it."
"What the Salvation Army does for people in need is remarkable," the mayor said. "Anything like this is exciting to me."
Markham said he and his wife, Maj. Pam Markham, will journey to Salvation Army headquarters in Denver soon to review a similar facility there. One plus at that warming center: Kennels are provided so that people and their canine friends can stay together even on frigid nights.
Markham said that in addition to the possible renovation of the former thrift store, his anonymous donor also funds a program to feed Billings' homeless population. The donor does the same thing at other Salvation Army sites, he said.
"Nobody in Billings pays for that," he said. "The rest of the donations we receive in Billings, all that money can be used directly for the residents of Billings — help with utility bills, transportation or for people who can't pay rent or get prescriptions. It works out very well for us."
At about $70,000 gross and about $50,000 net, the holiday season's Red Kettle campaign in Billings was about 30 percent down from the $102,000 raised in 2012 but well above the $30,000 raised in 2013, Markham said.
"Anything that goes to Christmas assistance comes directly out of the red bucket, and it's utilized for the rest of the year for the continuation of social services," he said.
The red kettle reported stolen during the 2014 campaign was never recovered, Markham said, and police never found the thief. Because of poor lighting, tape from a nearby surveillance camera didn't aid the investigation, he said.
The insurance deductible is $1,000, according to Markham, and at most the kettle, a Salvation Army mainstay each Christmas season, probably contained $300 or $400.
"I hope they really needed the money," he said.