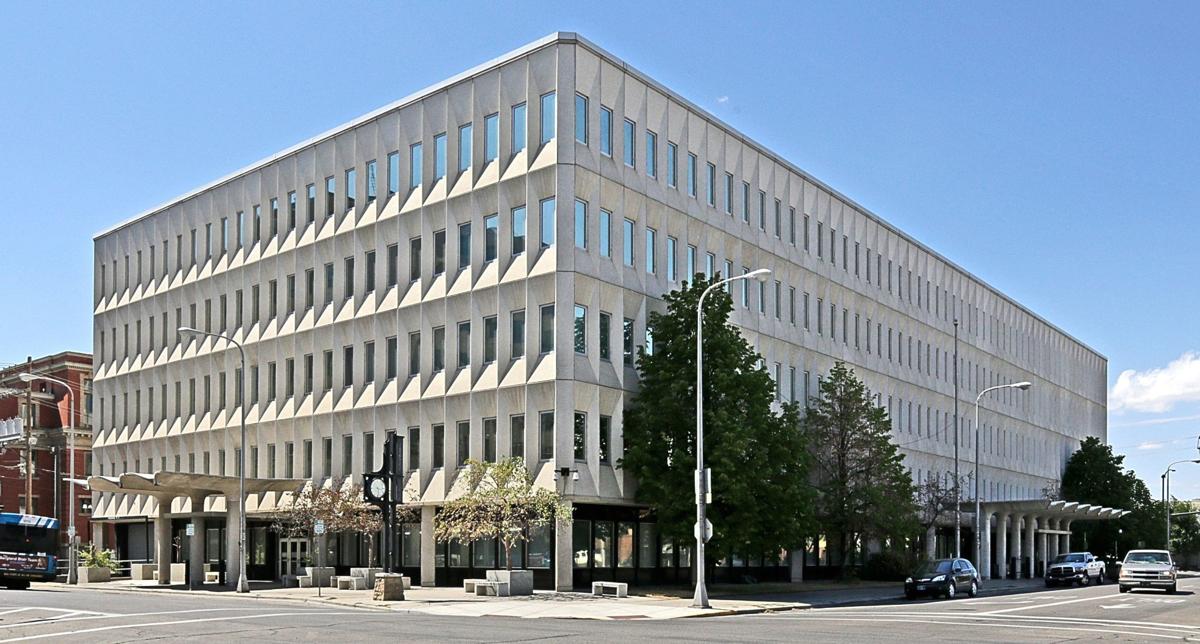 Local government and economic development officials got an idea Wednesday of what is planned for the former federal building during a tour with the new owner and the engineering and construction firm that will be redesigning the facility.
Joe Holden, the managing member of WC Commercial LLC of Alaska, told the group that asbestos abatement in the building should begin within a couple weeks.
EEC of Billings, an engineering and construction firm, will redesign the exterior and help transform the five floors — more than 213,000 square feet — into space that can be leased by multiple tenants.
The building has been vacant for about three years. Parts of it — art deco tile reminiscent of the 1920s is one example — are still quite serviceable, and Holden said he's asking people whether they believe he should leave the colorful tile as it is. To date, opinion is divided, he said.
He said he also wants to showcase the metal artwork in the lobby.
"We are going to make (the building) as nice as we can make it — something that the community can be proud of," he told the group. "I like projects, and I think it can turn into a good investment. I see it as a diamond in the rough."
While the Billings City Council — represented by Dick Clark and Mike Yakawich — was included in Wednesday's hourlong tour, City Administrator Tina Volek said it's way too soon for city officials to determine if they'll someday need space in the building, at 316 N.26th St.
The city has already solved its short-term space requirements for planning, public works and municipal court services, she said.
"That has taken off the short-term pressure" for additional space, she said.
Most of the interior walls are non-load-bearing, said Quentin Eggart, an engineer who's president of EEC. They can be easily removed, depending on what tenants require.
Some of the bathrooms must be remodeled, but the heating, ventilation and air-conditioning system only requires updating — not replacing, according to Holden. Electrical conduits built into the floors will help make the space versatile for tenants.
Eggart said interior lighting will be replaced with energy-efficient LED lights. The parking area beneath the building, now with about 60 spaces, can be expanded to up to 100 slots.
The owners and Eggart's firm are still determining the renovation budget. Eggart said he's developing exterior plans designed to make the building look less like what it's been — a 50-year-old federal building — and transform it into something more inviting to prospective tenants.
"The goal is for it not to look like a defunct old federal building," Eggart said. "People expect an office building to have modern finishes," including such givens as modern lighting.
Wednesday's tour included stops on the third and fifth floors as well as the basement. Holden said he's holding off on allowing interior photos until the building has been renovated.
The timetable for completion of the asbestos abatement and renovation is six to 12 months, Eggart and Holden said.
Also along on the tour, Steve Arveschoug, Big Sky Economic Development executive director, said his agency has been working "to identify tools to support the private investment" that WC Commercial LLC has already made. He traveled to Washington, D.C., last week in search of help that might be available to help rid the building of asbestos, but "that's kind of a dead end," he said.
But aid programs might be available for such necessities as increased parking, he said.