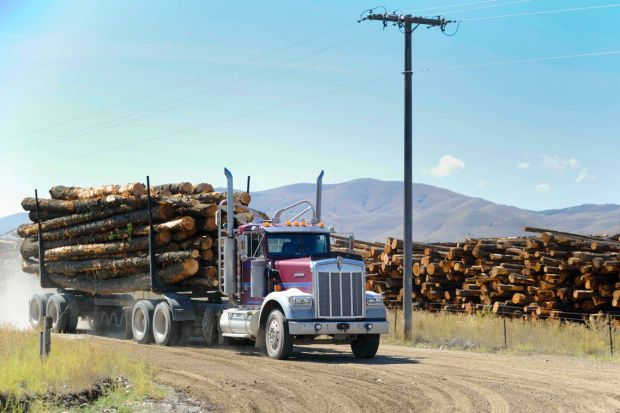 HELENA — Whether debated over a steaming cup of coffee in a café or deliberated in the chambers of the Montana Capitol, the transfer of federal lands to state or private ownership has become a divisive political issue from Eureka to Ekalaka.
Proponents and many opponents of a transfer argue that the state outperforms the federal government in management of public lands, and that the wood products industry needs more access to national forests for timber and other natural resource development. The Montana Republican Party's pushed the issue forward into an even more prominent position in June 2014 with resolution supporting the land transfer as an official party platform.
The language in the resolution calls for a timely and orderly transfer with government officials working in concert and providing resources to state and local governments to manage the lands, said one of the state's major supporters of a transfer, Sen. Jennifer Fielder, R-Thompson Falls.
The resolution also eliminates any sale of transferred lands without the consent of Montana's citizens, she said.
"I think the resolution is very thoughtful, filled with fact and the belief that Montanans can do a lot better than the federal government managing our lands," Fielder said. "What right does the federal government have to control 80 percent of Mineral County? The fundamental question is do we want more federal control of Montana or do we want less?"
Fielder chairs the SJ-15 working group under the Environmental Quality Council. The working group studies federal management of public lands, and makes recommendations to the Legislature on solutions to management shortfalls.
Similar committees examining federal land issues have convened in Utah, Idaho, Wyoming and Nevada.
SJ-15 studied a variety of management solutions like better coordination between federal and county governments, but extensive discussion and testimony about a land transfer garnered the most statewide attention.
The working group recently closed public comment on its draft report to the Legislature, which includes a recommendation that the state only pursue a land transfer after exhausting all other solutions — a compromise between Democrats and Republicans on the council.
"It's our duty as legislators and government agencies to try to find a solution," said SJ-15 member Rep. Kerry White, R-Bozeman, also a proponent of a transfer. "We don't seem to be getting any responsible management on federal lands, and a lot of the reason is it's being tied up in litigation."
Reduced federal budgets in recent years spurred a lack of federal management, resulting in high risk of wildfire, lack of timber harvest impacting jobs and diminished wildlife habitat, he said. Environmental groups make millions of dollars from taxpayers from litigation by handpicking liberal judges, and people in Montana and across the West are frustrated, he added.
The reason environmental groups win so many lawsuits is because the Forest Service keeps breaking the law, said Mike Garrity, executive director of the Alliance for the Wild Rockies, a group that has challenged dozens of federal decisions in court.
"The easiest way to ensure getting timber out is to follow the law and do it in a way that ensures the viability of native species," he said. "I think it's all politics. They'd rather have an enemy than follow the law."
The recent recession, and not legal action, is the chief reason for a downturn in logging jobs in Montana, Garrity said. The Forest Service has been harvesting timber, but many timber sales go unsold, he said.
When asked the chances of Montana succeeding in a takeover of some or all federal lands, White replied, "As a single state, little to none. But if the Western states get together and advocate for a systematic transfer, that's a smooth transition; it would take a multistate effort."
While a healthy discussion over public land management is good for the state, the debate over a land transfer has been toxic, said Dave Chadwick, executive director for the Montana Wildlife Federation. MWF has opposed similar proposals since the 1960s, he said.
Poll after poll from universities and colleges show a strong support for public lands in the West, Chadwick said, and underlying the question of a transfer is whether once in state hands, the lands would ultimately be sold off.
"I think it has sparked a reminder of how much Montanans love public lands," he said. "This is a large privatization effort and the thought that they wouldn't be sold off is just not true."
"I think it does speak to the level of frustration, but I don't know what it is that makes people go from supporting legitimate issues and go down this ideological road," said Nick Gevock, conservation director for MWF.
The debate about a transfer has gone far beyond state legislators and has become a concern for statewide elected officials and a campaign issue for candidates seeking Montana's seats in the U.S. Senate and House of Representatives.
"I don't think it's been a really productive discussion and even putting it into a party platform shows a disconnect," said Gov. Steve Bullock. "We cherish our public lands. The last thing we ever want to do is have those lands lost."
The governor pointed to his "Forests in Focus" initiative, which encourages more state and federal partnerships to push forest restoration and timber harvest, as a way to get more local involvement in management.
Bullock also pointed out that legal avenues to acquire federal lands already exist, and Montana occasionally does so through the State Board of Land Commissioners.
"I think it's easy to stand up and shout and scream, and that's what we see far too often out in the political world, but it's often a lot more difficult to roll up your sleeves and try to get something done," Bullock said.
He and Democratic Sen. Jon Tester wrote in a July opinion piece that a transfer would put Montana's fiscal security in jeopardy and lead to an eventual sell-off.
"While allowing states to manage the lands within their borders may sound like an appealing idea, the real goal is a threat to our outdoor heritage," they wrote.
Democratic Sen. John Walsh has also been a vocal opponent of the push to transfer or sell public lands.
"There is a theory circulating in some parts of the West that the federal government has a continuing duty to dispose of its lands in Western states," Walsh said on the Senate floor in June. "What this really means is handing over our most popular recreation areas to the highest out-of-state bidder. That's good for copper barons and trophy-home developers, but it's bad for us."
"It's one issue that truly unites Democrats, Republicans and Independents," said Senate candidate state Rep. Amanda Curtis, D-Butte. "This is an issue that Montanans feel strongly about, and I've said over and over again that we must keep our public lands."
Public lands are near and dear to her heart, and the issue of a public land transfer is something she hears about consistently on the campaign trail, Curtis said. She and her husband spend plenty of time in the backcountry biking, snowboarding and hiking and those values represent Montanans.
"This is absolutely about privatization," she said. "You can guarantee I'll work with anyone to build Montana solutions, by Montanans for Montanans, including how to manage our public lands."
Her opponent, Rep. Steve Daines, has corporate interests at heart, and his plan would sell off public lands to the highest bidder, she said.
Daines did not agree to a phone interview for this story. He did issue a statement in which he said he supported bipartisan efforts in the 2014 Farm Bill and his Restoring Healthy Forests for Healthy Communities Act to expedite and increase timber production federal lands and create more local involvement in decision making.
"Montanans know that the federal government is not effectively or efficiently managing many of our public lands, and we deserve better," Daines said. "State and local communities should have far more authority in management decisions. It is commonsense: our neighbors on the ground will better protect public access, improve the health of our public lands and wildlife habitat, and preserve the lands that are so important to our state.
"Montana's public lands are an important part of our state's heritage, our economy, and our way of life," Daines continued. "I will not support any proposals that would reduce Montanans' access to our public lands, nor will I support efforts that result in the sale of public lands that Montanans so greatly value."
Democratic candidate for Montana's lone U.S. House seat John Lewis agrees better management is needed on federal lands, but said agencies should have the tools and funding to do their jobs rather than pursuing a takeover.
"There are a lot of bad ideas that go around, and this is one of them," he said. "Virtually nobody on my travels thinks this is a good idea, and it's because our public lands are such a big part of Montana."
Montana, with a population of 1 million, could never afford to manage the lands, and wealthy people would jump at the chance to purchase, Lewis said.
"This is an issue I feel strongly about, and I'm totally opposed to it," he said. "I am surprised that the GOP put it in their party platform."
Republican candidate for the U.S. House seat and former state Sen. Ryan Zinke touted Montana's management of its state lands.
"From every side the state is doing a better job, and we have to look at why and what's the state doing that the feds aren't doing," he said.
Zinke has heard the frustration on the campaign trail in places like Lincoln County, where mills have closed or must transport logs from long distances. Those same places cannot access federal lands because of lawsuits and less-active management due to budgets shifting to fire suppression and law enforcement, he said. Zinke added he supports Rep. Daines' legislation to increase timber harvest.
When it came to the question of transferring or selling public lands to alleviate management shortfalls, Zinke said it's not an option he endorses at this point in time.
"I'm not there yet — I've never seen a path forward on it that we can get there where it matters to people in the short term," he said. "I'm absolutely opposed to selling, but I do think we should force, if necessary, federal policy to return to a much better balance."
In September of last year, University of Montana natural resources policy professor Martin Nie testified before SJ-15 that in his professional opinion, resolutions and studies in western states over the transfer of federal lands to state ownership will ultimately be more symbolic than substantive in nature.
"Resurrecting arguments from the Sagebrush Rebellion makes for great political theater but such efforts will not take us very far in solving the most pressing issues in federal land management," Nie told the council.
In January 2014, the working group heard a much different message when Utah state Rep. Ken Ivory, who is also the head of the American Lands Council, a group lobbying for the transfer, spoke on the legal authority of states to force a transfer.
Utah renewed the transfer push with Ivory leading the way in 2010 by authorizing condemnation of federal lands and demanding the federal government convey ownership to the state by the end of this year. Ivory cites Utah's enabling act making it a state, as well as several provisions of the U.S. Constitution and federal law as justification.
Attorneys general's attention
In a 2012 memo, the Wyoming attorney general's office advised against similar efforts in Wyoming, saying that Utah's legal basis, "Depend upon a repeatedly rejected reading of the United States Constitution and a strained interpretation of Utah's statehood act."
The same memo cites similar language in Montana's enabling act making a forced transfer legally unlikely.
For Montana, the question of whether the state could force a takeover has not been legally considered in a court of law.
Montana's top state elected Republican, Attorney General Tim Fox, declined to be interviewed for this story citing scheduling conflicts. He did issue a statement saying that the topic is one he plans to visit along with other Western attorney generals.
"The suggestion of transferring federal lands to state ownership has once again arisen because our state land managers continue to outperform their federal counterparts in every category of stewardship — habitat protection, sustainability, public access, environmental protection, jobs and revenue," the statement said. "When viewed in that light, a transfer of some or all federal lands to state management over time pursuant to a bipartisan plan would seem very attractive, but only if these lands remain public and are not sold to the highest bidder."
Fox said he has chosen to participate in a special bipartisan Federal Lands subcommittee of the Conference of Western Attorneys General's Litigation Action Committee that will study the legal viability of federal lands transfers.
"The solutions will require a national dialogue and Congressional action after the ideas and concerns of the individual states and their citizens are heard and fully considered," the statement continues. "I will support creative ideas that generate sustainable wealth and economic productivity from our vast public lands, while continuing to care for the environment and wildlife, and guaranteeing our access to these lands."