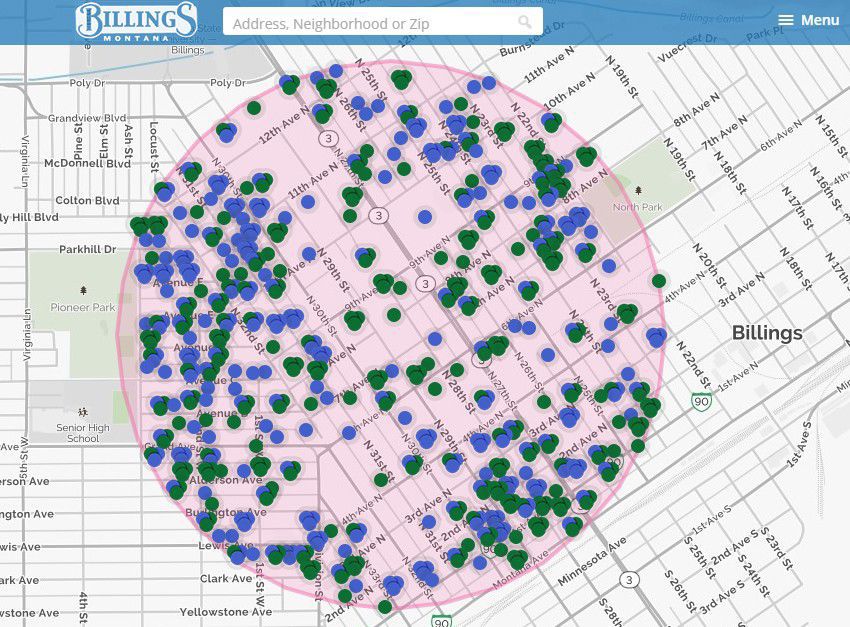 The city of Billings has a powerful and unblinking eye trained on all the building activity going on within city limits.
Advertising itself as a tool to bring Billings residents "from in line to online," the online tool buildingeye is now available at https://billings.buildingeye.com.
The service went live Monday.
More than 50,000 Billings building permits dating back to 2012 have been mapped on buildingeye, which is available on mobile, tablet and desktop devices. The information is updated every day.
The majority of the activity — especially in light of damaging hailstorms that occurred over the past two years — detail permit information for new roofing and siding, said Candi Millar, the city's director of planning and community services.
Residents can use the website 24/7 to, for example, keep themselves up to date on proposals around a specific property or neighborhood by receiving email alerts to any new building permits that fall within their chosen area.
The service allows people to search for information by address, neighborhood and zip code or just to click on a property on a map to produce the following information: number of building permits, address, permit number, received date, type of permit and description, current status and a link to more detailed information.
Filter tools enable a more refined search, including the application number, keywords, date range, application type and status.
The map also has a draw button that allows users to draw a shape around their property or neighborhood to see how many permits are currently under review — or the number of permits issued.
While the identity of the property owner is kept private, contractors working on any given project are listed.
Millar said the new software is for display purposes only — owners and contractors must still apply for a building permit with the city.
"Customer service is our No. 1 priority," she said. "Buildingeye allows citizens to have immediate access to building project information from their phones or from home 24 hours a day without having to call or visit our office.
People who have taken buildingeye for a test drive "have been wowed by it," Millar said.
The new service costs the city about $9,800 each year. Millar said that future expansion of the service — the company can also sell the city software that can fill in residents on code enforcement actions, planning decisions and engineering records on structures throughout the city — will depend on city council decisions in future budget years.
"Cities like Billings are now focusing on their efforts to become more transparent and engaging with their citizens and embracing new technologies to facilitate this need," according to a buildingeye news release.
To date, the company has secured multi-year local government contracts in Missoula; San Francisco; Corvallis, Ore.; and a number of other communities in Montana, Colorado, Oregon, California and Michigan.