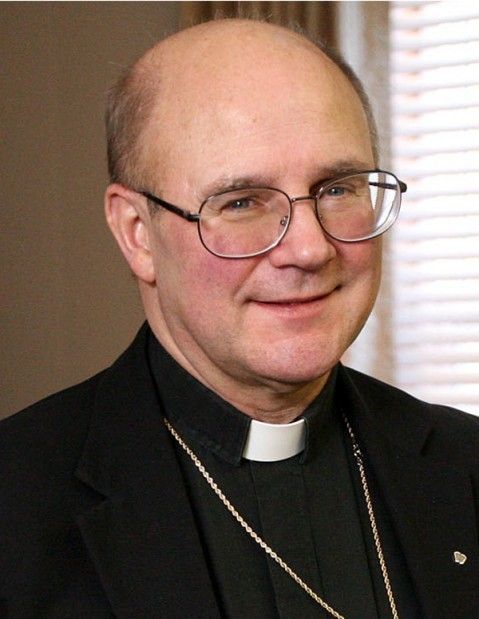 Four days after a Great Falls priest called for a boycott of Mayfair, the Billings Catholic School's annual fundraiser, Bishop Michael Warfel of the Great Falls-Billings Diocese weighed in on the controversy.
Warfel both wrote a letter that will be distributed to parishes and missions throughout the Eastern Montana diocese and he spoke to a reporter Saturday.
The bishop's 1 ½-page letter was spurred by an incident last week in which the Rev. Ryan Erlenbush, priest at Corpus Christi Church, advocated on Facebook for the boycott after learning that a gay couple comprise two of the six co-chairs for the event.
The annual Mayfair Gala Dinner and Auction is the school system's largest fundraising event of the year. This year it is expected to raise close to $500,000 and draw an estimated 650 people.
In his post, Erlenbush, an alumnus of Billings Catholic Schools, maintained that BCS "has lost its way when a prominent homosexual couple is advertised as the chairs for the annual fundraiser."
"Why would any Catholic (Indeed, any Christian) attend or donate to Mayfair 2018?" he asked in the post. "What does a Catholic School have to do before people say 'enough' and take their kids (and their money) elsewhere?"
He concluded by saying: "I'm an alumnus of the Billings Catholic Schools and I say, 'enough.' "
The post blew up, with people registering opinions either strongly in favor or vehemently opposed to the priest's stance. Erlenbush eventually took it down.
Warfel, in his letter, without specifically mentioning the priest, referenced a local news story that detailed the incident. The bishop voiced his strong support for "the education and formation that students receive from Billings Catholic Schools."
"I know many of the teachers personally and judge that they adhere to the Catholic teaching and value it as a guide for their lives," he said. "In particular it is my conviction that students receive a solid presentation of Catholic faith in the areas of doctrine and moral life."
Warfel acknowledged that BCS and the nonprofit Billings Catholic Schools Foundations are separate entities, though "obviously they have a connection." He said he has had never been directly involved in the school system's fundraising efforts.
The bishop also included three paragraphs of the catechism of the Catholic Church that outlined the Scriptural stance on homosexuality. While homosexual people are to "be accepted with respect, compassion and sensitivity," under no circumstances can their actions — described as "acts of grave depravity" and "contrary to the natural law" — be approved, the portion of the catechism read.
In a nutshell, Warfel said, he supports BCS and the work it does. But he reminded his readers that Catholic Scripture is clear regarding homosexuality, "distinguishing between the inclination and behavior that is contrary to the moral teaching of the Church."
In the telephone interview, Warfel, who initially was reluctant to talk specifically about Erlenbush, said the priest's post was spurred by comments he had been getting from people in Billings. Warfel said he didn't think the priest was out of bounds, but he questioned Erlenbush's methods.
"He's a Catholic priest holding up Catholic principles," Warfel said. "The issue is not the principle, the issue is how things were communicated. I would judge there are better ways to handle it."
Asked generally if priests should call for boycotts, Warfel said, "I would prefer that they not."
"But that was on his personal page, not a parish page or Diocesan page, and in a sense it was a private remark," he said. "But on Facebook you can't have private."
Warfel saw the post and the ensuing uproar as distracting from the purpose of the annual fundraiser.
"The response and reaction have been very polarizing, and my concern is that an event that's been very helpful in supporting Billings Catholic Schools has been co-opted" by an unrelated issue, Warfel said.
Like the reaction on Facebook, Warfel has gotten a mixed response to Erlenbush's post.
"I've had very negative responses, I've had very positive responses, I've had strong appeals to support Father Erlenbush, I've had strong appeals to silence him," he said. "This is a very sensitive and polarizing issue."
Then Warfel added, "Father Erlenbush is a good priest."
Warfel said he doesn't know either Travis Heringer or Dan Sutter, the couple at the heart of the controversy.
"From what I understand these two gentlemen are nice men, but there's still an issue," he said.
It boils down to the church's teachings on homosexuality, on which he said there is not a lot of room for interpretation.
"We can't pick and choose which we like, which we don't like," Warfel said. "Catholic teaching is pretty definitive. I base it off Scriptures."
What becomes problematic is when a member of the church in a prominent position is living a life contrary to what Catholic teaching is, he said.
"It sets up questions about what Catholics believe, irrespective of whether the person is a nice person, a good person," Warfel said.
Asked if the controversy would affect his relationship with Billings Catholic Schools and BCS President Shaun Harrington, Warfel said no.
"Shaun is a very good person and a good administrator," the bishop said. "What organization doesn't have some disagreements once in a while?"