Nine people were rescued from the banks of the Yellowstone River in Laurel Saturday afternoon after a trip on "Wal-Mart floaties" went awry.
All of the people were unharmed, according to Laurel deputy fire chief J.W. Hopper. They appeared to be teenagers, but he wasn't sure of their ages.
The fire department received the call at 4:30 p.m. as a severe storm was blowing through Laurel. It appears the floaters headed for land as the storm approached, Hopper said.
They were rescued using two boats, a Yellowstone County Sheriff's Office boat and a private boat, between Sportsman Park and Riverside Park. The rescue was staged from Riverside Park.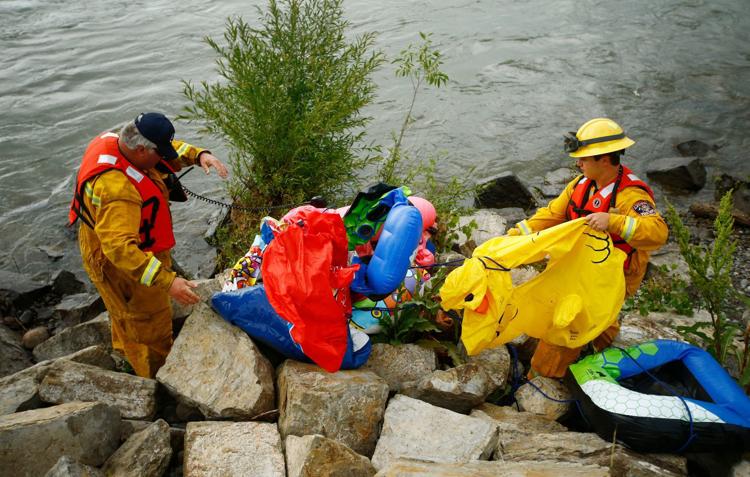 Officials also retrieved a string of multi-colored tubes and flotation devices that appeared to be partially deflated, still connected with string. 
"They were just on cheap Wal-Mart floaties," Hopper said. 
You have free articles remaining.
That's inadvisable on the Yellowstone River in its current state, he said. Only experienced boaters in study crafts should attempt to navigate the river. 
Seemingly on cue, not long after the final boat was pulled from the water, a 50-foot uprooted tree went floating by like a leafy, out-of-control barge. 
"Did you see what floated by?" Hopper said. "That river is still super high."
This is the third river rescue this year that the Laurel Fire Department has been a part of, he said. 
The storm also caused some damage in Laurel; Hopper said that the department received a call about a tree on a power line at the same time they got the river rescue call. 
The floaties remained at the boat ramp, abandoned by the floaters and unclaimed by the rescuers.