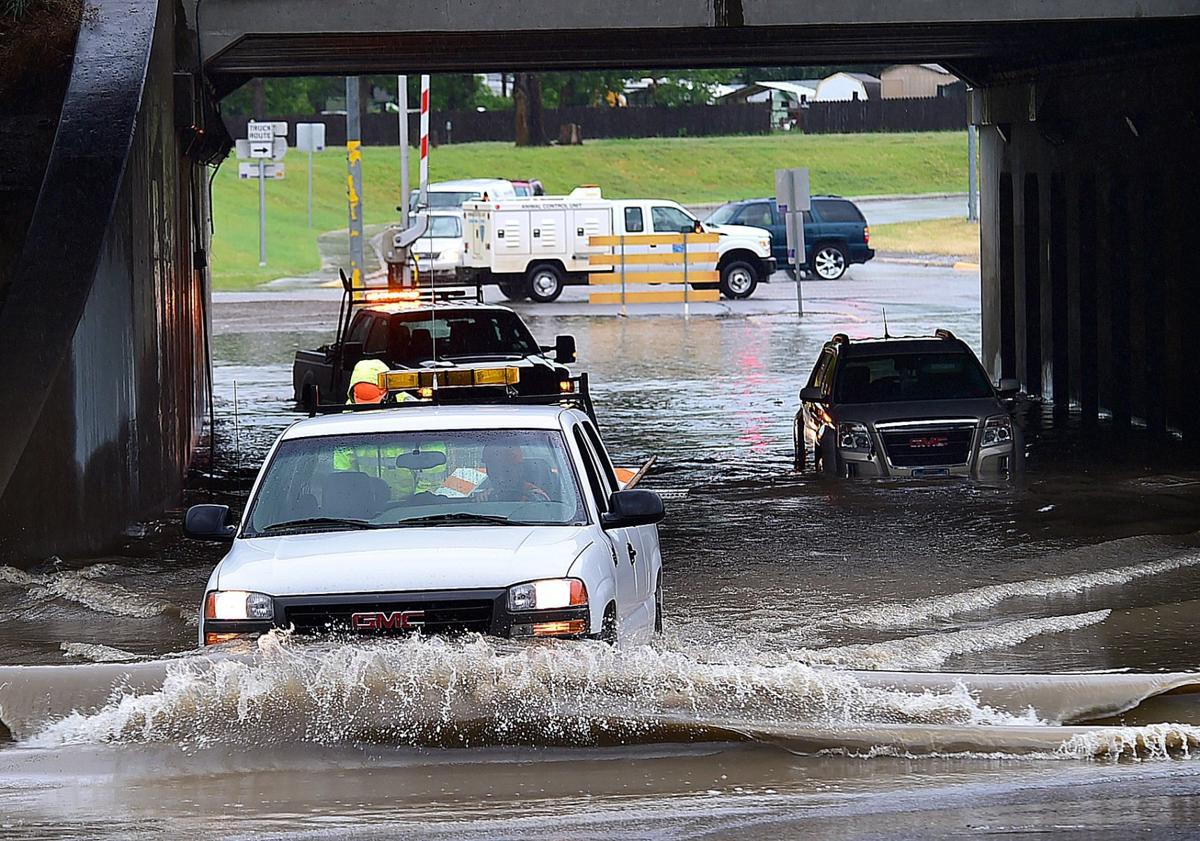 Flooded streets and a brief hail storm in Billings Friday morning scrambled the morning commute with standing water in several intersections and stalled cars in deep water at several underpasses.
Billings got just under a half-inch of rain Thursday night at Billings Logan International Airport, the Billings Office of the National Weather Service said.
But that can vary by the part of town where it's measured, said meteorologist Tom Frieders on Friday morning. At the NWS office in Billings' West End, Thursday's precipitation measured 8/10th of an inch, he said.
On Friday morning, a thunderstorm brought another quarter-inch of rain to the airport, but some areas received more.
"The heaviest precipitation with this latest round was up through the main heart of town and over toward the Heights," Frieders said. "We had some reports of minor flooding in the Heights."
He said to expect scattered thunderstorms throughout the morning. That will decrease as the day progresses, and things should dry out by Friday night.
Meanwhile, the Billings Fire Department is asking people to avoid driving through deep water, which may cause car engines to stall, but also pushes water toward homes and buildings.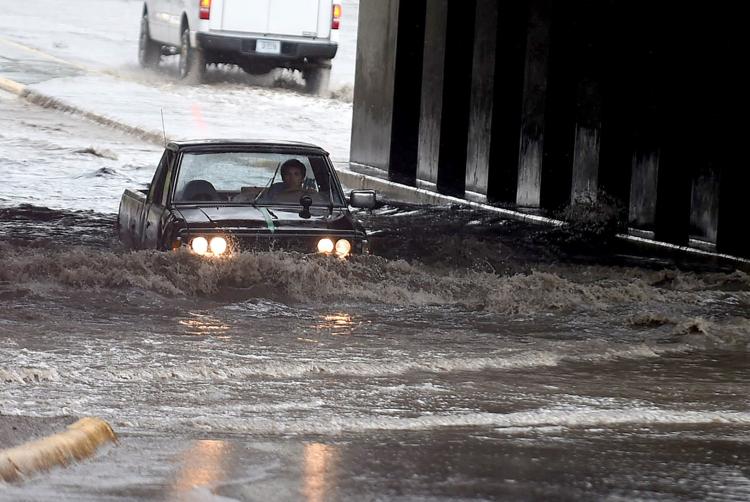 Battalion Chief Matt Hoppel said the pressure from the flooding can cause manhole covers to lift and move, creating a hole in the road that drivers cannot see.
"It's a pretty dangerous situation," Hoppel said.
City officials were responding Friday morning to cars stalled under the 6th Street and 13th Street underpasses.
Rain, Thursday night and Friday morning, as well as on Memorial Day, have flooded homes in the Billings area, as well. Willy Johnson, owner of Alpha-Omega Disaster Restoration in Laurel, said his business has been inundated with customers since the Monday storm.
Just as his crew got caught up after that downpour, last night's storm flooded houses all over again. 
"It's really widespread from last night's storm," Johnson said. 
In addition to residences, Johnson's crew is also working in downtown businesses that ended up with water damage, he said.
Steve Longshore, owner of Big Sky Disaster Restoration Service, said the Memorial Day storm seemed to hit the West End hardest.
"We had three out in the Yellowstone Country Club," he said. "The water came off the Rims and washed down."
Longshore got more calls on Friday, including one in the Heights, but he had to say no.
"We're so swamped with what we already had, it's hard to add to it," he said. "All the crews are stretched thin."
North of Billings, Musselshell County sheriff's deputies evacuated one Roundup couple at 4 a.m. Friday as the Musselshell River rose up to their doorstep. Residents had been alerted to a possible evacuation days earlier when the river levels jumped.
Rapid changes in water levels have kept residents on their toes.
Musselshell County Department of Emergency Services Coordinator Justin Russell said that near Roundup, the river climbed 4.5 feet in two hours overnight, then dropped roughly a foot in an hour and a half.
Roundup was recovering on Friday morning from a major hail storm Thursday night that dropped tennis ball-sized hail on some parts of town.
"We got quite a bit of damage, especially on the west and north facing windows," Russell said. "Almost everybody has some sort of broken window, broken car windshield, totaled cars. It was just quite the ordeal."
As flooding recedes in Roundup, the next concern for county officials is downstream at the towns of Musselshell and Melstone. Russell encouraged residents to check the Musselshell County DES Facebook page for updates.
Upstream of Roundup, Golden Valley County residents saw roads and riverbanks eroded, and at least one cattle ranch surrounded by standing water, with homeowners working to pump water out of their basements.
Golden Valley County officials added riprap to banks to prevent washout and eyed bridges threatened by the pressure from the high water flow.
A 3-4 mile stretch of U.S. Highway 12 just west of Roundup was reduced to one-lane traffic due to high waters, and the Montana Department of Transportation warned drivers to watch for flash flooding.
Power was still out for a limited number of people by mid-morning Friday, with Northwestern Energy reporting between 1 and 50 customers affected in both Lavina and Roundup.
Get local news delivered to your inbox!
Subscribe to our Daily Headlines newsletter.