A system of heavy rain storms moving through the region has caused flooding in portions of south-central Montana, as runoff flows into rivers and creeks already swollen with mountain snowmelt.
Storms that began west of Billings Wednesday arrived in the city by mid afternoon and continued east. Rainfall in Billings totaled out to 1.54 inches, breaking a 2008 record of 1.33 inches.
An afternoon cloudburst that produced quarter-sized hail in the Heights gave Billings .4 inches of rain. Farther east, hail was measured as large as 2 inches near Miles City and Ashland, according to NWS Billings meteorologist Dan Borsun.
Carbon County was especially hard hit with rainfall on Tuesday and Wednesday, with flash floods overwhelming culverts and washing away asphalt roads in some areas, according to the county's office of disaster and emergency services.
Along the foothills of the Beartooth Mountains, including around Red Lodge and Joliet, 2 to 3 inches of rain had fallen over a 48-hour period as of Thursday afternoon, according to meteorologist Tom Humphrey with the National Weather Service office in Billings. The hills southwest of Columbus recorded up to 3.5 inches of rain over that period, Humphrey said.
A flood warning remains in effect for the Clarks Fork of the Yellowstone River until further notice, according to the weather service.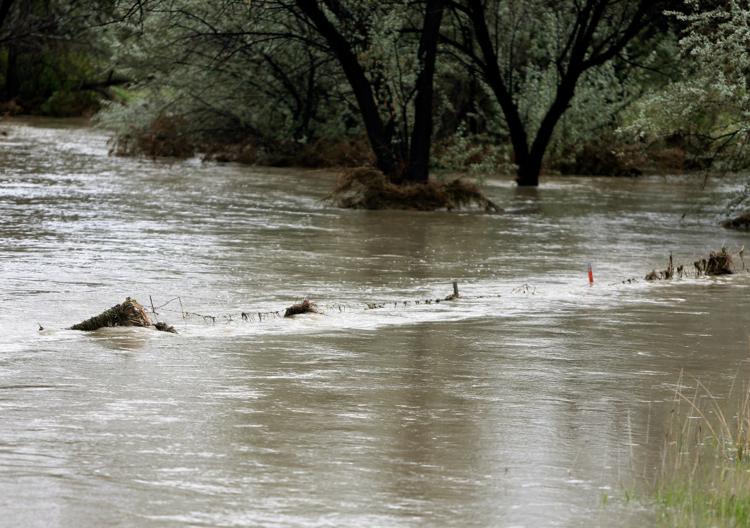 The main stem of the Yellowstone River is also expected to reach minor flood stage in Yellowstone County, prompting the city of Laurel to declare a state of emergency Tuesday afternoon. Yellowstone Disaster and Emergency Services Director Brad Shoemaker said floodwaters have begun backing up into the city's water treatment facility on the Yellowstone, upstream of its confluence with the Clarks Fork.
The emergency declaration allows city officials to obtain an emergency floodplain permit to create a roughly 100-foot-long barrier to protect the facility, Shoemaker said.
"Work will include the temporary construction of a barrier to divert waters using sandbags, earthen berms and other structures," the city stated in a press release. "There are currently no impacts to drinking water or service in Laurel."
Among Carbon County's infrastructure casualties on Wednesday was an asphalt road west of Edgar that was missing a roughly 10-foot section after the underlying culvert collapsed, DES Director Tom Kohley said Wednesday. He said most of the damage overnight occurred in the northern portion of the county.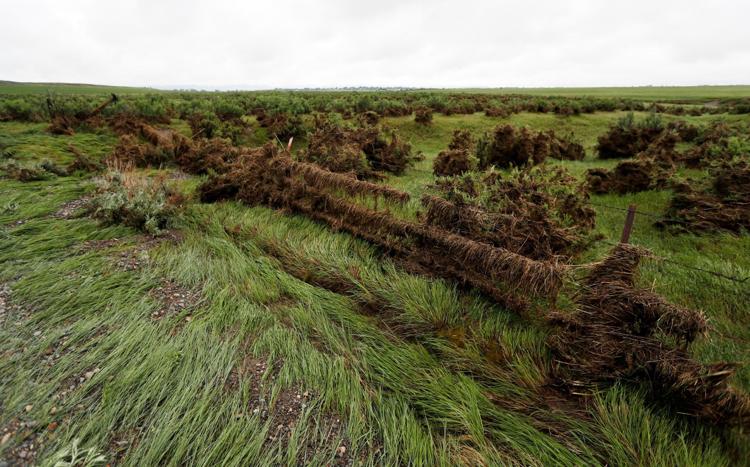 For now, emergency officials are keeping their eyes on Fromberg, where residents of about 80 structures in the 100-year flood plain have been put on notice that they may have to evacuate.
"I feel like we've done pretty well notifying folks in Fromberg," Kohley said. "That's our main community of concern right now, they're the ones closest to the river."
As of 12:30 p.m. Wednesday, the river was about 7 inches shy of its 8.5-foot minor flood stage at Edgar, just downstream of its confluence with Rock Creek, according to data from the U.S. Geological Survey. By early Friday, it's projected to crest at 9.3 feet, which would tie its historic record.
Farther south, the river was about 9 inches below flood stage by noon Wednesday at the Belfry river gauge, where it is expected to hit minor flood stage of 8 feet overnight.
The Musselshell River also continues to flood, particularly in the areas around Shawmut and Lavina. It has remained in major flood stage for most of this week at Shawmut, and is expected to begin dropping back toward moderate flood stage this weekend.
The Musselshell County Disaster and Emergency Services stated Wednesday morning that the Melstone-Custer Road bridge, which spans the river just south of U.S. Highway 12, was closed due to water running across the road.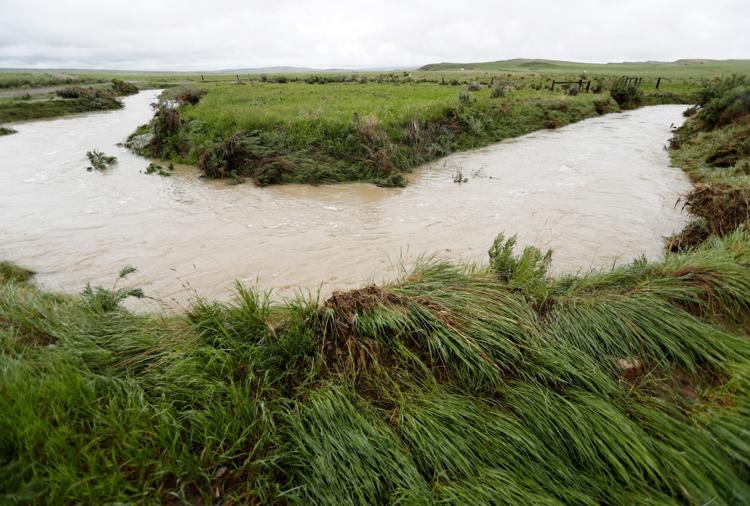 The Stillwater River was also rising quickly, with USGS forecasting it to reach its minor flood stage of 7 feet by early Thursday morning, and possibly again on Monday. The record high-water mark is 7.2 feet.
Temperatures in the mid- to upper-80s are expected in the Billings area by Friday, potentially accelerating snowmelt in the Beartooths, according to the National Weather Service.
And then there's more rain expected as another system of strong thunderstorms push through the region at the end of the weekend.
"Right now, it looks like the best threat of getting additional heavy rain is going to be Sunday afternoon and Sunday evening," Humphrey said.
The heavier rainfall will likely be very localized, he noted, but could drop as much as an additional 1.5 to 2 inches of rain in some areas.
"We need to stay on our toes for this weekend. It's going to stay active, the rivers and streams are all high, and this certainly won't help anything," Humphrey said.