The worms were tough to find at Primrose Park on Tuesday morning, even for early birds.
Groups of elementary school students roamed the grassy space in Billings' Heights, looking for insects and plants while participating in activities like modeling osprey behavior.
"Come out, bug," ordered student Caius Smart Enemy.
It could have easily been mistaken as a playtime romp in the park, but the students are actually some of Billings' brightest hard at work.
Billings Public Schools' gifted and talented program — QUEST — has made the park a centerpiece of project-based learning. A new playground was designed by QUEST students in second grade last year.
The program, which draws students from schools across the district, was looking last year for a project on which it could partner with the City of Billings, and officials pointed them to Primrose. The 3-acre space, with a manicured lawn and selectively placed trees, fits the picnic-and-playground model. It had been on the city's deferred maintenance list for a $250,000 playground upgrade.
The second-graders' design, which had to meet standards for safety and inclusivity, was chosen. The new equipment stood dusted with snow on Tuesday.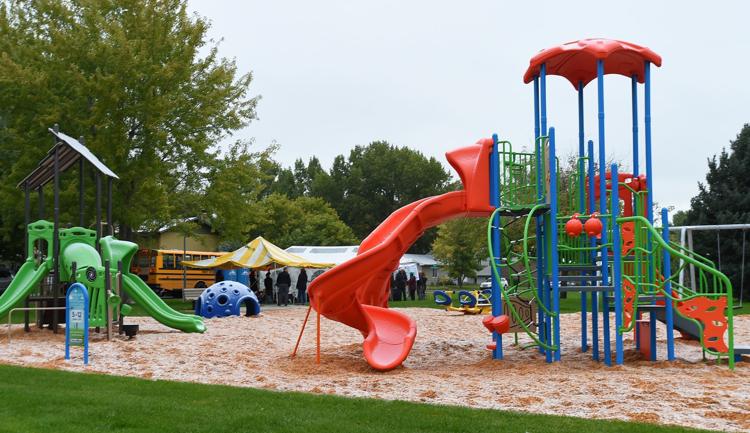 Kids in the QUEST program get some exposure to pomp and circumstance, like a photo display exhibit last year, or Tuesday's playground ribbon cutting. But the core of the program has more to do with rooting through grass on a cold, wet morning.
A group of first- and second-graders worked with City of Billings forester Steve McConnell to talk about biodiversity in the park.
It's a weighty topic for young kids. While their peers in a typical classroom might learn basics about plants and animals, the QUEST students were asked to consider how those plants and animals interact with an environment.
Tuesday's weather wasn't ideal; the wasp McConnell showed students was content to stay perched on a cup.
"He's, right now, so cold he hardly can move," McConnell said. "Today, they're hunkered down."
Students were armed with worksheets to track the plant and animal life that they found in the park. McConnell warned them they likely wouldn't find much, between the cold weather and the nature of the park — it's not designed to be a more nature-rooted experience like Riverfront Park.
But they found a smattering of moss, ants, and worms. Two students had a lively debate about whether a wet section of tree was a slug or simply mushy bark.
Miah Streitz, the tree mush advocate, agreed with McConnell's assessment of the weather. She had initially jumped for joy when he mentioned using nets to catch butterflies, only to be disappointed by the chilly conditions.
"It was too cold," she concluded.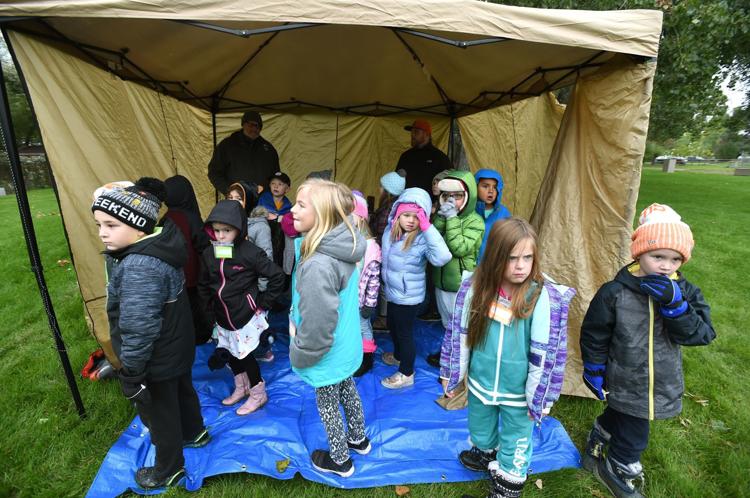 Success is supposed to be elusive for the QUEST kids, although weather isn't usually an obstacle. Kids in the program can usually produce the right answers at school without taxing themselves.
"We really push them to their frustration level," teacher Annette Julian said. "That's the idea, is to sort of set them up to be challenged in life."
Thus the program utilizes vocabulary like "biodiversity" and operates under the expectation that students can work independently and the hope that they can figure out the next steps themselves.
"We're trying to focus on local species that are affected by human actions," Julian said.
A next step for the students will be thinking about actions that could increase biodiversity in the park while still fitting its mellow character — planting the seed that a bird- and butterfly-friendly garden could achieve that goal.
Get local news delivered to your inbox!
Subscribe to our Daily Headlines newsletter.