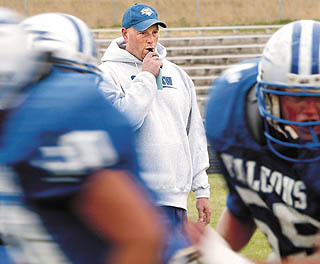 Story By JOHN LETASKY Of Gazette Staff
When he's not teaching mathematics, coaching football or track or being a husband and dad, Sean Joyce is busy with the National Guard.
The Billings Skyview teacher and coach is a member of the Montana Army National Guard and serves in the 1-190 FA Battalion Unit. He is a fire direction officer and detachment commander for a field artillery unit in Sidney.
Joyce's unit shoots M198 Howitzer cannons. If they were called to serve active duty in Iraq or Afghanistan, it would be in general reinforcing support.
Joyce usually participates in drills with his unit once a month and for two weeks during the summer. However, this past year he was in Fort Sill, Okla., for a field artillery officer basic course from February through July. Joyce wasn't in Fort Sill due to the recent war on terrorism; rather, it was training needed so he could achieve promotions as an officer.
The entire faculty and student body at Skyview was receptive to Joyce when he returned this year and supported him when he left.
"They are very supportive and understanding of my commitment, and I appreciate their backing," he said.
Not only was the Skyview community supportive of Joyce, but so was his family. Joyce and his wife, Sarina, who works for Western Security Bank, have been married almost two years and live in the Heights. They have two boys, Brandon and Jaden.
"It was quite a sacrifice (being in Oklahoma)," Joyce said. "My wife did a great job during my absence."
For the time being, Joyce said, he didn't believe his unit would be called to serve overseas anytime soon.
"We always train to be ready, and, if we get the call I'll answer it," he said.
"I take a lot of pride in my state and my country and feel strongly about defending the strength of our nation."
Doing his part as a teacher, Joyce will answer questions from pupils who approach and ask him about being involved in the National Guard.
"Any time a student approaches me, I sit down and talk about everything it's offered me in my life and try to help them see what it could do for them," he said.
You have free articles remaining.
When Joyce returned to Skyview after his time in Oklahoma, the 30-year-old picked up where he left off and again started teaching calculus and coaching defensive ends on the football field. However, Joyce has no plans to become a head coach himself one day.
He also is an assistant track coach and is just too busy.
"Right now I'm comfortable with the role I serve with our team," he said. "To tell you the truth, right now I don't have the time available where I could dedicate myself to be a good head coach."
Joyce attended Skyview as a student and graduated from the school in 1991. He was on the Falcons varsity team for two seasons as an offensive guard and defensive tackle. Joyce then attended school at Carroll College, graduating in 1996. He played offensive guard at Carroll.
Joyce is a high-school coach because he has a passion for the game.
"The main reason I coach is I love the game of football, and it's a great way to stay around the game," he said. "It's the second-best thing to playing."
After losing at Bozeman in week one 34-14, the Falcons have responded well. The Falcons went to Missoula and downed Sentinel, 37-7, and then downed Great Falls Russell, 35-14, and Billings Senior 26-9 at Daylis Stadium.
"That's all a credit to the kids and their willingness to pull themselves up and not accept defeat," Joyce said.
Before landing at Skyview, he taught high school for a half-year at Kemmerer, Wyo. He was then at Butte Central High School for two years and coached football, track and basketball.
But, at heart, Joyce was always a Falcon.
"I guess I always made it a personal goal to end up back at Skyview because I had a real positive experience during my high-school years," Joyce said. "It feels good to give something back to the school that gave me a good background."
Joyce said there is little difficulty in coming back to teach and write out problems on the marker board at a school where he once sat behind a desk and listened to lectures.
"To tell you the truth, it's pretty comfortable," he said. "I had a good relationship with all my teachers as I went through high school. And I think my knowing them to begin with made them a little more welcoming and willing to help out."
As a math teacher, Joyce has had pupils ask him how this problem or this equation fits into the real world. Joyce explained that maybe not all the formulas will fit into every student's future life, but math teaches people how to work out difficulties and problems that arise.
"It challenges you to use your higher-level thinking skills in problems that may surface in your own life," he said. "You've got to get all your information gathered and sorted out, and then you go on with your problem-solving skills."
And, just briefly looking at Joyce's life, it's easy to see he employs those problem-solving skills well.