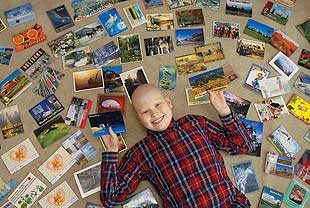 LOCKWOOD - Alan Loomis spent most of last year on the couch, but looking through his postcard collection you'd think the 13-year old had been around the world.
Between trips to Denver, the Billings Clinic and a family vacation to Alaska, he has been fighting leukemia with the help of his family - mom Tammy, dad Todd and little sister Makayla - after being diagnosed in January with ALL (acute lymphoblastic leukemia) in the Philadelphia chromosome, a rare form of the disease.
Alan's postcard collection grew from one sent by a friend of Tammy's who mailed a card while she was traveling.
"After the diagnosis, everyone sends something with the initial shock, and then it stops," Tammy explains.
The postcards were a way for people to keep Alan in mind and remind him that he was in their thoughts.
Alan has cards from Saudi Arabia to Argentina. Nearly every state is represented in the collection.
Although the family hoped the postcards could be included in the Guinness Book of World Records, the publishers declined the entry because they get 60,000 requests per year for the collections section of the book. Now, Alan is looking into being featured in a Disney Channel commercial with his postcards.
But, even without the official nod of approval, Alan and his family love getting the postcards.
"It gives us something to look forward to," Tammy says.
They get cards nearly every day and, with them, the opportunity to learn about places around the world. Just last Saturday, he received 850 postcards - the most he's gotten on a single day, according to his Web site.
Alan has been hospitalized almost a dozen times and goes in for fluids, periodic cell counts, blood draws, bone marrow and spinal taps. Aggressive chemotherapy makes him sick, and his head is bald. But there's something to look forward to - every day in the mail and in the coming months.
The family expects that Alan will be done with treatment this summer. In addition to taking a Make-A-Wish trip to Denali National Park in Alaska, he'll be able to join his classmates for most of eighth grade. By his freshman year of high school, they hope that the cancer will just be a memory and that he'll join students at a Billings high school.
Dr. Paul Kelker, Alan's pediatrician and oncologist at Billings Clinic, says he's had a couple patients who take on projects similar to Alan's postcard collection. Not only does it give them something to do during hospital stays, they are able to focus their energy on something they enjoy.
"Anything you can do to get you mind off the problems - that is creative and constructive. Anything you can do that's fun is good," he says.
Kelker has received requests from other children around the world looking for postcards. Word spreads far and wide, and Alan's friends, nurses and fellow church members have spread the word about sending the young man postcards. The result has been greetings with cards representing more than 20 countries.
Because it's been more than a year since Alan could attend school with his friends, they keep in touch with postcards. Other kids write to ask Alan to be their pen pal.
A woman wrote a card from Hong Kong to tell about her trip, and friends from church have sent cards from each town they stop in while traveling. One card came from a woman who saw Alan's name and address on a laundry room bulletin board in Florida.
When Alan turn-ed 13, 13 cards were sent to spell out "Happy Birthday." And a class at Poplar school sent him several of their homemade creations to add to the pile. Those homemade cards are Alan's favorites.
"Anyone can go buy one, but it takes time and a lot of thought in making them," he says.
Since she gets to go through all the cards with her son, Tammy has her favorites, too. She especially enjoys learning about different places - state birds and flowers and historical sites. During trips to Colorado to visit the doctor who treats Alan there, the family can point out the Colorado state bird and trees.
Tammy writes back to all the card senders when their return addresses are included. That's a lot of stamps for her, too, as nearly every card in the collection of about 2,000 is from a different individual.
Because Alan's cancer is so rare, he is part of a 2-1/2-year-old study of children with ALL in the Philadelphia chromosome.
A lot of people write just to let him know they're thinking of him and wishing him recovery.
Tammy says the postcards have reminded her just how much people care.
"You hear about bad things a lot, but this is just so amazing," she says.
How to get involved
If you'd like to send a postcard to Alan Loomis, mail it to: Alan Loomis; 927 Saddle Lane; Billings, MT 59101.
Financial donations to help with Alan's medical bills may be sent to the Alan Loomis Benefit at First Interstate Bank.
Keep up on Alan's treatment and collection at www.caringbridge.org/mt/alanloomis.