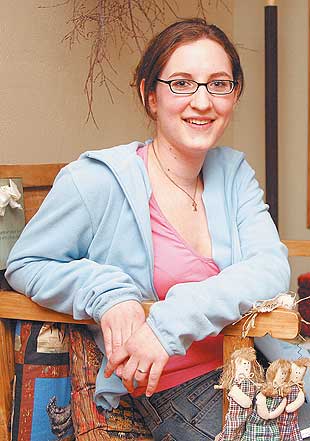 When the Moser family agreed to host an exchange student, the decision tipped the gender scales in the household.
With the addition of Maike Janssen, a 16-year-old student from Krefeld, Germany, the Moser home boasted three females and two males.
"It's nice to have another girl in the house," said Eleni Moser, who, with her mother, rounds out the female contingent of the household.
Eleni's brother, Anthony, was disappointed that his parents, Dimitra and Mark Moser, opted to host a girl. As the female Mosers tell it, Anthony cried out, "No more girls!" when he learned that the student who would be living with them for a year was not a boy.
It was Anthony who encouraged the family to host a student in the first place. Sort of.
"A piece of paper was going around school for exchange students, and he just filled it out," Dimitra Moser said. "Next thing I know, I get a phone call, and I was confused."
Maike's path to the Mosers was more direct than theirs was to her.
"I first thought about just going for two weeks to America," she said. "Well, then I thought maybe I should stay a little bit longer to get the experience and improve my English."
She lucked out when the Mosers selected her. They have a lot in common.
Dimitra Moser, a native of Greece, once operated a restaurant in Germany where Maike used to eat when she visited relatives.
When Maike arrived here last fall, her English - which she had studied for five years - was good, Dimitra Moser said. But, if Maike ever struggled to express herself, there was another option.
"I understand German," Dimitra said. "If she had something to say, she would tell me in German."
Maike's hometown, Krefeld, has about twice as many people as Billings. She lives in a suburb with her parents; her older sister recently moved away to study at a university.
When people ask her how Billings is different from Krefeld, Maike reels off a list.
"The houses here are huge," she said. "In Germany, we can build the house that are high but not wide."
Also, she said, it seems as if everyone here has his or her own car. In Germany, citizens must be 18 to earn a driver's license, and many people rely on public transportation.
"If I want to go shopping, I take the subway," Maike said. "I miss that here."
And then there's the food.
"I don't like the food. I don't like hamburgers," she said with a shudder. "Thank God, Dimitra is Greek. She makes Greek stuff."
Compared to German bread, what Americans eat is pale and lifeless, Maike said. The bread at home has substance and is the food she misses most.
Most American chocolate also does not measure up to the German variety.
"Dimitra and I are always going to World Market because they have German chocolate," Maike said.
Not all American food is undesirable, Maike said. She enjoyed eating Thanksgiving dinner - complete with turkey, mashed potatoes and green-bean casserole - with the Mosers.
Maike will have two or three years of high school to complete when she returns to Germany. She said her year at Skyview High could count toward her graduation, but she might opt to take the German 11th grade - which she has missed while here - to ensure she can pass her graduation test.
"The exams are not just on the 13th year," she said. "They are from all the school years."
She is uncertain what she wants to do after graduation.
"It's a hard question," she said.