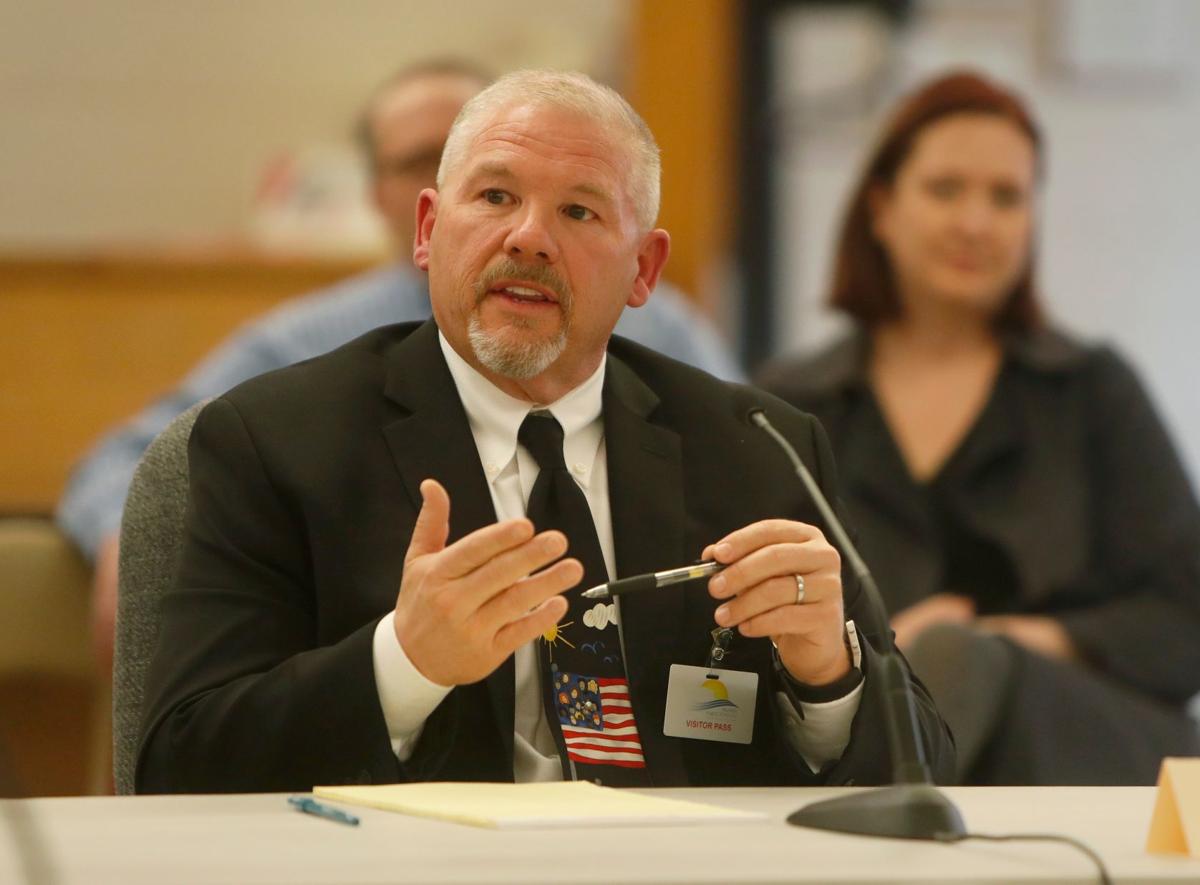 Greg Upham knew that he had home-field advantage when he interviewed as a semifinalist for the Billings Public Schools superintendent job in March.
"I was really disappointed that I'm the last Montanan left standing," the assistant superintendent for Helena Public Schools said.
He named-dropped School District 2 administrators and cited his own experience working on the same initiatives SD2 is tackling. He talked about rallying Montana schools to support similar causes at the Montana legislature, something his local knowledge would give him a leg up on.
Upham pitched familiarity as one of his biggest strengths and was picked as one of three finalists. But it could also be his biggest weakness.
Trustees watched from not-so-afar as Helena's school board picked a different candidate over Upham for their superintendent job in March. And the initiatives that Upham led in Helena — while sometimes gaining national acclaim — rubbed a few teachers the wrong way.
And as much as Upham knows Montana, he's never been a superintendent, and he's never worked in a district as large as Billings — experiences that trustees previously described as important for whoever is going to lead Montana's largest school district.
Upham got his second close-up with trustees Wednesday, meeting with district administrators and community members and touring schools before his finalist interview.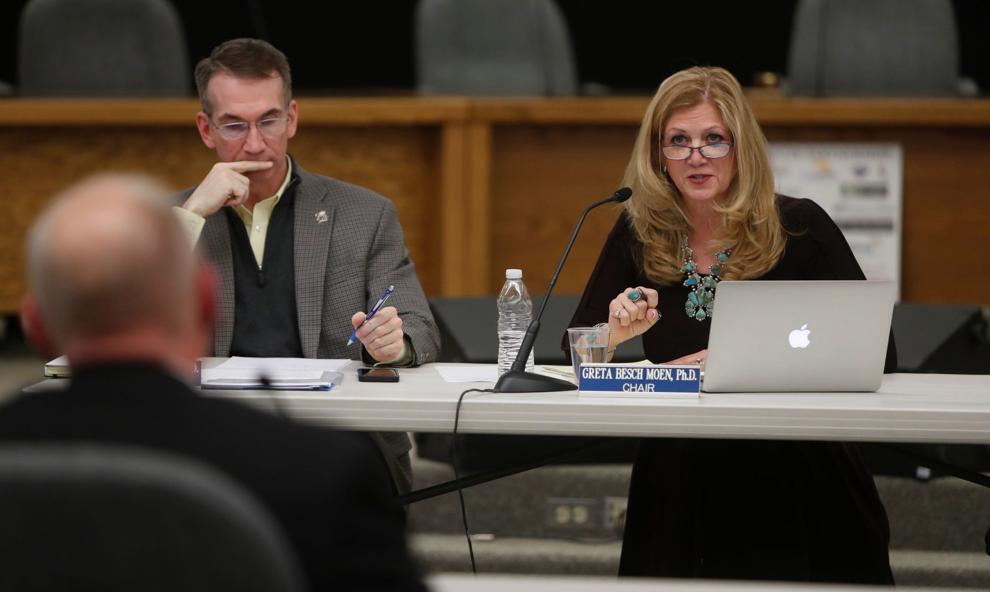 Trustees hit topics like Helena's superintendent choice and lack of large district experience head on, as well as asking about specific issues and initiatives in Billings schools. They also dug into Upham's Montana roots.
How, asked trustee Russ Hall, does being a native Montanan qualify you for this job?
It was the last question of the day, and yielded a relatively short answer focusing on understanding the state's character. The longer version starts on the Blackfeet Reservation.
Career
Upham's career started in Browning in 1988 as a career and technical education teacher. After a stop in Belt, he began teaching at Helena High School in 1992. He became an assistant principal at Capital High in Helena in 2002 and then principal at Helena High in 2006. He moved to Helena's district office as assistant superintendent in 2012.
He applied for Helena's open superintendent job that year, and then again for the interim job in 2016, but Helena opted to give that job to Jack Copps, a former Billings superintendent.
Copps offered a ringing endorsement for Upham.
"I feel very comfortable about him. I didn't know Greg until I came here," Copps said. "The longer I've known him, the more confident I am that he's at least in the position where he should be seriously considered for a job like Billings because he has the skills.
"Because I am a little vested in Billings, I would tell you otherwise."
Copps said they intentionally gave Upham duties that had been outside the scope of his job (like overseeing the implementation of Helena's 2017 bond) and that Upham has a grasp on what the job requires in Billings.
"He did a lot of study and a lot of research," Copps said.
That's reflected on Upham's resume, which lists the implementation of Professional Learning Communities, a type of teacher training group, first under his accomplishments.
Billings is one year into using the groups, which get a frequent plug at school board meetings. Helena is five years in. 
Upham applied for the Helena superintendent position this spring, but again the district went with someone else — Tyler Ream, an administrator from Texas.
Trustee Joe Raffiani asked Upham why he thought Helena picked someone else.
"I think there was some pushback on the PLCs," Upham said. "I think that was it, I really do. ... Maybe the rollout was too fast."
At Upham's Helena interview, trustees cited comments received from some teachers that suggested a stressed relationship with the assistant superintendent and said that other teachers had concerns with his data-driven approach to education.
Trish Klock, the president of Helena's local teachers union, said Upham did catch pushback from the PLCs.
"As a district, as far as teachers, we weren't really there yet," said Klock, who taught under Upham at Helena High.
But she too offered a strong endorsement of Upham.
"I cannot speak highly enough about Greg as a leader," she said. "He definitely holds people accountable, but he always puts what's best for kids first."
"In Helena, we had two great options. … It was more looking toward the future. I don't know any other way to say it other than that," Klock said. "I think (Upham) would be a fantastic superintendent."
Billings
Upham frequently talked about PLCs and "nurturing" the start that Billings has on the process. He also cited his work setting up a construction apprenticeship program in Helena.
"I believe we need to get our high school students, specifically our junior and senior students, on job sites," he said.
He repeatedly hit the topic of career and technical education, positioning himself as well-suited to lead an overhaul of the Career Center that trustees are eyeing in 2019.
Upham also said Montana schools, including Billings, need more mental health support for students, especially on a clinical level. He talked about rallying other large districts in the state to push for increased funding and changing accreditation standards.
"Our education, meaning our educators' education and degrees, are not enough," he said.
On testing, he highlighted the importance of assessments given several times a year to measure the progress of individual students, something he found more valuable than once-a-year summative tests.
Helena was recognized for its work relating ACT scores to high school course patterns.
"For us as a system, we can look back and see what we need to do," he said.
But when asked what he would change in Billings, he had no sweeping plans.
"This is not a change-type position that you're looking for," he said. "It's to support the good work that's going on."
Upham's answer to Hall's "Montana native" question included a lighthearted comment about snow days; "You watch people who move in and say, 'do we ever close school?'"
Interviews for Billings' next schools superintendent continue Thursday and Friday.
Rebecca Salato, an education consultant, will interview Thursday at 5 p.m. in the Lincoln Center.
Ross Kasun, a New Jersey superintendent, will interview Friday at 5 p.m. in the Lincoln Center.