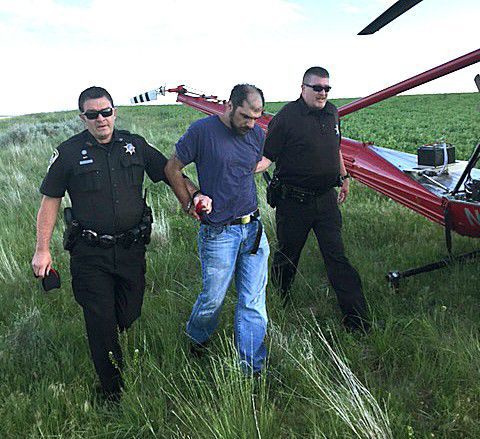 When a neighborhood watch effort includes a helicopter, it might as well get put to use.
That's what happened Monday evening when a few neighbors, a county commissioner, deputies and a helicopter pilot corralled a burglary suspect in the Hillcrest area.
Amir Burhan Mallak, 36, was charged with burglary and drug possession, both felonies. He appeared Tuesday in Yellowstone County Justice Court.
Justice of the Peace David A. Carter set bond at $25,000 in addition to any other bond.
Residents of Hillcrest Road came home to find a man in their house Monday evening, according to court documents. The man said he was sent there by someone else and held a pillow case with a laptop sticking out, charges state.
The man, later identified as Mallak, threw the pillow case at the homeowners and ran into a nearby ravine, according to the charges.
That ravine was on Yellowstone County Commissioner John Ostlund's land. Phone calls went out to neighbors, the sheriff's office and a spotter from the air.
"I called Gary Blain," Ostlund said. "He came up with a helicopter."
Blain, the co-owner of Billings Flying Service, helped the deputies spot Mallak from above.
"He was flying in a circle right over on top of him," Ostlund said. "They pretty much had him cornered."
Upon arrest, deputies found baggies containing a substance that field tested positive for methamphetamine, according to court documents.
Back at the Hillcrest home, the resident found various items of his in the pillow case and others that had been moved. He also found a backpack containing marijuana and other items that didn't belong to him inside his pickup, according to charges.
Detention facility records indicate that Mallak is also being held on an immigration detainer. U.S. Immigration and Customs Enforcement didn't return an inquiry by press time on Tuesday.
Mallak is scheduled to appear in Yellowstone County District Court on May 31.
Get local news delivered to your inbox!
Subscribe to our Daily Headlines newsletter.