Aliya Hoerster knew something wasn't quite right with the X-ray images piled on a table at Sandstone Elementary. 
A forearm and hand image was placed next to another that showed a shoulder joint. Hoerster and her second-grade classmates were assembling a series of X-rays into a full skeleton. 
She couldn't put her finger on it, but she knew the short arm looked weird. When someone suggested a forearm and elbow, it clicked, and the skeleton no longer had a T. rex arm. 
Students at Sandstone were visited by high-schoolers from the Career Center who are part of the HOSA, a student organization promoting health careers. They used hands-on materials, like the X-rays, or models of the ear combined with a keyboard and decibel measurement tools, provided through a partnership with RiverStone Health's Eastern Montana Health Education Center. 
The goal wasn't so much that students could tell the difference between a radius and an ulna, but that they built enthusiasm for learning more about the human body. 
"This is one 20-minute session, but you don't know where it's going to take them," said Sandstone health teacher Todd Bertsch. "They'll remember the hands-on much more than reading about it."
The elementary students swept through six stations addressing muscles and bones, the brain, the heart, the digestive system ("ewww" from first-graders), the eyes (widespread giggles), and the ear (another "ewww"). 
Second-grader Jacob Ryder examined a model of three vertebrae. He understood that it was a replica of his own spine, but was disoriented by how the vertebrae model spun.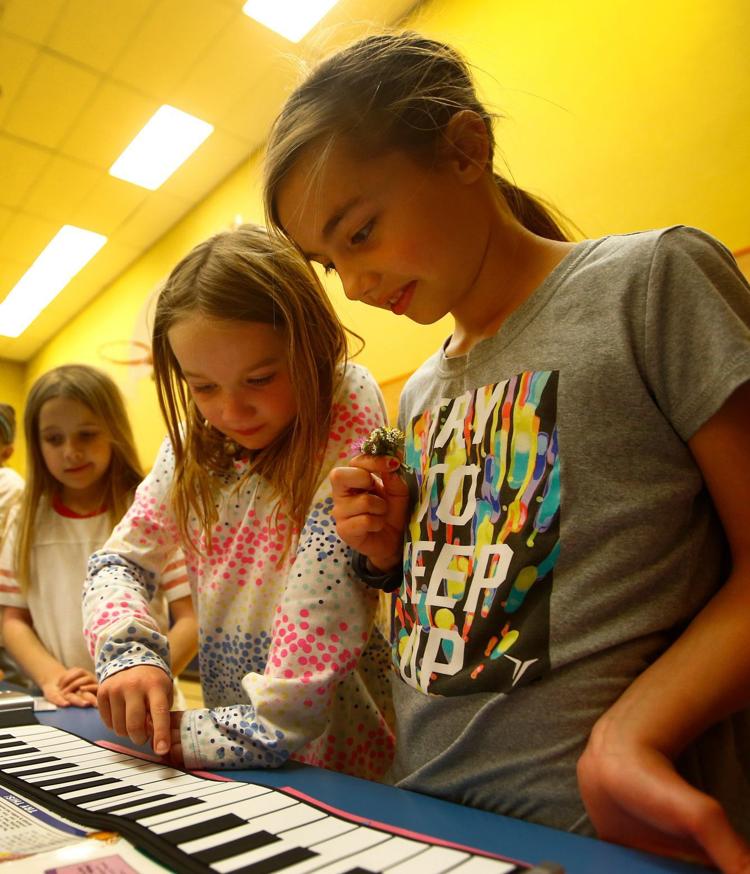 He reckoned that his spine moved, as he twisted around, but spinning?
"I know it doesn't spin, but ..." he trailed off with a scapula-sliding shrug. 
Nikole Bakko works as outreach coordinator for the RiverStone program. 
The program's aim is not only to offer materials for better health instruction, but also to introduce students to health careers, and not just as a doctor or nurse, but perhaps as lab tech or medical assistant. 
"They're not only seeing what careers are out there, but that it's possible to do them," she said. 
No one expected the young students to develop a detailed career plan on the spot. But as they age through the school system, they'll have more opportunities to pursue such plans. 
Marileigh Lyngby and Sidney Overby, both seniors at Senior High, were some of the HOSA members helping out. They'd both taken the medical careers course at the Career Center.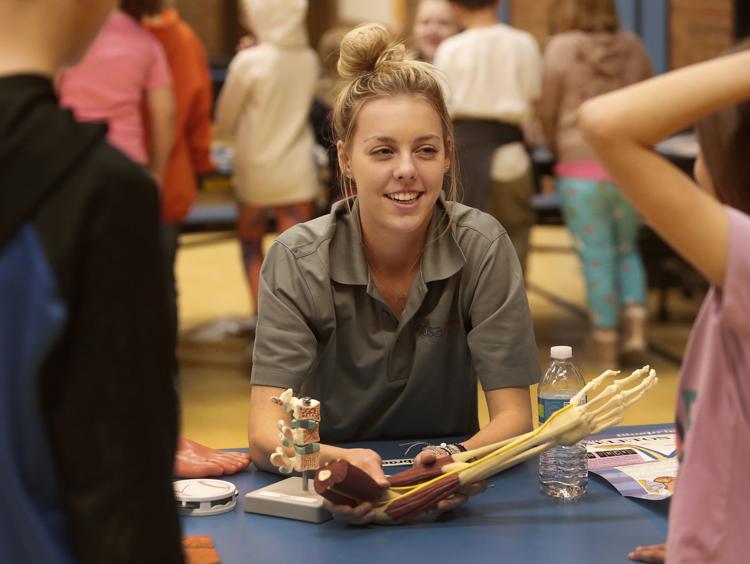 "It's just good exposure to the health career fields," Overby said, with opportunities for job shadows and tours. 
Lyngby hopes to go into oncology, while Overby wants to become an emergency room physician. 
Neither student recalled having access to the materials that students did Thursday when they were younger. 
"I wish we had the opportunity to do that stuff," Lyngby said.
The duo worked the muscle and bone station, and agreed that elementary students flitting between stations probably weren't going to pick up the difference between a ball-and-socket joint (shoulder) and a complex hinge joint (elbow). 
"I'd rather have them be more enthusiastic about it," Lyngby said.